Cannes Lions 2017: Wieden & Kennedy wins Film Gold for Nike's Da Da Ding with media by Mindshare; India's metal tally reaches 40
The lone Indian shortlist in the Titanium category did not convert to a metal

Day 7 of the Cannes Lions International Festival of Creativity 2017 saw India win a Gold Lion in the Film category for Nike's Da Da Ding campaign, conceptualised by Wieden and Kennedy, Delhi and media by Mindshare. It takes India's metal tally up to a record 40.

"I'm happy for the Gold and great team work! Congratulations to the Nike team!" said Prashanth Kumar, CEO, South Asia, Mindshare.

The power-packed Da Da Ding video features actor Deepika Padukone along with a number of leading women athletes, and is aimed at urging India's next generation to break conventions and stereotypes to define their own success by bringing Sports into their lives.

India had four shortlisted campaigns in the Film category, out of which one converted to Gold. The lone Indian shortlist in the Titanium category - Taproot Dentsu's Adidas Odds campaign - did not convert to a metal.
exchange4media Group Service
The TVC conceptualised by Taproot, directed by Karan Shetty and produced by BubbleWrap Productions is a mix of realism and electric cricketing action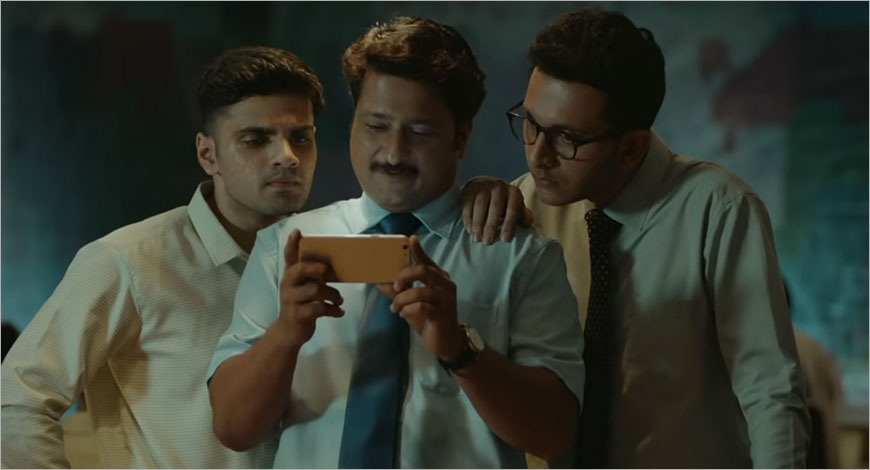 This festive season is set to take cricket fans by storm as the battle of sixes begins with India taking on West Indies in the PAYTM ODI and T20 series, started on October 21 and the other on November 4, 2018 respectively. Keeping in mind the action-packed two cricketing powerhouses, Star Sports has unveiled a new campaign called #BattleofSixes. Starring Jitendra Joshi, this film celebrates the action-packed cricket that is in store for cricket fans across the country.
The TVC, conceptualised by Taproot, directed by Karan Shetty and produced by BubbleWrap Productions is a mix of realism and electric cricketing action. It blends the thrill of cricket with the many emotions, a cricket fan encounters, as countless sixes rain down on the stands when India takes on the Windies. The campaign will be rolled out across out of home, digital and social.
The magnificent men in maroon – West Indies, known as fearless stroke makers, have demolished attacks with skill and power in ODI's and T20's against India. The Caribbean cricketers are both winners and entertainers, playing with a flair and freedom, pushing boundaries, feared by opponents and loved by fans. The current ICC World T20 champions, the West Indies team came with a plan, bettering their Indian counterparts in the semi-finals of the T20 World Cup, and is sure to bring new tactics to the table in the upcoming ODI and T20 series against India.
The nature of a limited overs series between India and West Indies is that it constantly moves in different directions, and that too at a rapid, almost breath-taking pace. Twists and exciting turns keep happening every few overs and this campaign showcases some of the reasons why – a non-stop downpour of heroic knocks when these two teams clash. Fans can catch all the cricketing action live on the Star Sports Network and Hotstar.
Conceptualized by and created in collaboration with Famous Innovations, the TVC will premiere on 19th October' 2018 across leading TV channels including prominent GEC, Movies, News and Sports channels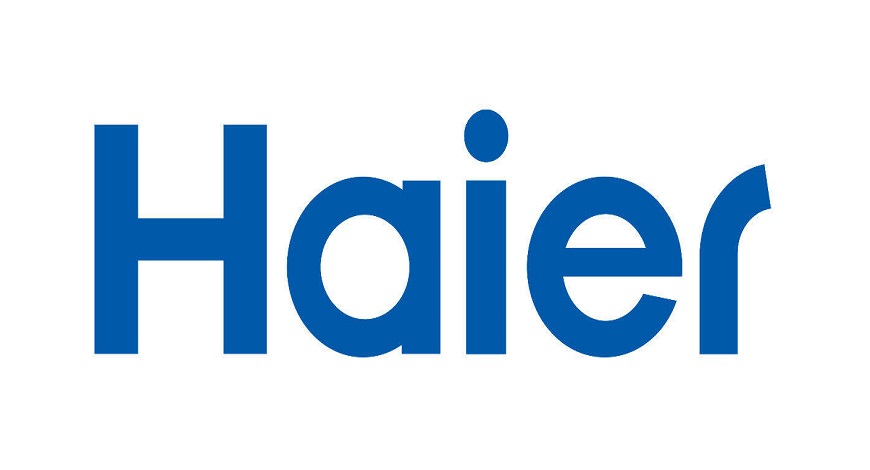 Haier, the global leader in Home Appliances & Consumer Electronics and World's Number 1 brand in Major Appliances for the 9 Consecutive Years*, today announced the launch of its latest TVC based on the recently launched all-new range of Easy Connect LED televisions (B92OOWB series) in India.
The new TVC primarily focuses on the user benefits of having an LED TV that comes power packed with Smart Share feature, which gives the Android mobile users a smart way of screening their smartphone content on the large screen without Wi-Fi network. The two new LED TV models LE43B9200WB (108cm–Full HD) and LE32B9200WB (80cm-HD) will offer consumers a true smart viewing experience. With an available pre-loaded app like Smart View or Screen Mirroring on their Android mobile phones, users can connect with the built-in Smart Share (Miracast) feature on their new Haier TV and use mobile data to start streaming their favorite content without worrying about setting up a Wi-Fi connection at home.
The TVC, conceptualised by and created in collaboration with Famous Innovations will premiere on 19th October' 2018 across leading TV channels including prominent GEC, Movies, News and Sports channels. For a wider reach, the TVC will be aired on key regional channels in languages like Bengali, Kannada, Malayalam, Punjabi, Tamil, and Telugu.
The new TVC is a reflection of how the brand mirrors the user's values and convictions. The TVC showcases the endearing relationship between a daughter and father emphasizing on how today's generation is more technology savvy and influential in making purchase decisions for the family. The story follows a typical Indian family going through the process of buying the perfect television for their household. Highlighting the features of the new Haier Easy Connect LED TV range, the commercial shines the spotlight on its Smart Share (Miracast) feature that gives the Android mobile users a smart way to stream their favorite content like movies, music, videos and photos from the comfort of their couch. When it comes to campaigns, Haier displays originality and innovation in their overall conceptualization and execution. Following the core brand philosophy of 'Inspired Living', Haier derives inspiration from listening to the consumer needs to create solutions that complement their evolving lifestyles.
Commenting on the commercial, Eric Braganza, President, Haier India said, "At Haier, we constantly understand the needs and evolving lifestyle of our consumers. The new Haier Easy Connect LED TV series is an innovative solution designed for customers who don't want any technology hassles with internet connectivity when it comes to entertainment. The TVC is created to shape a stronger connect with the users and also build a strong brand recall at the same time. Further, with the festivities around the corner, we want to be a part of our consumers' celebrations and double their festivities with our exciting offers and a new product line up."
Raj Kamble, Founder and CCO, Famous Innovations, adds, "We were working with a very simple, innovative product - an LED TV that can live stream from a smartphone without the need for WiFi or Bluetooth - and wanted to bring this feature to life in an interesting way. Given how strong the feature was, we decided that instead of doing an ad, we should create an entertaining product demo. The film revolves around an endearing precocious little girl as she truly represents today's kids who love technology, are always a few steps ahead of the rest of us and never hold back from making that known. We hope the film will bring a smile to people's faces even as the product makes their lives easier."
Haier will be taking a multi-prolonged marketing approach for the commercial through various platforms such as Electronic, Print, and Digital. With the ongoing festive season and the spurt of excitement amongst the consumers, Haier has also announced a range of attractive consumer offers. These include Fixed EMI offer with Bajaj Allianz to bring home any product from the premium range at INR 2018 only, unique extended warranties on Haier's wide range of products and assured gifts across categories. All offers can be availed by consumers across the country until 7th November 2018.
Campaign video:
Conceptualised by Leo Burnett Orchard, #KheloDimaagSe campaign is an extension of #DimaagSeDhoni campaign of Dream11 during IPL 2018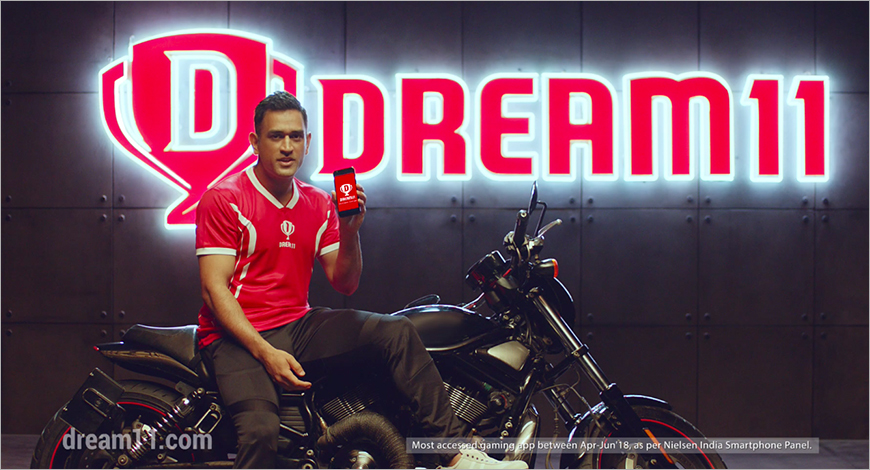 Sports game company Dream11 on Monday launched its latest integrated campaign #KheloDimaagSe with brand ambassador cricketer Mahendra Singh Dhoni. Conceptualised by Leo Burnett Orchard, Dream11's latest campaign encourages fantasy sports users to apply the same kind of thinking prowess that has made MS Dhoni the master of the game. The new mass media campaign will be seen across TV, digital and social media channels.
During IPL 2018, Dream11 launched its maiden multimedia campaign, #DimaagSeDhoni. #KheloDimaagSe campaign is an extension of this campaign. With the growing popularity of fantasy sports, Dream11 enables passionate Indian cricket fans to deepen their engagement with the sport.
Speaking about the new campaign, Vikrant Mudaliar, Chief Marketing Officer, Dream11, said, "In a cricket-obsessed country like India, every cricket fan feels he or she is an expert. Dream11 provides users a unique opportunity to use their sports knowledge, expertise and skill much like the players on the field -- the #KheloDimaagSe campaign communicates this unique aspect of Dream11. With fantasy gaming fast capturing the imagination of the country, Dream11 is a perfect platform for sports fans to showcase their knowledge and engage with their favourite sport."
Commenting on the rationale behind the campaign, Amod Dani, Executive Creative Director, Leo Burnett Orchard said, "Dream11 is a game that needs a coherent understanding of cricket and its statistics. While the '#DimaagSeDhoni' campaign made an immediate impact for the brand, making it one of the most sought-after sports games in India, the core objective of '#KheloDimaagSe' is to make the platform far more social and inclusive. The motormouth, rap approach brings alive exactly what the users are thinking while Dhoni plays a central role in walking us through this musical."
This is the second year that Makani Creatives has bagged the Lavie mandate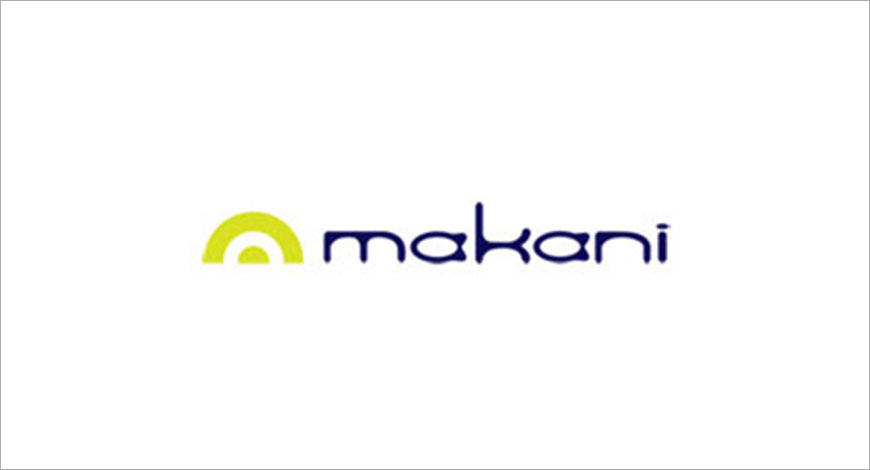 Lavie's latest ad campaign launching its new brand ambassador Anushka Sharma has been conceptualised and curated by Makani Creatives. Launched on the 10th of October, the fashion campaign epitomizes the brand proposition, 'Fickle is Fun' and is currently being featured across all ATL & BTL platforms.
Makani Creatives has also curated digital Instagram renditions of the campaign which will soon roll out, post the print and satellite campaigns "When creating a brand or campaign and keeping the dynamism of Fashion in mind, we always strive to strike the right chord with the end consumer. With Lavie we have had a great relationship since 2015 and are very excited about working with them again. We had much fun with Lavie on last year's campaign too, and with this year's campaign launching Anushka Sharma, we have successfully strived to go younger and cooler," says Sameer Makani, CMD of Makani Creatives.
Sandeep Goenka, Chief Operating Officer of Bagzone Lifestyles Pvt Ltd, Lavie Spokesperson, says, " We have always had a great and satisfying relationship with Makani as they have a keen understanding of the market and its challenging intricacies. And, once again, they have successfully reflected our brand proposition and communication into the best possible perspective. Fashion and our audiences being key."
Makani Creatives has a team strength of over 100 creative individuals. Their clientele includes leading brands like Metro Shoes, Mochi Footwear, Idee Image Eyewear, Panasonic, Mahindra Logistics, Epic Channel, Pepe, Traworld, Siyarams Group, Red Tape, Killer Jeans, Lavie, Nilkamal Furniture, @home and Tata Motors, to name a few.
This year the film has been shot at various locations in Assam. The narrative shows Priyanka Chopra experiencing different aspects of Assam with her close friend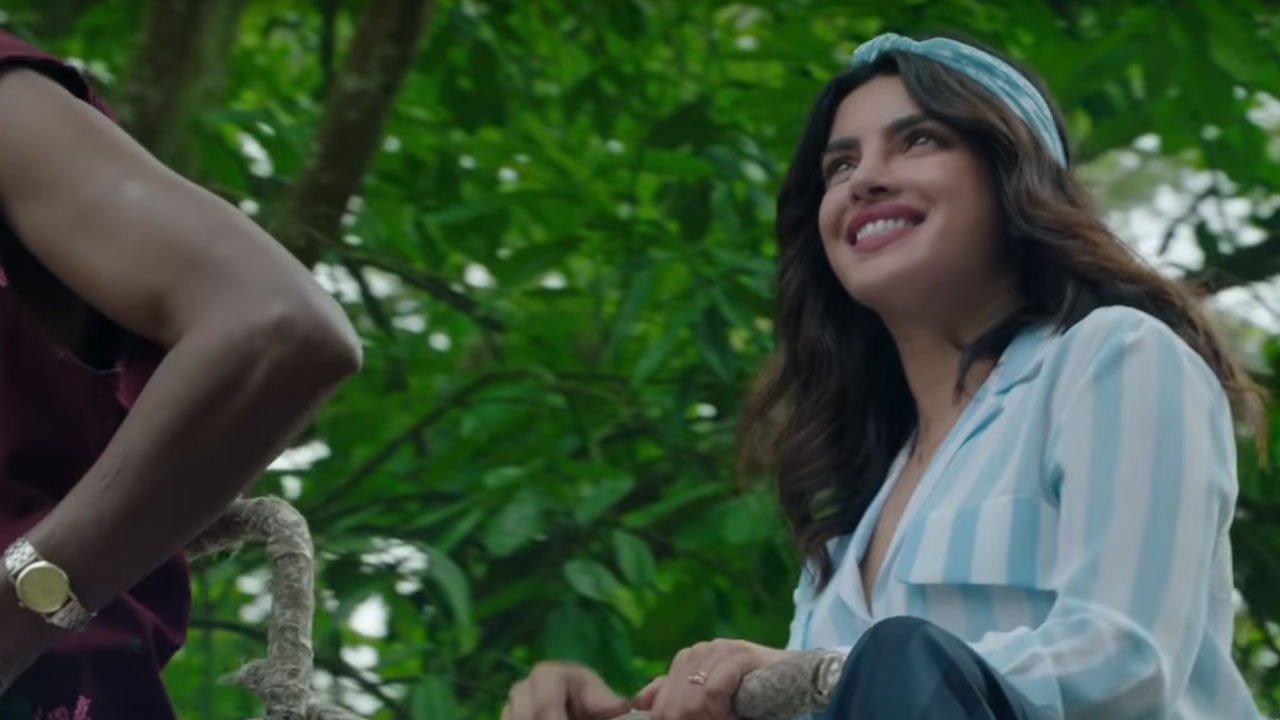 Assam Tourism (ATDC) launched its latest ad campaign starring actor Priyanka Chopra, conceived and produced by the YAAP-Crayons Advertising collaborative team.
The 2017 campaign with Chopra as a brand ambassador received an overwhelming response and won accolades. Building on the platform created last year, this year the film has been shot at various locations in Assam. The narrative shows Chopra experiencing different aspects of Assam with her close friend.
"While we shot in Assam for almost 10 days, we had just two days of Priyanka in Assam and a lot to cover. We had to identify locations where crowd management was possible. We also had to keep track of the travel time from one location to the other. So I had to pen down a script keeping all these in mind. But what worked in our favour was PC's professionalism. She had flown New York-Delhi-Jorhat. But without a hint of jet-lag, she embraced Assam for the next 3 days," said Rondeep Gogoi, ECD, Crayons Advertising.
"A successful 2017 film is always a tough act to follow. This film is about experiencing elements that go beyond Nature and Culture – It covers a wide array of tourist interests – such as Golf, Brahmaputra River Cruises and the majestic Tea Gardens. There has been a very positive growth trend in arrival tourists in Assam. This film promises to evoke a lot more interest among the seasoned travellers who will be compelled to see Assam differently – through Priyanka's eyes," commented Shouvik Roy, Senior Partner, YAAP.
The film has been directed by Lloyd Baptista, shot by cinematographer Sejal Shah and the producer is Anand Kumar of Fullmoon Productions. The stills for the campaign were shot by the renowned Bollywood photographer Jatin Kampani at the shoot locations.
The stories highlighted how Muthoot was a catalyst and an able partner in fulfilling the dreams of the hard-working common man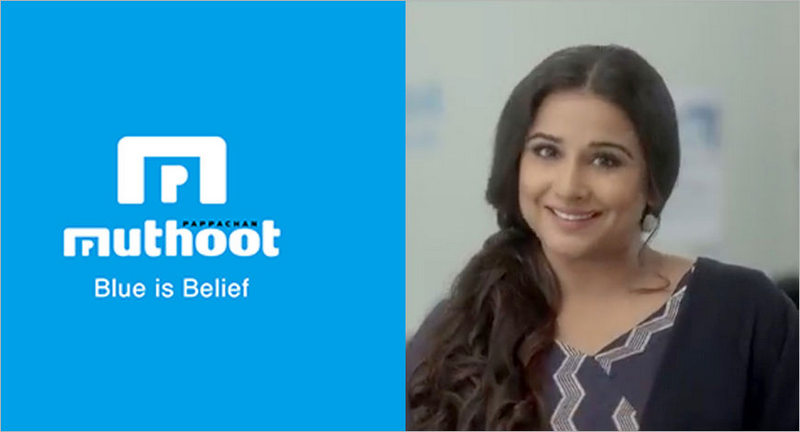 Muthoot Pappachan Group (MPG), the diversified business conglomerate, has always been an enabler in the entire lifecycle needs of the customers. With their credo of 'empowering human ambition', MPG has endeavoured to provide assistance to the common man in realizing his dream and achieve his ambition.
On the same lines, 'Blue Soch' campaign by MPG was launched as part of the brand transformation that encapsulated a customer's everyday struggles and the determination to succeed in spite of the numerous hindrances. In the first phase, we captured the heart-warming stories to spread awareness about our Gold Loans and MSME offerings.
The stories highlighted how Muthoot was a catalyst and an able partner in fulfilling the dreams of the hard-working common man. After a successful run of phase one, Muthoot Pappachan Group has come out with its next phase of the campaign with its beloved brand ambassador Vidya Balan. As the Blue Muthoot, it carries forward the theme of Blue Soch, dedicated to the progressive thinking of its customers who demonstrate hard work and determination along with firm self-belief in the face of adversity. The key message that the campaign aims to drive is that the Muthoot Pappachan Group supports people with the Blue Soch and thus, empowers human ambition.
The films have been conceptualised by L&K Saatchi and Saatchi. The advertisements show the next generation starting to make a mark for themselves and the parents recognizing their transformation into achievers. These parents demonstrate the Blue Soch and MPG provides support to help them enable the zealous youngsters in achieving their dreams. The campaign highlights these everyday heroes from every walk of life and celebrates this group of strong-willed individuals.
Speaking about the campaign, Sidheshwar Sharma, EVP at L&K Saatchi and Saatchi says, "In L&K Saatchi and Saatchi's immersions with Blue Soch people across the country, we discovered amazing stories of empowerment: how Muthoot Papachan Group enables people in transforming their lives. With such a rich relationship that we share with people, all we had to do was take inspiration. These videos are stories of real impact the brand is bringing to every life, every day!"
Commenting on the idea and creative process behind the campaign, Delna Sethna, CCO, L&K Saatchi and Saatchi, said, "Muthoot Blue champions the cause of Everyman. And ensures that it will financially empower the people traditional channels will overlook. Given their generous spirit, it's only natural for the creative to embody that. For this go around the films are even more heart-warming and will hopefully win even more hearts in the bargain."
Talking about Blue Soch and the Muthoot's brand promise, Sanjeev Shukla, Chief Marketing Officer, Muthoot Pappachan Group, says: "At Muthoot, we have always believed that our customers are our real strength, and it's their indomitable spirit that we celebrate as 'Blue Soch'. We believe brands can only make long-term sustainable relationships when they move beyond the realm of transactional value to truly partner a customer's needs and requirements. Because essentially, it's about building human connections or long-term relationships in our case, that is also reflected in our brand promise of empowering human ambition."
The films have been directed by Piplu R Khan of Potli Baba and Prodigious Films and were shot on location in the interiors of Rajasthan to give them a real, relatable feel. The media approach is to maximize reach and at the same time create an impact in order to differentiate the brand. The TV campaign will spread the message across the country and will be supported by a cross-media blitz that will use a widespread presence online and on mobile.
SVP, Global Ad Operations, Essence spoke on how Essence ensures brand safety in an era where online fraud has become more common than ever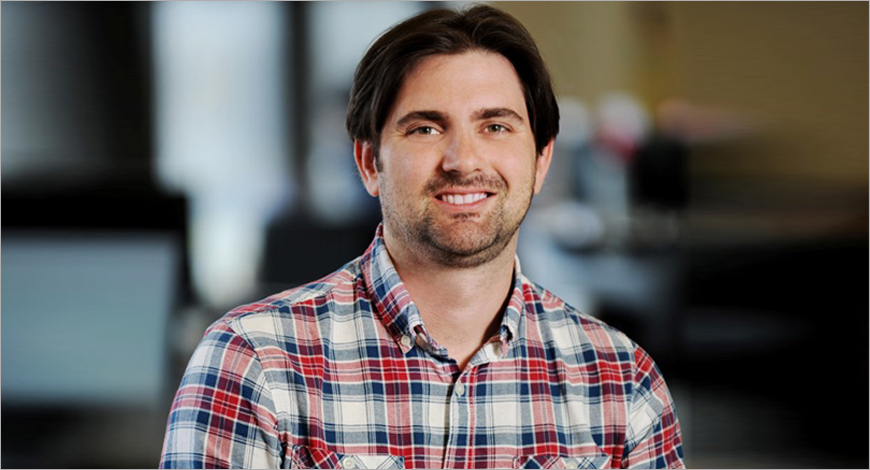 For large scale media agencies, monitoring content is becoming a massive challenge as they do billions of impressions a year. However with smart technology solutions the task is getting easier but there are still issues that need to be addressed.
In an interview with exchange4media, Eric Kirtcheff, SVP, Global Ad Operations, Essence spoke on how Essence is ensuring brand safety in an era where online fraud has become more common than ever.
Edited excerpts:
How would you define the 'Essence advantage' when it comes to delivering effective marketing solutions for your clients?
I think the biggest advantage is that we work across disciplines or across practices. I normally head operations practice but I work hand in hand with the activation teams to deliver solutions. I don't worry about just my own discipline; I worry about all the disciplines. So it is that teamwork that really leads to that advantage which Essence is known for.
When it comes to putting out content, how do you ensure brand safety for your clients? Tell us a bit about the checks and balances that you follow?
We take multiple approaches. So you can't just use one solution. You can use the platform itself and look at the safety tools that they have available; obviously you need to monitor that on a daily basis. But beyond that, monitoring content is not enough as new things come up and you need to constantly update. So as I said it is not about having one solution, what may work for Google may not work for Facebook so you have to look for different solutions for different platforms.
When you release campaigns on mass level, how do you balance the human and machine interference as far as monitoring of content is concerned?
We do around 150 billion impressions per year. That not only creates challenges from the monitoring point of view, but even if you put it into a spreadsheet it creates problems that are engineering and infrastructure related. We have to constantly update our tools to account for these types of large scale problems and that is the kind of problem we would like to solve. We are constantly working on making this process better and we have been doing this for years now.
What would you call the biggest challenge in ad operations today?
One of the biggest issues in ad operations is ad fraud and it continues to remain a massive challenge. I would say that we do a good job of blocking it. What is frustrating at times is that vendors cannot block it because they don't have the tools to do that. Also since there's a lot of money to be made out of ad fraud, it is one of the hardest things to monitor in ad operations.
Has the awareness about ad fraud increased and are clients paying more attention to it?
The fact is that nobody wants to pay for the anti-ad fraud. In the last few years there is a positive sign of clients paying more attention to issues like ad fraud than before. However many clients are still depending on in house solutions without having the skill sets or the tools to deal with this massive challenge.

The Senior Executive Creative Director at Ogilvy speaks on what really prompted the team to opt for the said creative strategy while conceptualising #ShareYourStory for Breakthrough India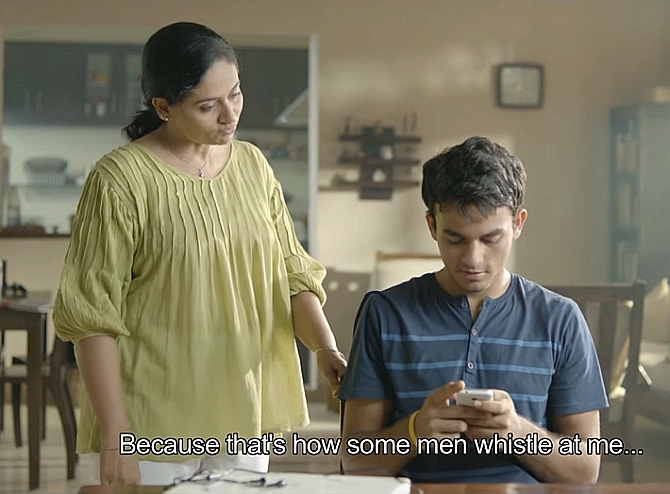 It's amazing how India's #MeToo movement arrived in a cascade of allegations as women took to Twitter to call out comedians, journalists, authors, actors and filmmakers. And in the process, they have sparked a debate about consent and complicity. The fact that it got men in powerful positions step down says so much about how a campaign has the potentiality to transform so much. With that in mind, a campaign released by Breakthrough India in 2015 caught our attention.
While this is not the first campaign that made conversation regarding taking on sexual harassment, it is definitely one that does it differently and more tactfully. Conceptualised by Ogilvy & Mather, the ad encourages mothers to talk about their sexual harassment experiences with their sons. How the campaign worked is that it invited mothers to write open letters to their sons, which Breakthrough would then share on its site. Alternately, mothers could also record WhatsApp videos/audios of them talking to their sons, making them aware of how they feel when such harassment happens to them (the moms).
The aim of the campaign was to spark conversations in families that would make boys understand what constituted immoral sexual behaviour. Zenobia Pithawalla, Senior Executive Creative Director, Ogilvy, spoke to exchange4media on what really prompted the team to opt for the said creative cut, campaigns against sexual harassment that she admires and more. Pithawalla shares that a survey by Breakthrough, showed that 90 per cent of women and girls have experienced sexual harassment once in their lifetime. "For the most part, young boys and men are unaware of what actually constitutes sexual harassment. Worse still, their actions are justified by friends, family and community with a dismissive statement - 'boys will be boys'. This attitude had to change," she asserts.
She opens up that Sonali Khan, who was the agency's client at Breakthrough, was very clear that she wanted to go beyond creating awareness. "She wanted to give out a solution. She wanted a 'Do campaign'," shares Pithawalla. The Senior ECD reveals that the team comprising Mihir Chanchani, Vikram Shah and Ambadas Wadisherla came up with the thought of what if mothers actually shared their sexual harassment stories with their sons. "Conversations of this nature don't otherwise happen in families," she states.
Pithawalla lets out that she felt that the best way to get through these young men was to partner with the greatest influencers in their lives - their mothers. "It was important for every son to realise that even his mother is not spared. We hoped every son will do his bit to ensure what happened to his mother doesn't happen to another woman," she continues.
The stories were real stories and incidents shared by women. For Pithawalla, the other Indian campaigns that really stand out against sexual harassment are Kalki's, 'It's your fault'.
"A take on the sick mindset of victim shaming. It is a provocative piece which makes you sit up and think." She says. She is also all praises for the recent piece #HoliNotHooliganism, "Burzin Mehta, Sakshi Choudhary and their team show us the dirty truth that lies beneath the colours. I think every campaign's attempt is to provoke a change in mindset," opines Pithawalla. She asserts that creating such an impact takes time. "The idea is to keep at it. And believe one day it will happen."
Correspondent, exchange4media, Mumbai Misbaah reports on advertising industry. Based in Mumbai, she interviews industry leaders in the creative, advertising and marketing space, reports news updates in the ad space. She drives the 'Chillout' section, and regularly reviews ad campaigns. In the past she has reported on mainline news, travel and lifestyle.
The campaign went live in the second week of October, 2018 and will run across popular offline and online channels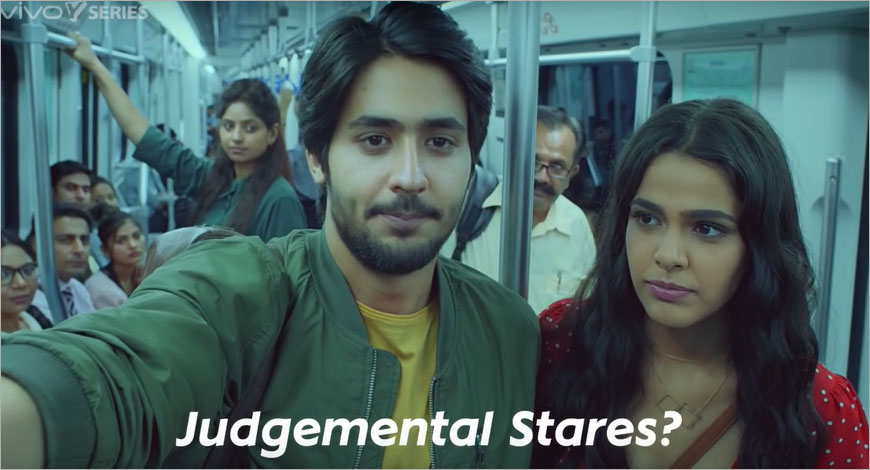 Vivo, the smartphone brand, launched their latest brand campaign for promoting the newly launched Y Series range. The campaign focuses on creating awareness about this series and highlighting its performance and camera capabilities - two key drivers of this category.
Conceptualised & executed by Publicis India, the campaign is targeted towards the youth of the country that is free and open-minded. They are the ones that do not get influenced and are rather liberal about the choices they make in life. They tend to take every day as it comes. It is from this attitude that stemmed the core campaign idea of 'Apna Y Hai Na'.
The integrated campaign comprises two TVCs that are being aired during PKL matches across Star Sports Network. The campaign will be amplified through other key media like digital and In-store as well.
Commenting on the launch, Nipun Marya, Director, Brand Strategy, Vivo India, said, "2018 has been a very successful year for Vivo owing to great consumer response for our innovative smartphones. We want to continue and further enhance the customer experience by kick-starting the festive season with the new Y-Series models that are designed to provide an immersive experience to our consumers."
Highlighting the creative standpoint behind the campaign, Bobby Pawar, Managing Director and Chief Creative Officer - South Asia, Publicis India, said, "The brief was to find an insight for Vivo Y-Series which is specifically targeted to the youth."
"The youth of this country is extremely free and open-minded. And from this attitude of theirs stemmed our main idea of – Apna Y Hai Na. Also in both films, we've established the product truths i.e. Portrait Mode and Octa-core processor & Faster RAM through relevant social contexts."
Of the two TVCs, the first is a 'Metro' film where we see a young couple hop on to the metro and is faced by the familiar tyranny of judgemental stares from fellow commuters. Here the portrait mode on the camera of the Vivo Y series comes to their rescue and helps them blur the whole world out, and captures them in passionate embrace.
Link to the films:
Babaji Film: https://www.youtube.com/watch?v=Vmhm-4kXvFM

Metro Film: https://www.youtube.com/watch?v=jiYRVb1ByOY
In the second film titled 'Babaji', an atypical modern guru extols the virtues of multi-tasking - something that the youth of this country, and even the Y-series (with its octa-core processor and faster RAM), are clearly good at. So in both films, Vivo India has established the product truths through relevant social contexts.
The campaign went live in the second week of October, 2018 and will run across popular offline and online channels.
Team credits:
Client: Vivo India
Team: Nipun Marya, Nidhi Bhuchar, Nidhi Kohli, Radhika Itkan
Agency: Publicis Capital
Creative Team: Bobby Pawar, Amit Shankar, Durgesh Singh, Siddhartha Joglekar
Client Servicing: Ravpreet Ganesh, Amitabh Sreedharan, Sourav Barua, Subhank Gupta
Planning: Gursimran Singh
Production House: Absolute
Director: Vasan Bala
exchange4media Group Service
Barbie's mentorship program encourages young girls to have positive, strong role models that inspire them to believe that they can be anything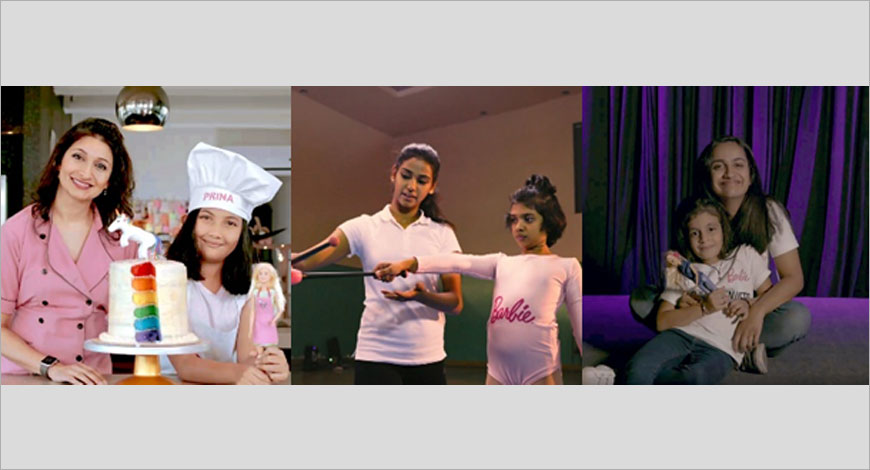 The famous doll brand from the house of Mattel - Barbie, released a campaign video in India called, 'You Can Be Anything,' to inspire young girls to dream beyond limitations. The campaign celebrates the significance for young girls to have positive, strong role models that inspire them to believe that they can be anything.
With the belief of 'You Can Be Anything' philosophy, Barbie reached out to mothers across India to know what their daughters aspire to become when they grow up. The response was overwhelming, with about 1,000 moms sharing beautiful stories of their daughters. Barbie finally chose three girls with most inspiring stories and decided to fulfill their dreams of becoming a Chef, a Gymnast and a Comedian. The role models who were brought on board to mentor, motivate and inspire these young girls were: Commonwealth Games gymnast, Meghana Reddy; Chef at Flavour Diaries, Anjali Pathak and Entertainer Urooj Ashfaq.
Barbie created an intensive mentorship program to help these girls overcome challenges, and accomplish infinite possibilities through hard work and dedication. This program was documented as a video by Barbie and released coinciding with International Day of the Girl Child, to encourage and motivate several other girls to conquer their dreams.
Speaking on the occasion, Lokesh Kataria, Mattel's Head of Marketing, said, "We are delighted to celebrate the International Day of the Girl Child in India with the release of our campaign video - 'You Can Be Anything. This campaign was conceptualized to encourage young minds through actual stories and highlight the significance of empowering role models. We are happy to have three prominent young achievers like Meghana, Anjali, and Urooj as mentors, and with them, we have tried to depict the importance of appropriate guidance in nurturing dreams. We are hopeful that this initiative will encourage the next generation to believe in their dreams and have faith in their potential."
Mentors for this campaign are:
Meghana Reddy, Commonwealth Games Gymnast: Telangana's 19-year-old Meghana is India's exclusive Olympic representative in gymnastics. She has been training under a former world champion in the US and UK for the last four years and has specialized in Rhythmic Gymnastics.
Anjali Pathak, Chef of Flavour Diaries: Anjali Pathak is a foodie, passionate chef and a teacher. She has been running the popular food studio Flavour Diaries in Mumbai for three years now, offering hands-on cooking classes using fresh local produce, spanning across the Mediterranean, European, American and Asian cuisines.
Urooj Ashfaq, Entertainer: The 22-year old is a writer and comedian working in Mumbai. She is one of the promising comedians in the circuit, known to be creating waves with her humour.
exchange4media Group Service