'Dhadak' to premiere on &pictures on Sunday, 16th December at 8 pm
Stariing Ishaan Khatter and Janhvi Kapoor, Dhadak is unique saga about passionate fearless love that is willing to defy all odds
A love story that doesn't conform to the norms, Dhadak is a rebellious love story that goes beyond the caste divide and symbolizes the innocence of young love. &pictures - Naye India Ka Blockbuster Movie Channel is all set to premiere 'Dhadak' on Sunday, 16th December at 8 pm. Directed by Shashank Khaitan and produced by Karan Johar's Dharma Productions, the movie stars Ishaan Khatter and debutant Janhvi Kapoor in lead roles, along with Ashutosh Rana, Ankit Bisht, Shridhar Watsar in supporting roles.
A unique saga about passionate fearless love that is willing to defy all odds, Dhadak became the largest first day Box Office opener for the debutants. The show stealer is Ishaan's full of zest personality, outstanding dancing skills and a balanced performance. Janhavi entices the audience with her radiant looks and an impressive performance. Shridhar Watsar, who plays Ishaan's vertically challenged friend, is a laugh riot, and Ashutosh Rana as the menacing father and political figure is perfectly intense. The music of the film composed by the duo Ajay-Atul, sung by Shreya Ghoshal and Ajay Gogavale became an instant hit with the masses with songs like 'Zingaat', 'Pehli Baar', 'Vaara Re' and last but not the least the romantic anthem, the title track 'Dhadak'.
Debutant Janhvi Kapoor said, "I received a lot of positive energy while shooting for the film and even when it released. The movie was more of a personal journey for me and so I wanted to share it with everyone. Being my first movie, I not only learnt how to feel like the character of Parthavi, but also picked up a few tricks on how to best express the role on screen. Dhadak will always be a movie that is close to my heart and I will treasure every minute detail for a long time."
Ishaan Khatter who essays the role of Madhu in the movie added, "The movie changed my life and introduced me to some very special people. I want to be a part of good films and Dhadak was a great film to have been associated with. As the movie now premieres on &pictures, I am eager to know what will the audience who haven't been able to watch the film say about it."
Parthavi (Janhvi Kapoor) and Madhu (Ishaan Khatter) are college-mates in the throes of young love in the picturesque city of Udaipur. He is the son of a small-time restaurateur and she is the daughter of a local politician. They meet on the sly, tease each other and fall in love on the banks of the Pichhola Lake. But when her family finds out, the dream shatters, and the beauty of love gives way to harsh reality. The duo dodge the many obstacles and elope to a new city to start a new life.
In Udaipur, their love was splendid, full of possibilities. But in Mumbai and later Kolkata, as they fend for themselves, they find that togetherness doesn't always bring happiness. Will their families let go of their differences and encourage their love?
exchange4media Group Service
The Instagram Ad film service will help brands and agencies to cater to the audience missing out on TV and newspaper promotions
Buzzoka, the disruptive influencer marketing company, has forayed into Instagram-Ad films which will be led by Influencers. This initiative will now allow Buzzoka to create more meaningful content for digital and social first audience that rely on social media influencers for new products and services.

The introduction of Instagram Ad films is the need of the hour as there has been a paradigm shift in the consumption pattern and brands and agencies are gearing to capitalise on the changing landscape. India has currently over 71 million monthly active users (Statista) on Instagram and a lot of them rely on social media influencers for their daily dosage content. As per Buzzoka's recent report – Influencer Marketing Outlook 2019, Instagram leads as the primary choice of brands and 77 per cent brands see it as a huge potential in 2019.

Instagram Ad Films will be a good fit in the media mix, as video has established itself as the most engaging platform. With Jio and other telecom companies at a war over providing cheapest data to the next billion video consumption has spiked significantly.

While influencers play the important role of being the thought leader in their respective domains and act as advocates for the relevant brands, it is time now to cash on their fan base going the ambassador route and promoting the brands in professionally shot Instagram Ad Films.

Ashutosh Harbola, co-Founder and CEO of Buzzoka said, "Instagram is a perfect channel for Brands and Marketers to capitalize on digital and social first audience in the age bracket of 20-35. Instagram is a platform that is hosting this major chunk of audience, which is going away from TV and newspapers as their primary daily news medium. Hence, missing out on a lot of promotions and offers. Instagram Ad Films will be that one promotional tactic that we feel will be driving the next media wave in India."
As per a recent report from Instagram in June 2018, Instagram reported a landmark with over 1 billion monthly active users (MAUs). This grew from 800 million MAUs in September 2017 with over 60 per cent users logging back almost every day.
exchange4media Group Service
The #JFWCalendar2019 features celebrities, Aishwarya Rajesh, Taapsee Pannu, Shriya Saran, Regina Cassandra, Andrea Jeremiah, and Raiza Wilson
JFW's Calendar of 2019, with six leading actresses from the South Indian film industry gracing each month in a mix of high fashionable shots, has gone viral. The celebrities featured in the calendar are Aishwarya Rajesh, Taapsee Pannu, Shriya Saran, Regina Cassandra, Andrea Jeremiah, and Raiza Wilson who have shared the pictures on their respective social media handles and it has gone viral already! With a combined total of 15 million followers for the artists, the images have garnered over 2 million likes on Instagram, making the buzz word #JFWCalendar2019.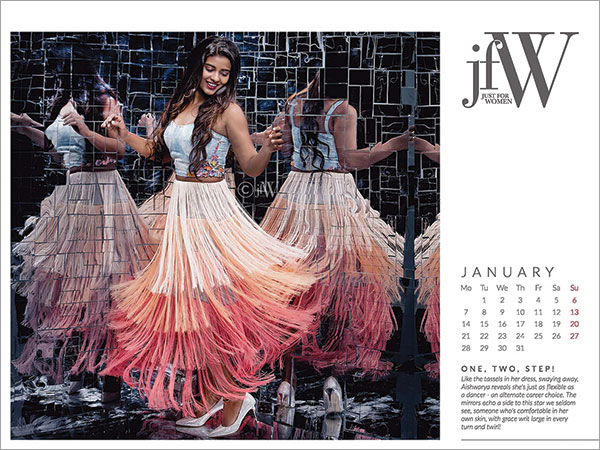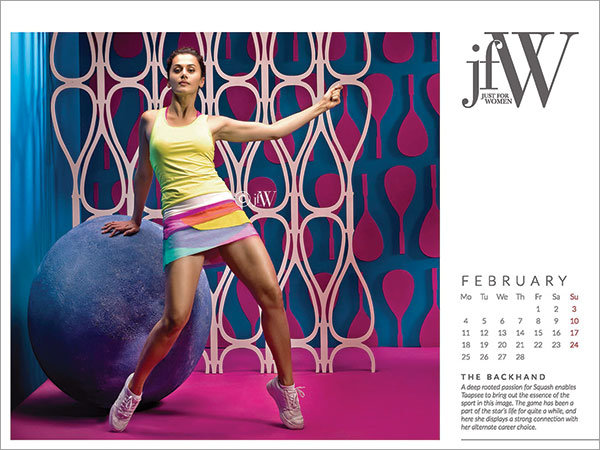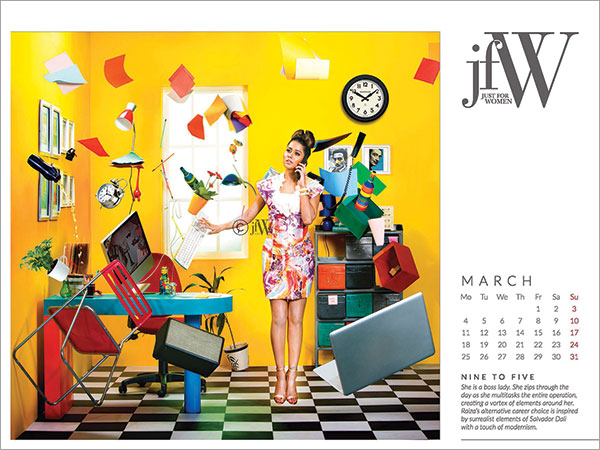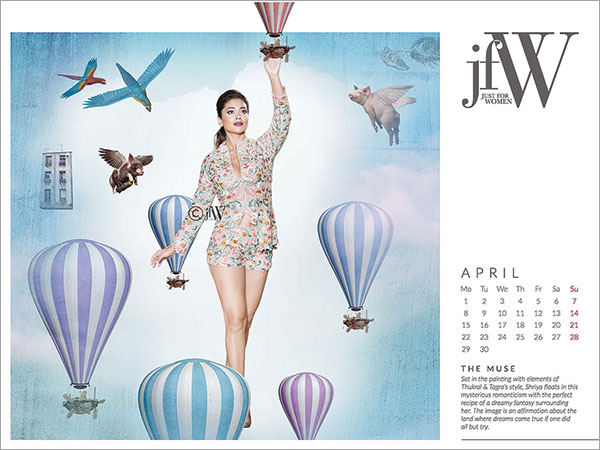 Ringing in 2019, popular women's lifestyle brand JFW ideated a one-of-a-kind calendar with photo shoots based on alternate career choices and impactful power women roles they love. The stars have dressed up in different looks with each of the looks bearing significance to pop culture elements and strong &feisty roles, juxtaposing it with fantasy and magic realism. The artist behind the lens is photographer Sunder Ramu, whose vision for each frame translated into the star giving her best. Working as the backbone of each look were the sets, intricately conceived and executed by celebrated art director Rajeevan Nambiar.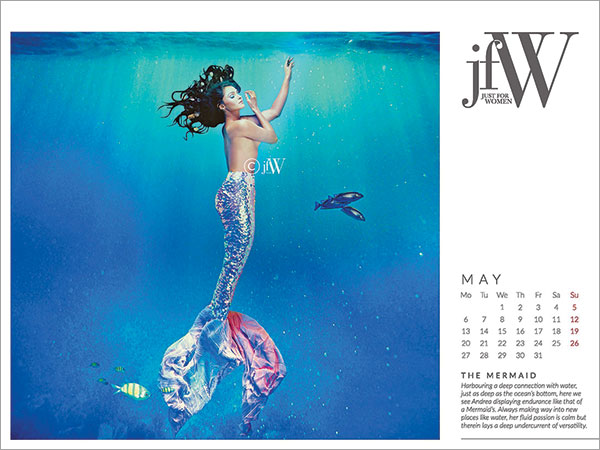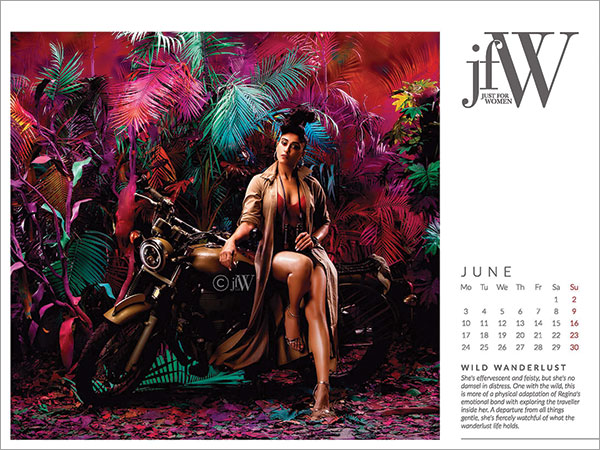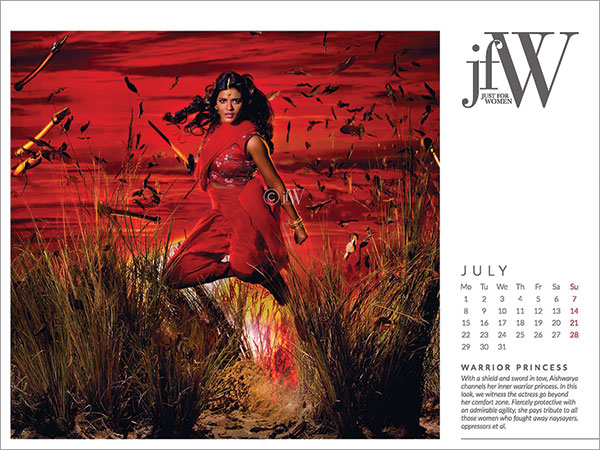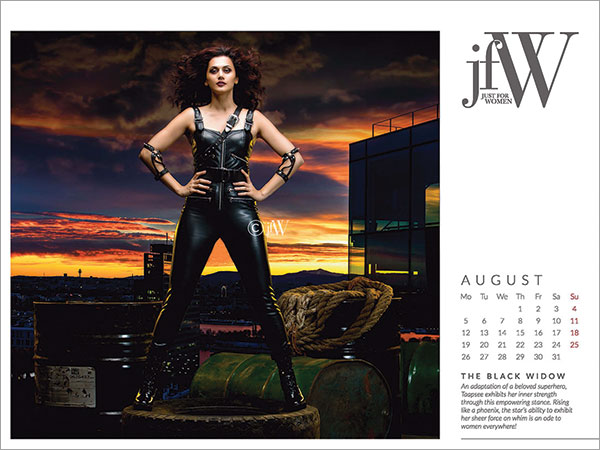 Popular stylists and designers, Chaitanya Rao and Shilpa Vummiti weaved in each of the stars' fantasy with reality by their deft work. The JFW 2019 Calendar is more than just a chronology for the New Year; it's about bringing more fantasy into your life, celebrating it in style.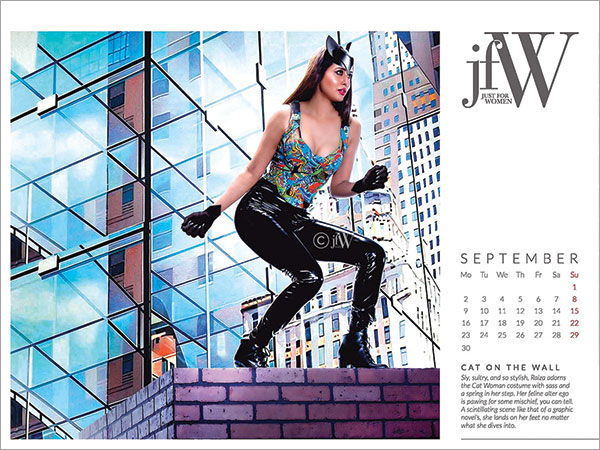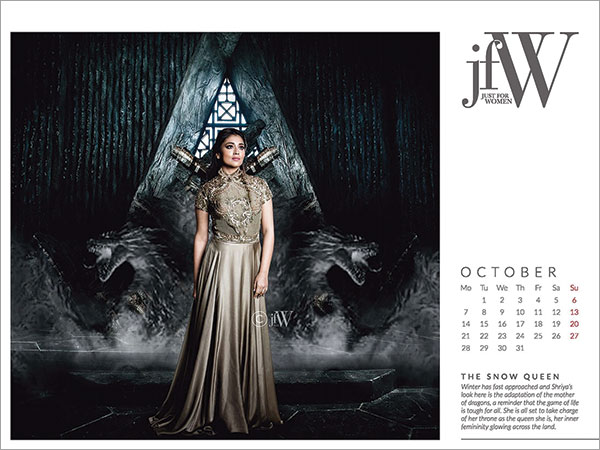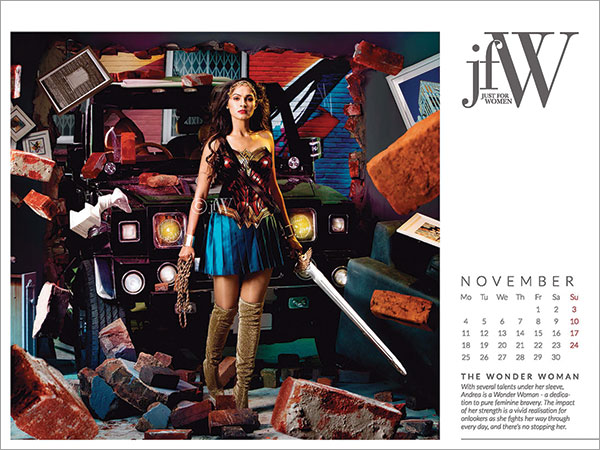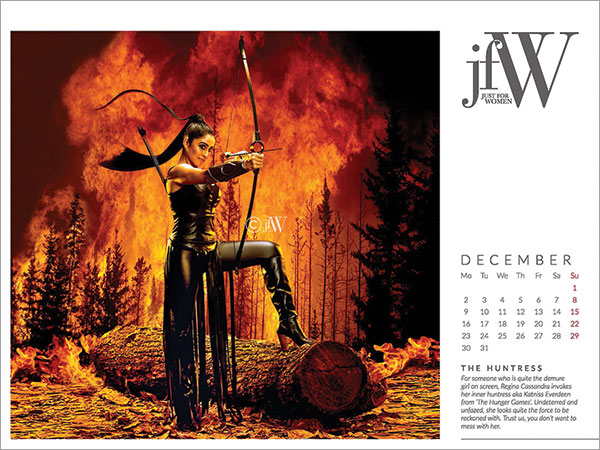 Commenting on the calendar and the viral trend, Bina Sujit, Editor-in-Chief, JFW said, "We had the best of talents working behind the scenes for this calendar. It was exciting coming up with interesting concepts for each artist and planning the elaborate and colourful sets to give the calendar a one-of-a-kind look. It was a challenge putting it all together, but the amazing images make it all worth the effort. With our focus on the digital platform, we had planned a digital release for the calendar. For the first time ever, we had the six artists releasing their respective images on their social media handles simultaneously. We are delighted to see our initiative become a viral trend".
exchange4media Group Service
The first centre has been opened in Mumbai in partnership with KLAY Schools
In continuation of its gender-inclusive policies such as a 36-week maternity leave and flexible work arrangement, Viacom18 has announced the launch of Viacubs – a child day-care service for Viacom18 employees. Viacubs is a part of Viacom18's WAVE initiative which focusses on safety, wellness, life events and career development of employees. By providing a reliable support system, Viacom18 aims to empower the working parent to focus on and balance both career and parental duties.
On launching Viacubs, Abhinav Chopra, Chief Human Resource Officer, Viacom18, said, "WAVE was introduced with the aim of encouraging women to grow and take on more leadership roles to promote gender equity and inclusion at the workplace. Our women employees should not be in a position where they must choose between their careers and family. Viacubs will ensure a smooth transition for the returning mother with the assurance that her child will be well attended to, in a nurturing environment."
"At Viacom18, we aim to provide the best of both worlds to our employees – fulfilling careers and quality family time. We understand the concerns that parents face when there's a new addition to the family. Therefore, Viacubs opens its doors to new fathers, as much as to the new mothers, towards supporting their parenting journey," Chopra added.
Launching the first centre in Mumbai in partnership with KLAY Schools, Viacubs is spread across 2,500 square feet. This dedicated space for children will have facilities including an infant room, toddler room, nursing room, play areas, cozy-corners to read, a pantry area, etc. Depending on the child's age group, fun and learning activities have been designed as part of the curriculum. Employees with six-month-old infants to six-year-old kids can avail of the various facilities being provided at Viacubs. A backup care facility is also available for parents who need to use the service for shorter periods in case of emergencies. Viacubs will provide a home away from home for employees' children with adequate learning, enjoyment and expert care, the company said in a statement.
Providing the right support, safe environment and care for kids is the prime motto of Viacubs. Adequate caretakers will be present at the center to ensure best care. Caretakers will be present at all time to ensure the demands and requirements of the kids are met. The staff (caretaker) to child ratio is 1:2 for infants, 1:3 for junior toddlers, 1:5 for senior toddlers and pre-kindergarten and 1:8 for after school children. To ensure a secure environment, an online CCTV monitoring facility as well as an emergency doctor on call is also available.
Viacubs has currently been launched in the Mumbai office and will be subsequently launched in all Viacom18 offices across India.
exchange4media Group Service
Launching on 26th January, MTV Unplugged will have artistes such as Sonu Nigam, Diljit Dosanjh, Guru Randhawa and Rekha Bhardwaj
Having impressed music aficionados for seven years, MTV Unplugged is back with yet another euphonious season of soulful renditions and musical mastery. Launching on 26th January, 8 PM, MTV Unplugged in its 8th edition will have artistes such as Sonu Nigam, Diljit Dosanjh, Guru Randhawa, Rekha Bhardwaj, the Kakkar sisters, Jonita Gandhi, Amit Mishra, Dhvani Bhanushali, Shahid Mallya, Bhuvan Bham, Arjun Kanungo and many others serenading their way into our hearts.
Launching the eighth season of MTV's much-loved musical property, Ferzad Palia, Head, Youth, Music and English Entertainment, Viacom18, said, "With Royal Stag Barrel Select MTV Unplugged, we have been successful in curating a musical experience that connects with India's music loving youth. The last three seasons of the show garnered about 100 million TV views in India, a testament to the show's resonance with its audience. In Royal Stag Barrel Select we have found a partner that has been by our side for 7 seasons in a row and has supported us in creating a unique musical experience. With artist such as Sonu Nigam, Rekha Bhardwaj, Guru Randhawa, Neeti Mohan, Diljit Dosanjh, amongst others, we have a platform for music lovers of varied genres."
To give it a momentous start, the channel is rolling out a 360-degree integrated campaign including radio, print, digital, cinema and brand associations. Over the years, MTV Unplugged has secured a forte in offering innovative musical formats to the audience and celebrating music in its rawest ever. From Guru Randhawa's stripped-down acoustic version to Rekha Bhardwaj's tribute to Gulzar, this eighth season promises to raise the bar higher.
Commenting on Royal Stag Barrel Select MTV Unplugged Season 8, Kartik Mohindra, Chief Marketing Officer, Pernod Ricard India, said "Royal Stag Barrel Select MTV Unplugged has become the symbol of perfection and we are proud to have raised the bar with each season. This season too, we extend this perfect stage to celebrate musicians who will explore music in its purest form. We are delighted to extend our long-standing association with MTV and hope to continue enthralling the Indian audience and bring alive the brand's philosophy of "Make it Perfect" in every way."
The network in a statement said, "The latest season of Royal Stag Barrel Select MTV Unplugged will take perfection a notch higher featuring a unique and beautiful confluence of soul stirring vocals and interesting musical arrangements in their purest form because 'Pure is perfect."
The theme for the eighth season is 'Unique Acts' where every artiste will create a set which is unlike any other done by her/him. The audience will see musicians performing unplugged renditions of their popular songs that have captured the hearts of audiences all over for legions of fans.
exchange4media Group Service
In association with Santosh Shetty of 'We all Connect', the initiative is part of the 3rd leg of Radio City's popular 'Kar Mumbaikar' campaign
Radio City has strengthened its commitment towards developing sustainable, pollution-free cities with the launch of the third leg of its popular 'Kar Mumbaikar' campaign. Through this 4 weeks long campaign, Radio City RJs Salil and Archana will visit nooks and corners of Mumbai city each week and plant trees. Radio City's latest initiative, 'Hara Hai Toh बरं आहे' in association with Santosh Shetty of 'We all Connect', will help replenish the green cover over Mumbai's concrete jungle by conducting plantation drives across Mumbai.
During their popular morning show 'Kasa Kai Mumbai', the RJs will urge listeners to nominate their societies/areas for this initiative and conduct a plantation drive, while broadcasting the on-air show from the same location.
Extending his support to Radio City's Kar Mumbaikar 'Hara Hai Toh बरं आहे' initiative, Thackeray actor Nawazuddin Siddique said, "Mumbai is facing several environmental problems that are on the rise and the receding green cover is one of the key aspects amplifying this issue. Promoting tree plantations in our own vicinity is a basic but vital step towards the preservation of the environment which in turn will positively impact the health and safety of citizens. Radio City's 'Hara Hai Toh बरं आहे' initiative, led by RJ Salil and RJ Archana is a great step towards raising awareness towards this cause. I hope that the initiative will highlight the significance of planting trees and drive every individual to take a step in the direction of developing a green, pollution free city."
Commenting on the launch of the third leg of the 'Kar Mumbaikar' campaign, Radio City's RJ Salil and RJ Archana said, "With the city observing a rapid environmental decline, plantation of trees is a crucial task, and through this campaign, we want to urge Mumbaikars to take this issue seriously. In tandem with our brand philosophy, Rag Rag Mein Daude City, we hope that our campaign will inspire citizens to bring back Mumbai's green cover and set an example for other cities to become a cleaner, greener space to live in." The campaign spanning on-air, on-ground and digital platforms, hopes to bring about a change in the mindsets of citizens by illustrating how small and achievable changes can bring about a significant difference in society."
For the uninitiated, Mumbai's tree cover, which was more than 35% in the 1970s, is less than 13% today, as per a study conducted by the Indian Institute of Science Bangalore. The IISC scientists emphasized the need for any region to have at least 33% green cover to ensure adequate oxygen to its citizens. Through the first two phases of the 'Kar Mumbaikar' campaign, Radio City has addressed various issues plaguing Mumbai such as the pothole menace faced by citizens during the monsoon season and 'StreeDum' campaign that raised awareness against the objectification of women. True to its brand philosophy of 'Rag Rag Mein Daude City', Radio City will continue to leverage the power of radio to bring about a positive change in our society.
exchange4media Group Service
Shirley Setia, Bhuvam Bham kept audience engaged with new-age rapping and some soulful music
Rider's Music Festival has managed to grab the attention of Delhiites, continuing with last year's success.
This year, Riders Music Festival (RMF) showcased a perfect line-up of contemporary musicians with different genres of music at Jawaharlal Nehru Stadium, New Delhi. From Nucleya's high octane gig, Lucky Ali's husky Bollywood charm to Mame Khan's folk music, Delhi's Jawaharlal Nehru Stadium saw over 20 thousand biking and music enthusiasts.
Adding jazz to the line-up, was Shirley Setia's filmy vocals with Divine's new-age rapping and some soulful music with Bhuvam Bham. Strategically placed as the weekender before Christmas amidst Delhi's winter, RMF brought forth the best of everything.
With more than 30 brand associations and partnerships, 16 + artists and multiple experience zones, including flea markets, gaming arena and adventure zones, Riders Music Festival is a joint intellectual property by RED FM and Phoenix Live.
A two-day-long action-packed event combining the best of music and motorcycles, the festival began with biking groups riding to the event on both days. The venue was flooded with an interesting myriad of grub stations and food trucks to tantalize tastebuds and mixologies of the best concoction for the guests who were present. With tarot card reading counters, bike stunt shows and customizations the guests were left truly mesmerized.
Nisha Narayanan, COO, RED FM said: "The amount of passion shown by the bikers last year at the Riders Music Festival sealed the deal and this year we were back with a bang. To be able to let out, relax, have delicious food, listen to your favourite musicians and showcase your passion through breath-taking stunts, made for a conducive experience. The first year of Riders Music Festival was a huge success. We knew we had to come back, but with even higher energies. The artists who performed were very carefully hand-picked as we want the festival to be both for the biking as well as non-biking community. It is 'the one-stop destination' for everyone and we are truly grateful for the phenomenal response the fest has received this year too."
exchange4media Group Service
Popular TV faces—Avinash Sachdev, Aditi Rawat, Anjali Priya and Deepshikha Nagpal—to be part of ensemble cast
Bringing forth an exceptional story loyalty and the strength of love, &TV is set to telecast a brand-new fiction offering 'Main Bhi Ardhangini' from 21st January-every Monday to Friday at 9.30pm.
Produced by Essel Vision Productions, 'Main Bhi Ardhangini' is a romantic drama about true love that lives beyond eternity and transcends even death. It showcases the power and strength that an Ardhangini has for her husband, and how she shields him from all evil even after her death.
The show brings together an ensemble cast with popular television faces like Avinash Sachdev, Aditi Rawat, Anjali Priya and Deepshikha Nagpal amongst others. To promote the show, the star cast were in Jaipur and urged their fans and the channel's fierce loyalists to subscribe to &TV and the Zee bouquet as per the new government rule.
'Main Bhi Ardhangini' is the journey of Chitra and Vaidehi as they both are singularly dedicated to protecting Madhav – the man they love. The story delves into the life of Madhav (Avinash Sachdev) and his childhood friend Vaidehi (Aditi Rawat). Her main motive is to bring back cheer, happiness and love in Madhav's life after his wife Chitra's (Anjali Priya) tragic death. Furthermore, depicting an invaluable bond of friendship and love, 'Main Bhi Ardhangini' will give a glimpse of the selfless effort and unconditional love that Vaidehi (Aditi Rawat) showers on Madhav.
The show will also bring out the eternal side of love and how the spirit of Madhav's first wife will do everything to keep them together and shield them against any source of evil even after death.
Speaking about the concept of the show, Vishnu Shankar, Head of &TV said, "We are excited to kickstart the year with the launch of 'Main Bhi Ardhangini', an adaptation of the very popular Zee Tamil show 'Yaaradi Nee Mohini' which has been successfully retold in many other languages. This romantic drama explores a different perspective of love, commitment and true bond that a wife as an Ardhangini has for her husband. The saga, a complete package of emotions, brings alive on screen a warm narrative and relatable characters each trying to deal with life, loss and love."
Talking about the show and its concept, Shariq Patel, CEO, Essel Vision Productions said, "Romance as a genre is an all-time favourite with viewers. With 'Main Bhi Ardhangini', we wish to portray the emotion of love and bond of a husband and wife in a different way, encompassing virtues like selflessness, devotion, loyalty, protection and care. With our unique style of storytelling, we are sure that the essence of the subject will come through effectively and the audience will be intrigued to watch how both Vaidehi and Chitra shield Madhav from evil. The story brings forward a unique relationship that is interwoven in a thread of love which surpasses even death."
Actor Avinash Sachdev who plays Madhav said, "My character is an extremely righteous man who doesn't carry any sort of malice in his heart. Shy and reserved, he is respectful of his elders, especially his mother Nilambari, even though she is his step-mother. Madhav is torn between the memories of his dead wife Chitra and the unconditional love received from his childhood friend Vaidehi. 'Main Bhi Ardhangini' is a beautifully written romantic tale and it gives me immense pleasure to be a part of this story."
He further said: "I also want to sincerely appeal to and urge all &TV loyalists, viewers and fans to subscribe to the Zee bouquet of channels, starting February 1, as per the new subscription scheme."
Playing the role of Madhav's childhood friend Vaidehi, Aditi Rawat said, "Vaidehi is a young and naïve girl; yet an extremely grounded soul who believes that every person is good at heart. She is full of life and is adored by everyone. Her selfless love for Madhav and her dedicated efforts to bring back joy in his life again is inspiring and rare. She will play a pivotal part in his life and I am excited to essay this role. I am also doubly excited to shoot this show as we will be in Jaipur throughout. The colourful backdrop and vibrant culture of the city lends itself beautifully to the show and it will be a visual treat for the viewers. So, to keep watching &TV and its shows, do choose the attractively priced ZEE Family Pack and stay entertained."
exchange4media Group Service
Kargil veteran Major General G D Bakshi to narrate and host 'Fall of Dhaka' & 'Turning Point At Tololing'
EPIC Channel, India Ka Apna Infotainment, has announced an engaging programming line-up for Army Day that is to be celebrated on the January 15th.
The line-up will feature exclusive series, including documentaries celebrating the Indian Army, its history and traditions, and will remember the brave who earned everlasting glory through supreme sacrifice.
The day-long line-up will be aired from 1pm onwards and will feature episodes from the popular show 'Regiment Diaries' that documents the story of various regiments of the India Army. The one-hour episodes in the line-up are Punjab Regiment, Madras Engineers Group, Rajput Regiment and the Jat Regiment.
Also featuring in the programming mix are two riveting documentaries narrated by, and featuring Kargil war veteran Major General G D Bakshi. The two specials that will be featured in the curated line-up include 'Fall of Dhaka' based on the Bangladesh Liberation War of 1971, and 'Turning Point At Tololing' that walks viewers through the capture of the Tololing Peak during the 1999 Kargil War.
Content and Programming Head, EPIC Channel, Akul Tripathi said, "Reality is a scriptwriter beyond compare and the stories about the Indian Army and the triumphant feats of our soldiers in times of peace and war are more compelling than anything that could be scripted. This is our small tribute to our Men in Uniform."
exchange4media Group Service
Sankranthi special: Channel to conduct SMS contest based on Junior NTR's film 
Zee Telugu will telecast the World Television Premiere of 'Aravinda Sametha Veera Raghava' on Zee Telugu and Zee Telugu HD on 13th January at 5.30 pm to mark the occasion of Makar Sankranthi.
The channel will host an exciting SMS contest on questions regarding the film and 10 winners will get the opportunity of winning bicycles, identical to Junior NTR's bicycle in the film.
The story revolves around a game of cards and violence that divides two villages for three generations. How Veera Raghava Reddy (NTR) is forced to get involved in the menace and changes the much popular diktat is what forms the crux of the film. Supriya Pathak as Veera Raghava's grandmother has a limited but an impactful role, and Pooja Hegde has played an anthropologist.
The combination of NTR and Trivirkam is the movie's selling point along with Devayani and Eeswari Rao also contributing to the plot of the film. Thaman's brilliant composing truly helps the film stand apart from the cluster of commercial films.
Sankranthi Aravinda Sametha Veera Raghava Zee Telugu

exchange4media Group Service
Advertorial: Part of a 100-day long Phoenix Festival, Phoenix Marketcity Pune celebrated the New Year by welcoming visitors and Punekars returning home with gift boxes on the first Sunday of the year
Travellers arriving from various parts of the country were in for a pleasant surprise, as Pune's premiere shopping and lifestyle destination, Phoenix Marketcity, Pune initiated a unique consumer engagement campaign.
As part of a 100-day long Phoenix Festival, Phoenix Marketcity Pune celebrated the New Year by welcoming visitors and Punekars returning home with New Year gift boxes on the first Sunday of the year, January 6.
While travellers were waiting for their luggage at the designated conveyor belt at the Pune airport, they were surprised to see boxes full of gifts being rolled out. Soon, the place was abuzz with smiles and chit chat all around as passengers started picking up the gift boxes. People were seen unboxing the surprise gifts with full enthusiasm and clicking pictures with it.
Soon, the campaign went viral with people posting photographs, thank-you messages across various social platforms with the hashtag #TheGoodLifeMoment and #HappyNewYear2019. From the youngest to the oldest, each passenger received their New Year gift. Videos and pictures have flooded the internet with people thanking Phoenix Marketcity, Pune for such amazing memories in the busiest of atmospheres.
For the campaign, Phoenix Marketcity, Pune tied up with 24 flights — 10 from SpiceJet and the remaining being a mix of other airlines like Jetairways, Vistara, IndiGo, etc. The activity went on for 18 hours with Phoenix Marketcity, Pune distributing more than 4,300 gifts amongst passengers.
Talking about this unique campaign Arun Arora, Centre Director, Phoenix Marketcity, Pune said, "Phoenix Marketcity, Pune is not just a shopping paradise but also an inspirational abode for the residents of Pune and around. The objective of this exclusive campaign was to engage directly with our loyal patrons, making their New Year more exciting and, at the same time, express our deepest gratitude for making us the best shopping, lifestyle and entertainment destination since inception. I wish everyone a fabulous New Year 2019."
Watch the fun unfold here: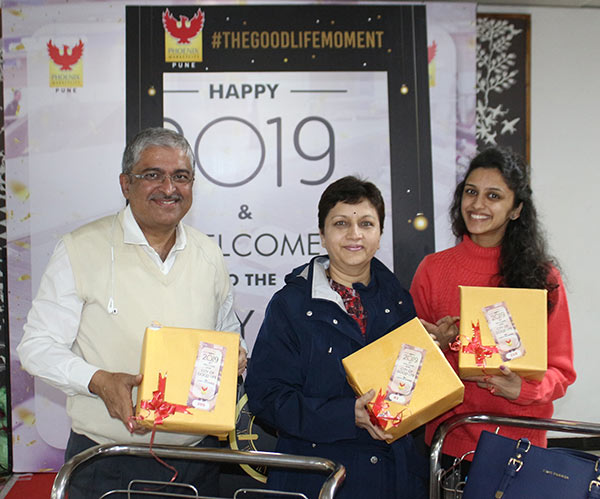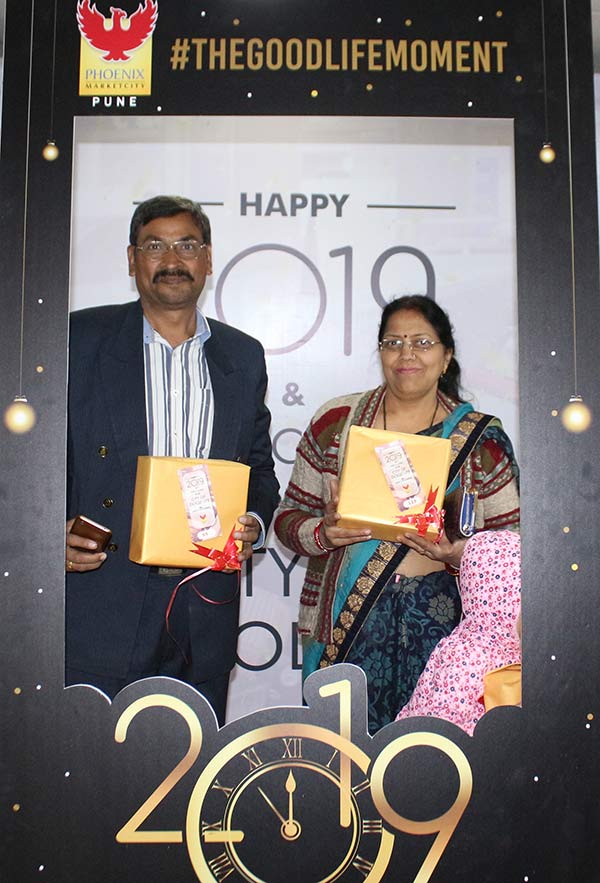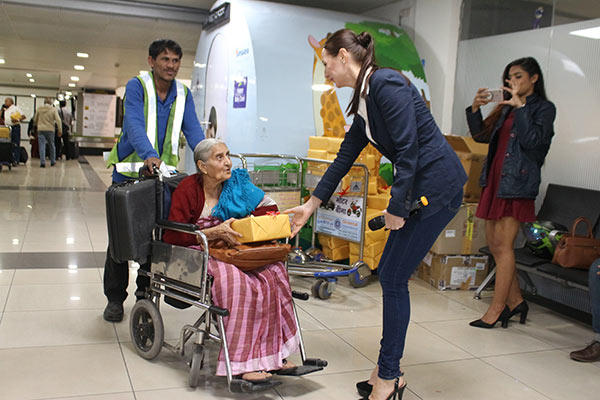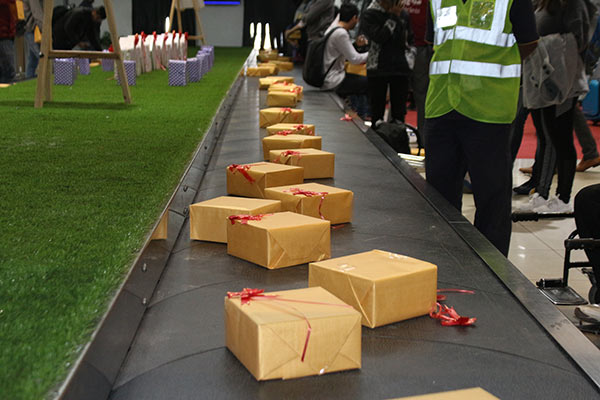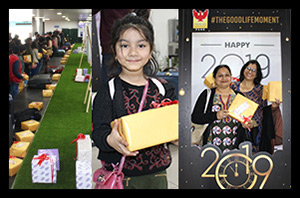 exchange4media Group Service