We spend a lot of money on research to understand our customers: CMO, Shell Lubricants
Gareth Flood, Chief Marketing Officer, Shell Lubricants caught up with exchange4media and spilled the beans on Shell's renewed focus, core value proposition, offline strategy and more.
Shell Lubricants on Tuesday launched their global campaign 'Power of partnerships' first in India. The campaign stems from a study that the brand undertook and in which it was encapsulated that collaboration will be key to unlocking progress. Gareth Flood, Chief Marketing Officer, Shell Lubricants India, caught up with exchange4media and spilled the beans on Shell's renewed focus, core value proposition, offline strategy and more.
Edited excerpts:
What is the reason and expectations behind Shell's renewed focus towards being recognized as more 'consumer centric'?

We believe that we have the expertise to make great products and have built big brands over time and with a lot of innovation. I think that to keep growing, you need to put the customer first. When we say customer-centricity, we mean to know what their needs are, meet them with our services and products, measuring customer attention, satisfaction, track and the size we're growing our business.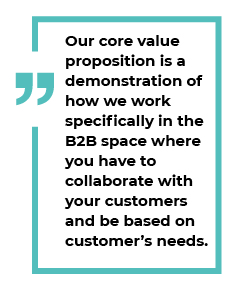 Tell us about the core value proposition of the 'Power of Partnerships' campaign? Also the who's and whys of the target audience and the analogy of cricket with Shell operations?

Our core value proposition is a demonstration of how we work specifically in the B2B space where you have to collaborate with your customers and be based on customer's needs. We spend a lot of money on research to understand our customers. So we used the analogy of cricket which we believe. The analogy is that our customers are like the cricketers and we're like the bat doctor, listening to them. We work the same way as we are silent partners to some of the very large companies. This is a global campaign going through all of our top markets and India is the first market to launch with this showing the importance of the market for Shell as a company.
Tell us about the current and upcoming marketing campaigns and projects on the cards?

In B2B, this is our biggest marketing campaign. We'll be promoting this for the rest of the year and tailor the message for different sectors we work with as we keep driving this. We also have a number of product launches happening. We'll continue to leverage our strength which is premium rates. As a company, we invest a billion dollars a year in research and development. We will be launching some new products in the motorcycle category. We're also spending a lot more of our budget on digital now.
What is your offline strategy for the brand?

We do a lot of media engagements, PR as well as influencer advocacy events. A big challenge in B2B is that it's very technical. There are always challenges around how to keep up with the developments, deal with breakdowns and extend the life of machines.
Tell us about the road map for the company and plans for the next quarter?

For Shell Lubricants, India is the third largest market and it's very important for us. So we've invested heavily in Shell Lubricants as a dedicated company back here in India. While we are already number 1 globally, it's our ambition to be number 1 in India.
Misbaah reports on advertising industry. Based in Mumbai, she interviews industry leaders in the creative, advertising and marketing space, reports news updates in the ad space. She drives the 'Chillout' section, and regularly reviews ad campaigns. In the past she has reported on mainline news, travel and lifestyle.
Guest Column: Strategic Advisor at Paulomi Dhawan Advisory writes on the late marketing industry veteran Nabankur Gupta
Nabankur Gupta (NOBBY), a marketing industry veteran, was a master in adding a high level of professionalism wherever he went. Warmth, humility, kindness personified him.
I first met Nabankur Gupta when he was at Videocon. (I was with the ad agency). He developed strategies for sub-branding and multi-branding in the consumer durables business for the first time in India which won him international accolades. Advertising Age International, New York recognised him for this successful initiative by awarding him with the title of "Marketing Superstar" (amongst 20 recipients of this title in 1996 in the world).
Mr Gupta...a client first then my boss and above all a mentor...who I owe a lot to. He was always there to guide, support me. He initiated my move to Raymond.
Mr Gupta joined the Raymond Group (from Videocon) as the Group President and board member in 2000. During his tenure he acquired some highly synergistic companies to support the strategic growth plans - Color Plus, launched designer label Be among others. The retail presence of Raymond grew aggressively, adding new formats across smaller towns in India.

He re-launched the brands in the textile and apparel space and further reinforced Raymond's leadership position. Brand building was his forte. New advertising campaigns like "Feels like heaven, feels like Raymond" were during his time. The "Baby" commercial was launched on the cricket platform "Champions Trophy". He had an eye for guiding the work with a great sense of the brand core. He brought back the "Teacher". He did the Father and Son, Father and Daughter, Man and Puppies ads and many more. The campaign contemporised "The Complete Man" making him more sensitive, younger.
Media consolidation at Raymond and introducing the Corporate Communication cell was his vision. We did some amazing work together-he was always supportive on any path-breaking idea. Dressing TV anchors, owning news segments, print innovations, style guides, the much prized Haji Ali hoardings were in his time. It was 360 degree marketing solutions, including ET Awards for Corporate Excellence initiated by him to synergize with the Raymond core values of Excellence, Leadership, Innovation.
Mr Gupta interacted with media – both the editorial with interesting insights and their marketing teams, ever ready to hear a new idea at a cost effective solution. As an advertising friend said, "The two of you were a formidable and good team." Extremely soft spoken and well-mannered in his handling of difficult situations and he was truly a marketing genius. He represented Raymond on many industry bodies like MRUC, ABC delivering wisdom and experience. He was truly an industry leader.
In 2005, he relinquished the post to start his own management consultancy "Nobby Brand Architects & Strategic Marketing Consultants". He was on the Board of many companies, including Raymond.
A warm, good human being who was highly respected by all, irrespective of rank or creed. A gentle leader, a man of principles, a guide and mentor to many, humble, a great professional and a thorough gentleman. His warmth, his quiet demeanour was like none other!
Thank you Mr Gupta for being there!!
At 70, he leaves behind his wife Nita, son Kaustabh and daughter Timira, and a very large family of indebted souls whose lives he touched. RIP.
God, please give his family the strength to bear this immense loss.
(The author is the Strategic Advisor Paulomi Dhawan Advisory)
Disclaimer: The views expressed here are solely those of the author and do not in any way represent the views of exchange4media.com.

Strategic Advisor, Paulomi Dhawan Advisory
He is currently believed to be serving the notice period following an internal announcement on Friday
Walmart India COO Devendra Chawla has quit after a 15-month stint, say reports. He is currently believed to be serving the notice period following an internal announcement on Friday.
Sameer Aggarwal, executive vice president, chief strategy and administrative officer Walmart India, is likely to take over Chawla's role, say reports. Aggarwal, who joined Walmart India in April, currently leads finance, technology, legal, audit and strategy functions. An MBA from London Business School, he was earlier chief finance, development and supply chain officer at KFC Thailand and had worked with Sainsbury's in UK and China.
Chawla, an alumnus of Harvard Business School, was executive vice president and COO responsible for merchandising, marketing, procurement and omni-channel at Walmart India. He was also a director on the board.
Before joining Walmart India, Chawla was CEO of Future Consumer, and Future Group president for food, FMCG and brands. He also had a stint at Coca Cola India as Director.

exchange4media Group Service
At the ninth edition of India PR & Corporate Communications Conference 2018, industry experts from Discovery India and Centre for Social Research will address a session
The ninth edition of exchange4media's India PR & Corporate Communications Awards 2018 is the most extensive and exhaustive awards to recognise the contribution and success of the PR Industry. With five categories and 22 subcategories, IPRCCA 2018 is the path-breaking initiative to salute and recognise the contribution of PR Consultancies and Corporate Communications.
The event is scheduled to be held on December 13 at The Leela Ambience in Gurugram.
The event will also witness an all-day India PR & Corporate Communications Conference 2018. The theme for the conference this year is 'The importance of integrated communications and its challenges'.
The topic for the seventh session at the conference is on 'Corporate Social Responsibility and Nation building; how communication supports in building blocks, bridging the gap between social responsibility and political governance'.
Our esteemed speakers Sameer Bajaj, Director - Corporate Communications and External Affairs, Discovery India and Dr. Ranjana Kumari, Director, Centre for Social Research, will discuss how brands are sensitive towards society and its development. Government initiative enforced brands commitment towards nation building through human capital. Role of communication person is to ensure CSR falls in line with brands business interest and the impact it has on people. The key is to define and device a key strategy which enhances brands reputation. Media, on the other hand, is a crusader in sensitizing the public about the issues and how corporate and nodal agencies are addressing those issues through their initiative.
Sameer Bajaj has over 20 years of work experience in strategic communications, advocacy, public relations, internal communications and CSR with global organisations across different industries. He is currently working with Discovery Communications India as Director – Corporate Communications & External Affairs. Prior to Discovery, Sameer has also led Corporate Communications verticals for Amway India and STAR Sports.
A renowned social activist and a prolific academician, Dr. Kumari is also the Chairperson of Women Power Connect. She has dedicated her life to empowering women across the South Asia region and is also a prolific writer of many well-known publications.
Dr. Kumari went to school in Varanasi, Uttar Pradesh. Her paternal grandfather, a freedom fighter, Pandit Vishwanath Sharma, was the founder member of the famous Kashi Vidyapith of Varanasi, which was the first modern University organised by Indians in British India. After finishing her schooling, she moved to Delhi and did her MA, MPhil, and Ph.D. in Political Science from Jawahar Lal Nehru University.
Her foray into social work was initiated by her concern for a dowry death that took place near her home in 1976. This led to her activism on world famous publication "Brides are not for Burning".
She has served as the Coordinator of the South Asia Network Against Trafficking (SANAT) in Persons and is a member of the Central Advisory Board on "Pre Conception and Pre Natal Diagnostic Tests Act, 2001", as well as the Central Advisory Committee for Prevention of Trafficking in Women and Children. Some of her most passionate causes have been the participation of women in democracy and governance, the termination of dowry practices and dowry-related violence, and the abolition of female foeticide.
In the past, she was a member of the Task Force on Industrial Relations for The International Labour Organisation (ILO) in Geneva and worked as a senior professional at United Nations. Currently, she is a member of the Global Safety Advisory Board of Facebook. She is also a member of the Twitter's Trust & Safety Council.
For the event, Ad Factors is the presenting partner of the IPRCCA and is co-Powered by Media Mantra & MSL. The gold partner is Kaizzen, PR Pundit & AvianWe. The urban mobility partner is Uber. The digital media partner is Media Value works. Policy Bazaar is the knowledge partner and is co-partnered by Text 100, The Publicist & Kommune. The lifestyle PR partner is ActiMedia, TV partner is NewsX, creativity partner is Webershandwick. The partner For IPRCCC is Pearl Academy.
For more detail, click here: https://e4mevents.com/iprcca-2018/
exchange4media Group Service
Gupta passed away on Friday following a brief illness
Marketing veteran Nabankur Gupta, popularly known as 'Nobby' Gupta, has passed away following a brief illness. According to media reports, Gupta (70) breathed his last on Friday.
Gupta was a marketing master with over three decades of experience in the industry. He had been associated with companies such as Raymond, Videocon Industries and Philips. He was serving as an independent director on the boards of several companies.
Gupta was the first Indian to have been conferred the tittle of 'Marketing Superstar' by Advertising Age International, New York, in 1995. He retired as Group President of Raymond in 2005, after which he started his management consultancy, Nobby Brand Architects & Strategic Marketing Consultants.
exchange4media Group Service
The 3rd season of Brand Factory Free Shopping Weekend will be held from 12th to 16th December 2018
While the rest of the world is going gaga about the Black Friday and Single's Day Sale, Indians will not feel left out, courtesy Brand Factory by Future Lifestyle Fashions. Announcing, Free Shopping Weekend (FSW) with a tongue in cheek humour, Brand Factory tells its customers #DontShopAtFSW if they like being rewarded only with discounts.
FSW is every shopaholic's dream as they get to shop for more than 200 National and International brands for FREE! The 3rd season of Brand Factory Free Shopping Weekend will be held from 12th to 16th December 2018.
The last two years of Free Shopping Weekend saw great success, with lakhs of customers queuing up outside the stores. The wait this year was palpable, resulting in more than 1 lakh RSVPs online, on Day 1 itself. Brand Factory rolled out a 360-degree integrated campaign where #DontShopAtFSW campaign received an overwhelming response of over 1.2 million views on Facebook. The campaign is supported by print, TV, digital, OOH, radio along with corporate and student community tie-ups. This year, the event will be held on a scale larger than ever before with the increased store presence in Tier II and Tier III markets.
Speaking about the scale of the Free Shopping Weekend, Roch Dsouza, CMO, Brand Factory says, "This is one of our biggest property and we wanted our communication to not only be direct but also fresh and exciting. #DontShopAtFSW is not just an attempt to break the clutter but it's backed by solid consumer insights. We took this route for our digital campaign and both the films bring out the true customer experience when they hunt for deals online or during EOSS of full price retailers. They are as direct and convey the message spot on. We backed this idea with content and we are already witnessing some crazy response."
FSW is India's only national ticketed shopping event conducted in 88 stores and 37 cities. Given the scale of the event, shoppers need to pre-book their entry passes at a minimal cost of Rs.250 (Premium passes for two: for early entry to the store from 8 am) and Rs.100 (Classic passes for two: for entry post 11am). Tickets can be booked via on brandfactoryonline.com, insider.in or by visiting the nearest Brand Factory store. You can also redeem the value of your pass on your next purchase during 18th to 31st December.
During the Free Shopping Weekend, you shop for MRP worth Rs.5000, pay just Rs.2000 and get that back too, in the form of free apparel worth Rs.500, gift vouchers worth Rs.1200, and another Rs.300 in your Future Pay wallet. Nobody would want to miss a shopping experience as big as this. Shoppers across the country unite, here's an experience you cannot afford to miss!
Campaign video:
exchange4media Group Service
The Indi platform will enable Dhoni's fans to become brand ambassadors for his Seven by MS Dhoni line of footwear, apparel and accessories while earning revenue on sales they generate
World-class cricket player, Mahendra Singh Dhoni, has partnered with Indi, a digital word of mouth engagement and monetisation platform, to extend and enhance relationships with his global fan base.
The Indi platform will enable Dhoni's fans to become brand ambassadors for his Seven by MS Dhoni line of footwear, apparel and accessories while earning revenue on sales they generate.
"Dhoni's reputation and ability to inspire 1.3 billion Indians has always amazed me. We are truly impressed with his motivation to give back to the fans who have given him so much. The chance to become a brand ambassador for Seven is a privilege indeed, and we are honored to be powering this groundbreaking opportunity for millions," said Indi CEO Neel Grover.
Seven by MS Dhoni offers a range of quality lifestyle and athletic apparel at affordable prices. Fans, athletes and gym goers find a unique range of daily wear to cricket-specific products ranging from cricket shoes to sweat-resistant tees. The latest technology, classic designs and highest quality materials are crafted into the Seven catalog.
"It's a special opportunity to be able to empower my fans and Seven by MS Dhoni customers with opportunities to not only engage with my label but to also increase their income by earning referral fees on sales they make across social media," Dhoni noted.
The Indi Brand Ambassador program for athletes offers a range of options for enhancing fan engagement including sponsorships, advertising, product recommendations, branded merchandise and two-way video on demand. The platform also provides detailed information on the athlete's Indi fan base, social traffic and income generation.
Another way athletes can engage their fans on Indi is through challenges where fans create and post videos and photos. Challenge winners are then selected based on criteria such as the "best" post and the most Indi Buzz generated by those posts.
Arun Pandey, Chairman and MD of Rhiti Group, stated, "While we continue our aggressive push in growing the number of stores to 100 by end of this year, I am thrilled that we are in association with a leading brand like Indi in the digital space. I look forward to working with Indi.com and the founder's wealth of experience at such a promising time in India's e-commerce landscape to promote a healthy and fit lifestyle which Seven by MS Dhoni embodies."

exchange4media Group Service
Diana Penty will feature in skincare and makeup campaigns across digital and in-store platforms
Skincare, makeup and fragrance brand, Estée Lauder has announced actress and model, Diana Penty, as their Brand Ambassador for India. Penty will feature in skincare and makeup campaigns across digital and in-store platforms. Her first campaign will be for Estée Lauder's Advanced Night Repair.
"We are thrilled to welcome Diana to Estée Lauder India as our first Brand Ambassador. Her independence, confidence, sophistication and radiance reflect the modern Indian woman today and will bring a fresh attitude to our brand legacy and style. We're excited to reveal our first campaign with Diana and truly believe she will help connect our brand with female consumers around the country," said Rohan Vaziralli, General Manager, Estée Lauder Companies India.
Commenting on the announcement, Penty said, "It is an honour to be the first face for Estée Lauder in India. Being the first Indian woman to represent this iconic global brand is a dream come true. I think confidence and inner happiness makes one beautiful and I hope that I can inspire other young women to bring out the beauty in them."
Penty will front the Advanced Night Repair and Pure Color Love Lipstick campaigns in India. She will also lead the DoubleWear Stay-in-Place Foundation campaign, joined by local influencers representing diverse backgrounds and skin tones.

exchange4media Group Service
Industry leaders take a guess at who will walk away with the title tonight
D-Day is here and the spotlight will shine on the winner of the 14th IMPACT Person of the Year award at the Grand Ballroom of Taj Santacruz, Mumbai tonight. Just before the moment of truth, however, industry leaders share their top picks on who they think is the most deserving winner among the nine nominees this year.
This year, the nominees for the award are Naveen Tewari, Founder and CEO, InMobi; Nadia Chauhan, Joint MD & CMO, Parle Agro; Sanjay Gupta, Managing Director, Star India; Deepak Iyer, Managing Director, Mondelez India; Rajan Anandan, Vice President, South East Asia and India, Google; Ritesh Agarwal, Founder, Oyo; Sanjiv Mehta, Chairman & MD, Hindustan Unilever Limited (HUL); Piyush Pandey, Executive Chairman and Creative Director, Ogilvy South Asia and Prasoon Pandey, Director, Corcoise Films; and Sriharsha Majeti, Rahul Jaimini, Nandan Reddy, Co-founders, Swiggy.
Here is what some senior industry leaders have to say about the nominee of their choice and why they think he or she should win the coveted IPOY 2018 title.
Raj Nayak, COO, Viacom18
Most of the people who have been nominated are my friends. Also, all the nominees are super-achievers in their own right. This makes it very difficult to pick one name. However, there are two or three people who have done fabulous work for their organization. Sanjiv Mehta of HUL had a great turnover and great story this year. Sanjay Gupta of Star TV has played a key role in the Star TV's fabulous performance, with the acquisition of IPL, and the company that it has evolved into. I also think Nadia Chauhan is deserving because she's taken Parle Agro to a completely new level.
Amer Jaleel, Group Chairman and Chief Creative Officer, MullenLowe Lintas Group
For me it's 100% Swiggy because they've changed the game in my house the most. It used to be a task thinking of a place you want to order your food from, but now whatever you want, you call Swiggy and you get it. In my family, Swiggy has had the biggest impact and if there are many families like that, then it has to be the biggest impact anyone has ever made.
Jyoti Bansal, CEO, PHD India
My vote goes to Sriharsha Majeti, Rahul Jaimini and Nandan Reddy of Swiggy for what they've done for office lunches and the way India orders its food today.
Santosh Padhi, Chief Creative Officer & Co-founder, Taproot Dentsu
Nadia Chauhan should win because of the aggressive work that she and Parle Agro have done so wonderfully for some of the Parle products, despite a few ups and downs in the category. They have still emerged in a strong way and she's the one who has been fronting the brand and deserves to win the IPOY title, among the nominees that have been listed.
To know more about the event, please click here: https://e4mevents.com/ipoy-2018/
exchange4media Group Service
20 brands are utilising Sony Music India's new segmentation study, which now uncovers 31 unique segments of music consumers
Every brand, irrespective of its category, understands the important recall factor that music brings in. This is evident from well-established instances such as MTV Coke Studio and Mahindra Blues Festival among others. In keeping with the changing music consumption pattern, Sony Music updated its Sony Music India Segmentation Study, which now covers 31 unique segments. This is one of India's first and largest research undertaken to analyze psychographic and demographic profiling of Indian audience based on their music consumption patterns. It offers an interesting insight into the life of a consumer over-laid with their music preferences. Over the last three years the study has helped around 80 brands leverage its power by tying up with the right music artistes.
The updated study now uncovers 31 unique segments of music consumers classified under a model called as FECI - Fanatic, Enthusiast, Casual and Indifferent, based on how central music is to their lives. The trend study also researched the usage and consumption habits, spends by teenagers in urban cities, music discovery patterns across age groups, music consumed on daily basis, brands consumers admire and spend on with respect to music and the role it plays in marketing and advertising.
Kiran Dcruz, Director, Brand Partnerships, Sony Music, says, "It helps you plan a strategy to use music effectively to a larger subset."
Around 20 brands across categories including Yamaha, Nexa, Hitachi , Amazon and Nykaa have leveraged the updated segmentation study to bring out campaigns that marry the DNA of brands and music artistes. These include Nexa Music Lounge 2018 and 7UP Madra Gig.
Dcruz is also working with FMCG brand ITC that has still not ventured into the content space. Without divulging much, he says, "Through Segmentation Study we have been able to give them insights on how to effectively use music and also helped them choose an artiste."
Mahesh Kanchan, Marketing Director, Carlsberg India, says, "We have had a four-year relationship with Sony Music and through these years they have successfully been able to use their understanding of the segmentation study to help achieve our marketing objectives. We are working on something exciting next year too, and will soon share information on the same."
Online beauty retailer Nykaa has also lined up a project which is scheduled to be out soon. Hitesh Malhotra, Chief Marketing Officer, Nykaa.com, says, "We have been working with Sony Music over the last few months and they have been most clear in understanding our marketing and brand objectives. This year we are planning something new and innovative with them through their segmentation study and we are confident that it will be a massive success."
The proprietary Sony Music Segmentation Study is conceptualised and managed by the International Insight Team at Sony Music UK and India along with market research giant GMI (Global Market Insite) with the objective of providing audience insight and music trends across different consumer segments in key markets.
exchange4media Group Service
In the same week, FMCG brand Hindustan Lever, Reckitt Benckiser, and ITC Ltd continued to lead the category
Trivago climbed up to the top spot to lead the top spot in Top 10 Brands for Week 48 (November 24-30, 2018) with 12,014 insertions. Santoor Sandal and Turmeric and Axis Bank Credit/Debit Card moved to a second and third spot with 10,324 and 8712 insertions respectively.
Dr. Ortho Oil and Capsule entered the category in the fourth spot with 8604 insertions. Flipkart slipped to the fifth spot with 8505 insertions. Goodknight Power Active Plus retained its sixth spot with 8187 insertions. Roop Mantra Ayur Face Cream, Vaseline Intensive Care Lotion, Godrej Expert Rich Crème Hair Color and Freecharge forayed into seventh, the eighth, ninth and tenth spot with 8069, 7769, 7744 and 7515 insertions respectively.
In the same week, in the BARC Top 10 Advertisers list, FMCG brand Hindustan Lever, Reckitt Benckiser, and ITC Ltd continued to lead this category with 1,22,400, 46,007 and 39,453 insertions respectively.
Ponds India and Cadburys India moved up to fourth and fifth spot with 30,886 and 30,640 insertions respectively. Godrej Consumer Products slipped to the sixth spot with 30,082 insertions. Wipro moved up to the seventh spot with 28,879 insertions. Procter & Gamble slipped to the eighth spot with 27,001 insertions. SBS Biotech forayed into the category at ninth spot with 23,348 insertions. Brooke Bond Lipton India retained its tenth spot with 21,581 insertions.
exchange4media Group Service