Raghav Bahl issues official statement after IT raid
IT department officials raided Bahl's Noida residence on October 11th, 2018 by
Published - 12-October-2018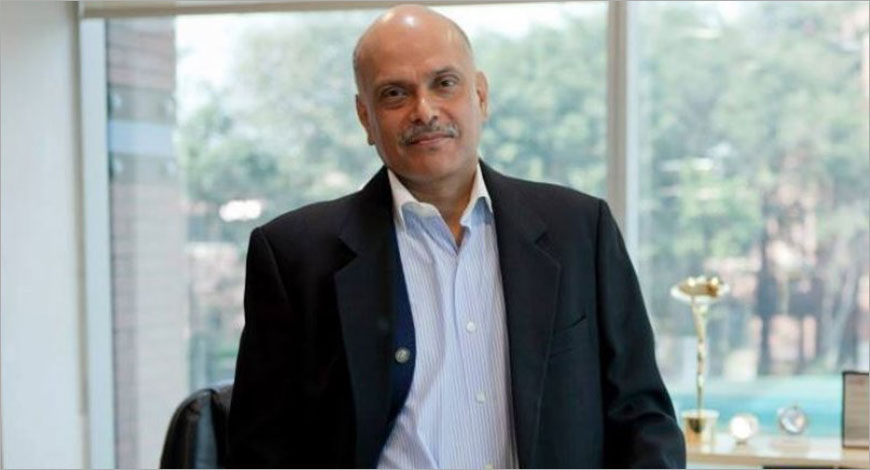 Raghav Bahl, Founder of The Quint, has issued an official statement following an Income Tax department raid which took place at his Noida residence early morning on Thursday,11th October 2018.
Below is the official statement by Raghav Bahl:
All So-Called "Bogus" LTCGs Were Filed & Assessed to Tax
(Statement from Raghav Bahl, Ritu Kapur & Quintillion Media Group)
From 7.45 am on Thursday to 6 am on Friday, for 23 incessant hours, nearly 500 journalists and other professionals of the Quintillion Media Group, were held to the most intrusive ransom by India's tax officers. However, we are immensely proud of our team, that gave them full access and cooperation, often pointing towards information and assets that they may have missed during their search/survey operations.
But then, when we woke up after a 3-hour sleep, we were astonished to see that a blatant attempt had been made by the government's spin-masters to say that the action was part of a year-long investigation into some Long-Term Capital Gains (LTCG) scam, whereby Raghav Bahl and Ritu Kapur had made "bogus" income of Rs 118 crore. Without much ado, here are the facts of that case (not claims): ·
All these and other gains/losses were fully detailed/declared in the appropriate year of tax filings; and more importantly, were accepted and assessed to tax, under this very government! · So the attempt to "colour" our tax returns, now, as "bogus", is clearly a frame-up, and we shall take every legal recourse to protect our fair name and reputation in this case.
But this also alerted us to the imminent possibility that more such frame-ups shall be attempted now. Therefore, picking up from the key points of yesterday's "interrogation", we would like to put the facts (again, not claims) for the non-partisan and fair people in this world to judge for themselves.
Cash/Jewellery at home: All that was recovered was Rs 3.56 lacs in Indian currency, and Rs 33 odd lacs in modern and ancestral jewellery, almost entirely from my 82-year-old mother's cupboard. All of these assets are duly assessed and declared in past returns. Is it really that surprising that people of that age/generation feel more secure holding such a moderate amount within physical proximity?
Flat in London: since both our children expect to or have graduated from a University in London, we decided, as a family, to invest most of our legally permitted LRS remittances (currently at $ 250,000 per family member per year) in buying access to such an asset. Accordingly, we made a booking in a new apartment building a few years back and pooled our annual LRS remittances for this purpose. All of this has been fully declared in Schedule F of our income tax filings. In fact, we were asked, at least half a dozen times yesterday, by the tax officers, whether "we had fully declared these assets in Schedule F, including all details of overseas bank accounts?". When we answered, half a dozen times, in the positive, we could see that they were disappointed!
RIL Transaction: Clearly, the focus then shifted to the sale of our shares in Network18 to Reliance Industries Limited in 2014. We promptly gave them a copy of the share sale agreement and full access to past emails on this subject. They followed up with several questions about the status of the current subsidiaries of Network18, and all we could say was that we have no access to any information after our exit, and they will have to reach out to Network18.
Viacom18 JV: There was much confusion around this JV, which was done in 2008. They seemed to imply that it was done as a "round tripping" exercise by TV18! They also repeatedly confused this transaction with other subsidiaries/companies, including HomeShop18 and India Film Company. From memory, we did set the record straight and asked them to reach out to Network18 for further details.
BloombergQuint (BQ) JV: This one was truly surprising. They kept on insisting that we had got "Rs 10 cr from Bloomberg invested in the JV without a formal FIPB clearance". In fact, at one stage they even asserted this was a case of "round tripping" again! But when we produced a copy of our FIPB approval for this investment by Bloomberg in Quintillion Business Media (P) Ltd (our JV company), I reckon they had little option other than to accept the fact. (As an aside, there has been a report in a leading pink paper today that the nearly 2-year delay in receiving approval for BQ's TV channel is because the Ministry of Home Affairs (MHA) has raised some "security concerns". We challenge the government to put the MHA report on this subject in the public domain. We can say with absolute confidence that MHA has given a "categorical" clearance to us on security grounds, and the delay is on some other account).
Link to Advantage/Artevea/Reddy: They asked us whether we had ever had any transaction with either Advantage Consulting or Artevea Digital (UK) or one Mr CBN Reddy. Our answer was a quick and categorical "no". No caveats, no qualifications. We have never had any transactions with any of these entities.
Collateral Raids on Downstream JVs: There were similar/simultaneous surveys carried out at our investee companies, viz The News Minute (Bangalore), Quintype India (Bangalore) and Youth Ki Awaaz (Delhi). If the search/survey was linked to some transactions of ours that took place in 2014, then why were these investee companies searched in the same investigation? All of our investments in these companies have taken place after 2015; in any case, we do not control them on a day-to-day basis, we are only passive investors, so then why were these companies targeted? Clearly, it was a fishing expedition, to spread the net wide, and somehow, somehow, catch something.
Use of Private Digital Experts in a Tax Search: This one astounded us. Since this was our first such experience, we had no clue that the digital experts used to clone data, and do other digital surveillance, during such raids, belong not to the tax department, but to private contractors! So where is the privacy of this key data? Who is responsible for its misuse? What indemnity do we have? This is an issue that requires serious deliberation and comment, and we reserve our right to take further action here. We will urge that this issue be taken up by privacy activists and concerned citizens.
In conclusion, we reiterate that we are absolutely in the clear, that we shall mount a robust legal defence against every trumped-up charge that is brought against us; that we are making these disclosures to pre-empt further character assassination against us, to thwart attempts through leaks, plants, and trolls; that we warn our fellow news colleagues to be vigilant against similar state vendetta; and end with thanking everybody who stood by us and supported us. This battle shall be fought, and not lost!
For more updates, subscribe to exchange4media's WhatsApp Channel- https://bit.ly/2QUdLCK
Foreign Correspondents' Club of South Asia and Kalinga Institute of Industrial MTechnology signed the Memorandum of Understanding for 5 years; exchange4media to assist in organising the Awards

by
Published - 13 hours ago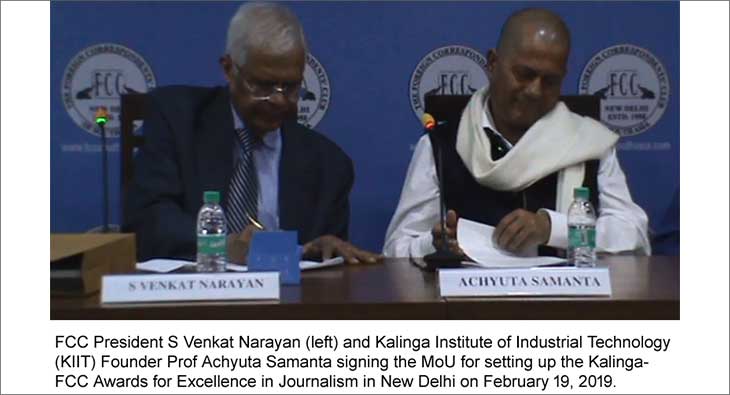 The Foreign Correspondents' Club of South Asia (FCC), New Delhi, and the Kalinga Institute of Industrial MTechnology (KIIT), Bhubaneswar, have signed a Memorandum of Understanding (MoU) to institute the Kalinga-FCC Awards for Excellence in Journalism.
The MoU, signed by FCC President S Venkat Narayan and KIIT Founder Prof Achyuta Samanta, is for five years (2019-2023). The KIIT will spend Rs 50 lakh during this period on the awards and their conduct and administration.
Five awards, each worth Rs 1,00,000 in cash, will be presented along with a Medal and Citation to the best entries received in five categories: Print, Television, Radio, Photography and Online.
The Awards will be given each year to journalists picked by the Jury as:
1. Print Journalist of the Year
2. Television Journalist of the Year
3. Radio Journalist of the Year
4. Photo Journalist of the Year
5. Online Journalist of the Year
The FCC invited Prof Samanta, Founder of the Kalinga Institute of Industrial Technology (KIIT) University and the Kalinga Institute of Social Studies (KISS) University, Bhubaneswar, to collaborate in establishing Annual FCC Awards for Excellence in Journalism to be given to journalists for their work out of India and other countries in South Asia, namely Afghanistan, Bangladesh, Bhutan, Maldives, Nepal, Pakistan and Sri Lanka, and published or broadcast in the global media outside the SAARC region.
Exchange4media will assist the FCC and the KIIT in organizing the Awards.
The first lot of the Awards will be given out in March for Articles, Photographs, Radio and TV Programmes published or broadcast during January-December 2018. Entries are welcome in all languages, but must be accompanied by an English translation. The same time schedule will be applicable every year.
A Jury of eminent media professionals will be formed by the FCC and KIIT to judge the entries. Entries should be submitted either by the journalist himself/herself, or nominated by a third person or institution. The awards will be given to individuals, teams or to institutions for articles/ photograph(s)/Radio/TV broadcasts or a candidate's body of work during the preceding 12 months.
The entries for a given year (January-December) should reach the FCC by the end of every February the following year. They should be sent in a packet marked ENTRY FOR FCC AWARDS 2019 to The Manager, FCC, AB-19 Mathura Road, Opposite Pragati Maidan Gate # 7, New Delhi-110001.
However, this year, the entries can be sent to reach the FCC by March 15.
Juries will be formed each year to judge each category of awards. The majority decision of each jury will be final. The juries will meet two days before the presentation ceremony to pick the winners, and will be present at the award function in New Delhi in the third weekend of March every year.
KIIT will be represented by Dr Achyuta Samanta's nominee Raja Ramesh, while the FCC will be represented by its President or his/her nominee(s) to oversee the work involved in the administration of the Awards, attending meetings and assisting the jury.
For more updates, subscribe to exchange4media's WhatsApp Channel- https://bit.ly/2QUdLCK
The verdict was mainly based on positive submissions by the MIB and MEITY, says Internet Freedom Foundation

by
Published - 14 hours ago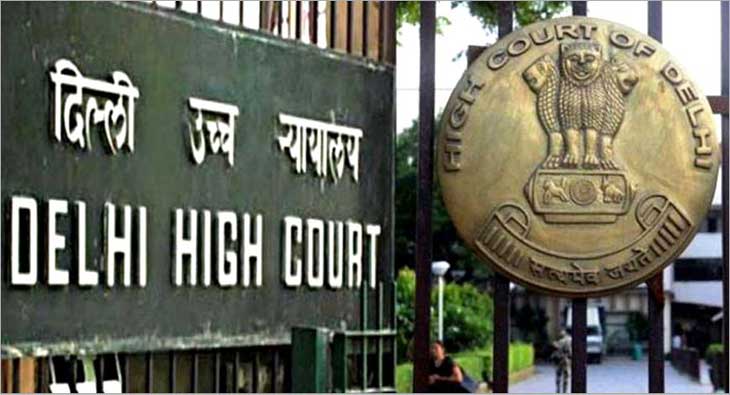 The Delhi High Court has dismissed a Public Interest Litigation filed by the Justice for Rights Foundation seeking separate guidelines to regulate content on online streaming platforms.
In a report by the Internet Freedom Foundation, the PIL included web-based shows like 'Sacred Games' and 'Game of Thrones' for vulgarity, pornography and abusive language.
The division bench of the Delhi High Court consisting of Chief Justice Rajendra Menon and Justice V Kameswar Rao delivered the verdict on the PIL dismissing the petition, the report said. The verdict was mainly based on positive submissions by the MIB and MEITY.
The Internet Freedom Foundation says the High Court verdict is an affirmation that "while there is no separate provision for regulating online content, the provisions of the Information Technology Act, 2000 were not only merely applicable but an adequately armed with Section 69 to block illegal content".
"While we are concerned with some of them, this is an incremental victory. It prevents a heavy, licensing style system from emerging in the video streaming space which would threaten our viewing choices online," the foundation says.
The MIB and MEITY have pointed out that there is no need for further guidelines when sufficiently stringent provisions are already in existence, the report said. The court has said that if the petitioner continues to consider content provided on certain platforms prohibitory, it should take it up with the relevant authority.
For more updates, subscribe to exchange4media's WhatsApp Channel- https://bit.ly/2QUdLCK
PR Professionals will be strategising and executing the Public Relations activities for NHPC at national and state levels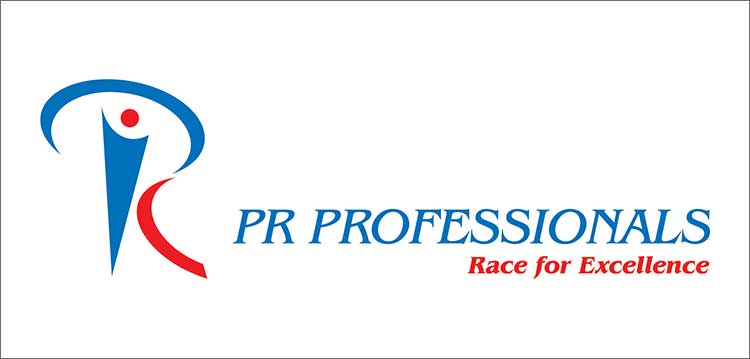 PR Professionals has bagged the national mandate of NHPC Limited (formerly known as National Hydroelectric Power Corp).
The hydropower company is a Schedule 'A' Enterprise of the Government of India which was accorded the Miniratna status in 2008. PR Professionals will be strategising and executing the Public Relations activities for NHPC at the national and state levels.
The addition of NHPC swells up the PSU kitty of PR Professionals which has recently renewed its contract with Lucknow Metro Rail Corporation and National Capital Regional Transport Corporation.
NCRTC is a government body mandated to implement India's first regional rapid transit system in Delhi NCR. With an authorised share capital of Rs 15,000 crore, NHPC is a premier organization in the country engaged in the development of hydropower. It does so through Conventional and Non-Conventional Sources in India and abroad.
"Winning the PR mandate of NHPC at the beginning of 2019 has given us a momentous start and we hope to continue with this impetus throughout the year. This is indeed one of the prestigious accounts for us and we are all set to deliver our best," said Sarvesh Kumar Tiwari, Founder, and Managing Director, PR Professionals.
For more updates, subscribe to exchange4media's WhatsApp Channel- https://bit.ly/2QUdLCK
Gets over 7,000 paying subscribers in just over a month; BQ BLUE caters to exclusive, investigative, analytical & insightful market reports in a premium multi-media format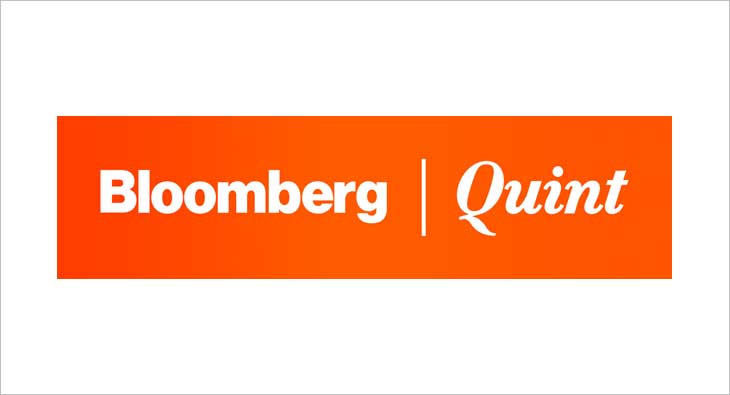 BloombergQuint has launched BQ BLUE, a premium subscription product. It has got over 7,000 paying subscribers in just over a month of its launch.
BQ BLUE is a hybrid model, offering a mix of metered and exclusive stories. It gives subscribers the opportunity to access investigative and analytical articles, market reports, insights, as well as opinions of industry leaders and experts in a high-end, multi-media format.
The service also features BQ Edge, India's first daily video offering that's behind a paywall.
BloombergQuint will continue to offer 5 articles free of charge per month, following which, users have the option to avail a quarterly or annual subscription using a host of payment modes. Micropayment options are also available, starting at Rs 18, through Paytm and other payment platforms, with subscribers also being able to read now and pay later, using Simpl.
Subscribers will also have access to exclusive Bloomberg Businessweek content.
Anil Uniyal, CEO, BloombergQuint said: "BloombergQuint has always strived to uphold the promise of quality, accuracy, and integrity in business journalism. BQ BLUE is a big step forward in our attempt towards achieving that goal. Through insightful industry stories, podcasts, data-driven analytical articles, and more, delivered directly and regularly at their fingertips, we can keep our subscribers constantly updated on all that is going on in the business and financial sector of India. This in-depth analysis helps them make real-time decisions."
For more updates, subscribe to exchange4media's WhatsApp Channel- https://bit.ly/2QUdLCK
PM Narendra Modi to be key note speaker; other top politicians to include Nitin Gadkari, Piyush Goyal and P Chidambaram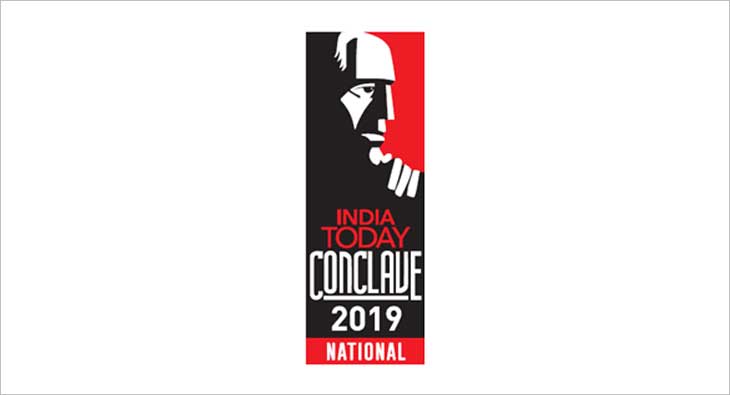 The eighteenth edition of the India Today Conclave will host a range of debates and discussions on a range of issues over March 1 and 2 in New Delhi.
Prime Minister Narendra Modi is the key note speaker at the Conclave and is likely to speak on the India Story under him.
Aroon Purie, Chairman and Editor-in-Chief of the India Today Group, said, "We are honored to have Prime Minister Modi as the keynote speaker at the India Today Conclave. As India heads towards a major election, it will be a privilege to hear him assess his term and spell out his vision for India at the Conclave."
The two days will witness national and international minds converge and deliberate on issues across a spectrum of topics. While Boris Johnson — Brexit leaver, politician, historian, journalist — will explain his choices and why the lessons from Brexit are significant for India in a session titled The Devil & the Deep: Bitter cocktails from Brexit; Nitin Gadkari, Union Minister for Road Transport & Highways, Shipping & Water Resources, River Development and Ganga Rejuvenation will speak on his roadmap for the BJP's political success in the session, 'My Way. And the Highway'.
Piyush Goyal, Interim Finance Minister and P Chidambaram, Former Finance Minister are expected to feature in back-to-back sessions in which they will present their assessment of the economy and election promises in front of a common jury of eminent economists and experts. The session is titled Split Wide Open: What ails the Indian economy?
Bollywood stars Ranveer Singh and Kangana Ranaut will not only add glamour to the event but reveal personal insights and what makes them both so unique and individualistic in an industry built on PR images. Ranveer Singh will be speaking on his 7 deadly sins while Kangana Ranaut will be speaking on creativity, kicking ass and rewriting the rules of being a woman in a session titled #BreakingBad.
The two days will also see an impressive range of politicians, thinkers, economists, analysts, sports stars and artists who will deliberate, debate and decipher the conclave theme of Hard Choices in their respective spheres.

For more updates, subscribe to exchange4media's WhatsApp Channel- https://bit.ly/2QUdLCK
Comcast and Sony making bids to acquire promoter stake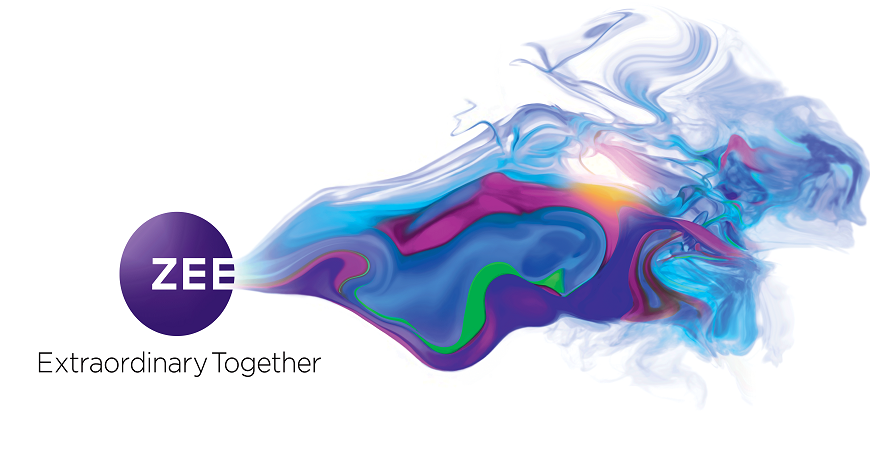 Zee's top management has been in talks with investors for a stake sale, media reports have said.
Comcast and Sony are reportedly vying to acquire a promoter stake and their bids are likely to be nearly Rs 540-560 per share.
Promoters of Zee may also enter into an exclusive binding agreement this week, reports said.
In an interview to a leading business newspaper last week, ZEE CEO Punit Goenka reportedly said that US companies were at the "forefront" for the stake sale. Sony Pictures and Comcast were the two names doing the rounds even then.

For more updates, subscribe to exchange4media's WhatsApp Channel- https://bit.ly/2QUdLCK
This is another award in the digital agency's kitty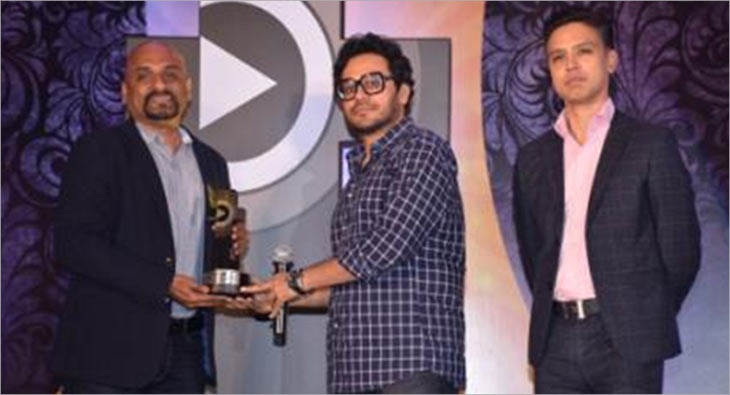 Chennai's premier digital agency, TrendLoud hit another milestone, claiming an honour at the Talent Track Awards in Mumbai on Friday.
They have won a certification of their production efforts in Tamil web series Door No. 403 and an award in the Best Web Series – Regional category with a Special Jury mention for their prowess in the field.
The third edition of Talentrack Awards received participation from over 500 industry players, including major names like Viu, Zee5, Hotstar, Voot, ALT Balaji, SonyLIV, Warner Bros and TVF apart from other digital-content industry players.
Amongst such elite company, TrendLoud's fifth original web series, Door No. 403 won the Best Web Series - Regional (Special Jury Mention) award.
CEO of TrendLoud Mr Chidambaram said, "At this moment, would like to thank TalentTrack, Ernest & Young and other Jury members for this award. It's indeed a great motivation for us to produce many more quality originals in the coming years". He also thanked Viu for the association in producing this series.
"Thanks to Vishal for his guidance and support. Door No. 403 remains special to us - it was our fifth production and now we have grown and have rolled out our tenth series," he said. The Chennai-based company's web series stood tall in a talent pool comprising of Amazon's Mirzapur which won a silver & Netflix's highly-acclaimed Scared Games, which won gold.
With another accolade in their kitty, TrendLoud is now looking into developing more interesting concepts and aiming at more such recognitions like this in the coming years.

For more updates, subscribe to exchange4media's WhatsApp Channel- https://bit.ly/2QUdLCK
BBH Global issues statement saying no evidence was found to support accusations against Barrett, Chief Creative Officer & Managing Partner, BBH India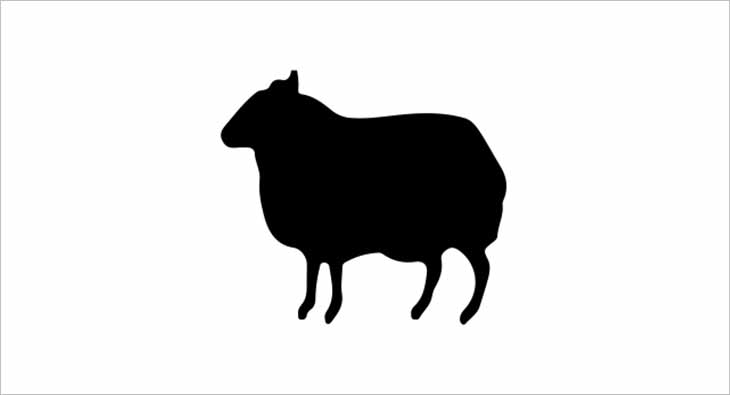 BBH Global has issued a statement saying that an investigation has cleared Russell Barrett, Chief Creative Officer & Managing Partner, BBH India, of allegations of sexual harassment.
The statement said:
"A few weeks ago, unsubstantiated allegations of sexual harassment were published online by a #MeToo campaigner about Russell Barrett, Chief Creative Officer & Managing Partner, BBH India. Given the serious nature of the allegations and our zero tolerance policy towards any form of harassment in the workplace, we immediately began an investigation.
A thorough investigation was conducted by an Independent Committee and found no evidence of misconduct whatsoever. The Committee has fully cleared Russell Barrett of the allegations and any misconduct.
BBH strongly believes in providing a safe, fair and just working environment to all our employees without exception."
For more updates, subscribe to exchange4media's WhatsApp Channel- https://bit.ly/2QUdLCK
The opening session of the conference will be chaired by Col. Rajyavardhan Rathore, Union Minister of State (IC), Information & Broadcasting and Youth Affairs & Sports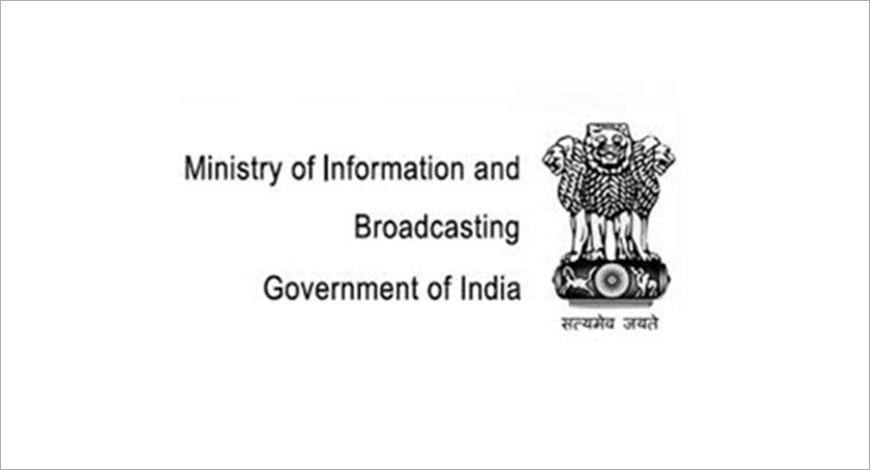 The Ministry of Information & Broadcasting (MIB) is organising the first Annual Conference of Media Units under it on February 13, 2019. The event will be held at Vigyan Bhawan, New Delhi.

The opening session of the conference will be chaired by Col. Rajyavardhan Rathore, Union Minister of State (IC), Information & Broadcasting and Youth Affairs & Sports.
The ministry in a statement said that the conference aims to give a unique platform to the officers of the Indian Information Service working under different media units to converge at an All-India level where they can discuss and deliberate upon the emerging areas of the evolving communication paradigm.
Through the conference, the ministry aims to strengthen synergy between the media units in order to ensure last-mile delivery, while simultaneously brainstorm the use of new technology in communication.
The participants will also discuss the ways of using social media to reach target audience groups and push the boundaries of communication outreach in terms of geographical and cultural barriers.

For more updates, subscribe to exchange4media's WhatsApp Channel- https://bit.ly/2QUdLCK
As per the GroupM report 'This Year, Next Year', India tops the list as the fastest growing major ad market in the world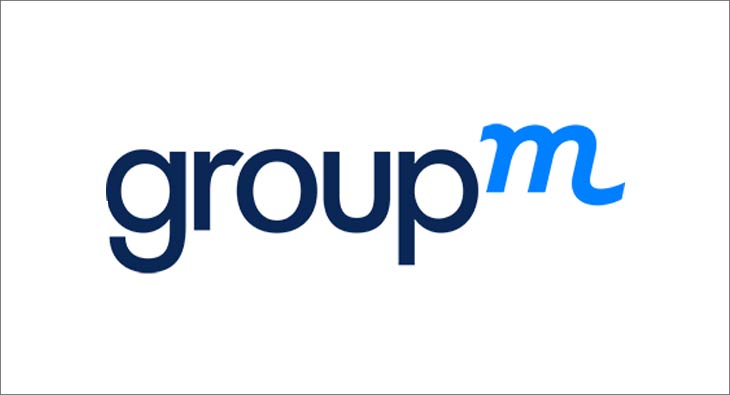 GroupM, the media investment group of WPP, has announced their advertising expenditure (adex) forecasts for 2019.
As per the GroupM futures report 'This Year, Next Year' (TYNY) 2019, India tops the list as the fastest growing major ad market in the world. TYNY forecasts India's advertising investment to reach an estimated Rs 80,678 crore this year.
This represents strong estimated growth of 14 per cent for 2019 (approx. 2x of the GDP growth).
India will be the third highest contributor to the incremental ad spends, only behind China and the US and the tenth fastest growing country with respect to ad spends across the globe.
The Cricket World Cup and Elections in 2019 are expected to boost ad spends. FMCG, Auto, Retail, e-commerce, Tech/Telecom are expected to contribute to two-thirds of the Adex.
Speaking on the TYNY 2019 report, Sam Singh, CEO - GroupM South Asia said, "While we are estimating the global advertising expenditure to grow at 3.6%, India would be witnessing the fastest growth at 14% and reach an estimated Rs.80,578 crores. This would be approximately 2x of the estimated GDP growth in India. This also makes India the 3rd largest adex growth to the worldwide ad spends. We expect sustained and stable media investment growth across categories in India"
This year 37% of incremental ad spends will go towards digital advertising including mobile. The scale at which we are witnessing this digital transformation, GroupM estimates the Digital Adex to continue to grow by 30% in 2019 to Rs 16,038 crore.
Prasanth Kumar, Chief Operating Officer - GroupM South Asia said, "Indian ad spends CAGR between 2014-2018 is at 13% and 2019 expected to witness a higher growth. India is unique among key markets and will witness growth in all media segments and not just digital. Offline media is poised to continue to grow and will contribute to being around 80% of ad spends in 2019."
Television will continue to grow at a steady pace. This year, the growth rate for TV is estimated to be 15%.
Print is estimated to grow by 2.2% and the share of print to all media is expected to be at 23%. While it is expected for both English and regional languages to grow, regional will see slightly higher growth. Vernacular will continue to thrive on both TV and print.
This year, Radio is expected to grow at 15% which is higher than the last couple of years. Cinema will grow at 25% in 2019, as 2018 saw more titles winning audience at the box office. In 2019, GroupM expects cinema to shift from title-based advertising to continued advertising through the year. Lower tax on cinema tickets is expected to drive more footfalls to theatres.
Tushar Vyas, President Growth and Transformation - GroupM South Asia said, "With the surge of technology, better insights and relevant engagement across different platforms, we are expecting marketers to build superior consumer connections for brands. 2019 will witness a faster growth in digital and we are expecting digital to be at 20% media mix. As we are witnessing one in every three Indians digitally connected, we can expect the convergence of data, digital and content to deliver seamless and powerful solutions to brands as well as constantly adding inventive practices into the market."
For more updates, subscribe to exchange4media's WhatsApp Channel- https://bit.ly/2QUdLCK