Value 360 and Viacom 18 win big at IPRCCA; Roger C.B. Pereira conferred with Lifetime Achievement Award
IPRCCA recognises the contribution and path-breaking initiatives of PR Consultancies and Corporate Communications teams by
Published - 17-November-2017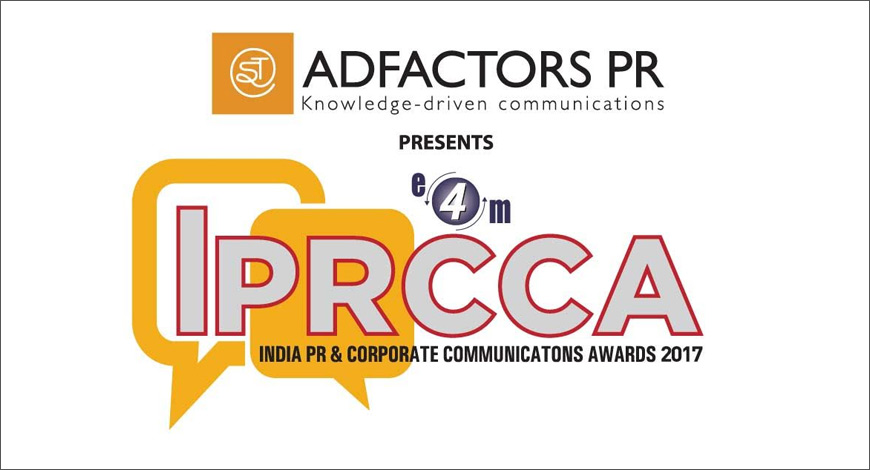 The exchange4media group celebrated the best of work in the Public Relations and Corporate Communications world in Gurgaon on Thursday with the India PR & Corporate Communications
Awards. These awards recognise the contribution and path-breaking initiatives of PR Consultancies and Corporate Communications teams.
In this year's edition of e4m IPRCCA, 45 metals were awarded across 4 categories and 25 sub-categories.
The big winner this year was Value 360 Communications that won four gold, two silver and two bronze metals thus emerging as the PR Consultancy of the Year. Viacom 18 won the In-House Team of the Year with one gold, two silver and two bronze metals. Roger C.B. Pereira was conferred with the Lifetime Achievement Award for his immense contribution to the industry.
The other winners included Adfactors PR, PR Pundit and Text 100. Adfactors PR won three gold and six silver metals while Text 100 won three gold metals. PR Pundit won one gold and one bronze metal.
Among brands that participated, Procter & Gamble won one gold metal, Godrej won three silver and one bronze metals.
Further, Samir Kapur, Sr. VP & Branch Head, AdFactors PR, won the PR Professional of the Year award. And Amrutha Raman, Senior PR Consultant, Aim High Consulting, won the Young PR Professional of the Year award.
"The growth of digital and new-age media has brought a major change in the media consumption habits, not only in terms of content but also in mode and time. The award entries at the IPRCCA had PR firms creatively use the art and science mixing traditional and new media to create the right impact, going beyond media coverage," said Anup Sharma, Veteran PR Consultant.
Kunal Kishore, Founder Value 360, said, "We are extremely elated on the win and the credit for this goes to all our team members who have worked extremely hard to make it happen. We will also like to thank IPRCCA for recognising this good work."

The complete list of winners can be seen below:
101. Issues Management or Crisis Management
S.NO.
Entry Name
Brand Name
Entrant Company
Medal
1
Enduring Code Red of Bitcoins in India
Unocoin
Value 360 Communications
Gold
2
Saving Cloud Telephony
Knowlarity Communications
Value 360 Communications
Silver
102. Public Affairs
S.NO.
Entry Name
Brand Name
Entrant Company
Medal
1
Delivering Banking to India without Banks
Faircent.com
Value 360 Communications
Gold
2
Elephants can fly
Momentum Jharkhand
Adfactors PR
Silver
103. Most innovative use of Social Media
S.NO.
Entry Name
Brand Name
Entrant Company
Medal
1
Vicks #TouchOfCare
Vicks
Procter & Gamble (Hygiene & Healthcare)
Gold
2
MTV Unplugged Season 6 - Making Music A Social Experience
MTV India
Viacom18 Media Pvt. Ltd.
Silver
3
Launch of GoodKnight Fabric roll on
GoodKnight
Godrej
Bronze
104. Integrated Campaign
S.NO.
Entry Name
Brand Name
Entrant Company
Medal
1
Digital India ki Digital Aadat #PaytmKaro
Paytm
Value 360 Communications
Gold
2
Sleep@10 by Godrej Interio
Sleep@10 by Godrej Interio
Godrej Industries Limited and Associated Companies
Silver
3
Mirinda #ReleaseThePressure
Mirinda
Edelman India
Bronze
105 A. Continuous Campaign {Metro Only}
S.NO.
Entry Name
Brand Name
Entrant Company
Medal
1
Max Bupa Walk for Health 2017
Max Bupa India
Text100
Gold
2
Ezee Hugs
Ezee
Godrej
Silver
105 B. Continuous Campaign {Beyond Metro}
S.NO.
Entry Name
Brand Name
Entrant Company
Medal
1
Shriram Thirukkural Competition
Shriram Chits Tamilnadu Pvt Ltd
Catalyst PR
Bronze
201. Entertainment, Sports and Lifestyle Sector
S.NO.
Entry Name
Brand Name
Entrant Company
Medal
1
United by Half by Benetton India
United Colors of Benetton
PR Pundit Public Relations Pvt. Ltd
Gold
2
Saluting Women Power in Rugby
Societe Generale
Adfactors PR
Silver
3
MTV Unplugged Season 6 - Making Music A Social Experience
MTV India
Viacom18 Media Pvt. Ltd.
Bronze
202. Education Sector
S.NO.
Entry Name
Brand Name
Entrant Company
Medal
1
From Volume To Value
Education New Zealand
Genesis Burson-Marsteller
Bronze
203. Healthcare/Healthcare Providers
S.NO.
Entry Name
Brand Name
Entrant Company
Medal
1
Back to Work
Medela India Private Limited
Genesis Burson-Marsteller
Gold
2
Launch of India's First Free Condom Store
Aids Healthcare Foundation (AHF) India
Avian Media
Silver
204. Financial Services Sector
S.NO.
Entry Name
Brand Name
Entrant Company
Medal
1
STOP PAYING FOR FOREX
BookMyForex.com
Value 360 Communications
Gold
2
Introducing a World beyond Wallets
ItzCash Card Ltd
Adfactors PR
Silver
3
Policybazaar.com - Changing the Way India buys Insurance
Policybazaar.com
Policybazaar.com
Bronze
205 A. Best use of PR by a Brand {Metro Only}
S.NO.
Entry Name
Brand Name
Entrant Company
Medal
1
Back to Work
Medela India Private Limited
Genesis Burson-Marsteller
Gold
2
Leading India's Financial Revolution - Paytm Karo
Paytm
Value 360 Communications
Silver
3
ITC Vivel - Ab Samjhauta Nahin
Vivel
PR Pundit
Bronze
4
SALEBHAI-RIDING THE REGIONAL NOSTALGIA WAVE
SaleBhai
Value 360 Commmunications
Jury Recommendation
205 B. Best use of PR by a Brand {Beyond Metro}
S.NO.
Entry Name
Brand Name
Entrant Company
Medal
1
A Friend in Need
Trringo
Adfactors PR
Gold
2
Saregama - Carvaan
Saregama Carvaan
Saregama India
Silver
206. Technology
S.NO.
Entry Name
Brand Name
Entrant Company
Medal
1
Text100 - Indus OS
Indus OS
Text100
Gold
2
Sennheiser Top 50
Sennheiser
Genesis Burson-Marsteller
Silver
301. Public Sector
S.NO.
Entry Name
Brand Name
Entrant Company
Medal
1
Know Your Banking Rights
BCSBI
Adfactors PR
Gold
2
Elephants can fly
Momentum Jharkhand
Adfactors PR
Silver
3
IDBI Bank salutes 26/11 martyrs with 'Swim of the Century'
IDBI Bank
Adfactors PR
Silver
302 A. CSR & Not-for-profit {Metro Only}
S.NO.
Entry Name
Brand Name
Entrant Company
Medal
1
Creating Warriors out of Survivors
School for Justice
FleishmanHillard
Gold
2
ICICI Bank's CSR programme through its ICICI Foundation for Inclusive Growth
ICICI Bank
ICICI Bank
Bronze
3
Down's Syndrome art winning hearts
Om Creations Trust
Adfactors PR
Silver
302 B. CSR & Not-for-profit {Beyond Metro}
S.NO.
Entry Name
Brand Name
Entrant Company
Medal
1
Project EMBED (Elimination of Mosquito Borne Endemic Diseases)
Godrej
Godrej
Silver
2
Feed The Future Now - Eradicating Hidden Hunger
Viacom18 Media Pvt. Ltd.
Viacom18 Media Pvt. Ltd.
Gold
3
Smile Foundation: Empowering local Samaritans
Smile Foundation
Value 360 Communications
Bronze
303. Management Communications
S.NO.
Entry Name
Brand Name
Entrant Company
Medal
1
WAVE - Ushering In A Wave of Change
Viacom18 Media Pvt. Ltd.
Viacom18 Media Pvt. Ltd.
Silver
2
Don't Go Red - Maintaining The Integrity At Viacom18
Viacom18 Media Pvt. Ltd.
Viacom18 Media Pvt. Ltd.
Bronze
3
Sustained campaign of bringing happiness among stakeholders
Telenor India Communications
Text100
Gold
304. Best use of PR by a corporate
S.NO.
Entry Name
Brand Name
Entrant Company
Medal
1
Unhungry India
Godrej Appliances
Adfactors PR
Silver
2
Dream BIG with Ola
Ola
Adfactors PR
Gold
3
Bringing art to the masses
Asian Paints
Madison Public Relations
Bronze
402. Young PR Professional of the Year
S.NO.
Entry Name
Designation
Entrant Company
1
Amrutha Raman
Senior PR Consultant
Aim High Consulting
Winner
403. In-House Team of the Year
S.NO.
Entry Name
Entrant Company
1
Viacom 18
Viacom 18
Winner
404. PR Professional of the Year
S.NO.
Entry Name
Designation
Entrant Company
1
Samir Kapur
Sr. VP & Branch Head
AdFactors PR
Winner
405. PR Consultancy of the Year
S.NO.
Entry Name
Entrant Company
1
Value 360 Communications Pvt. Ltd.
Value 360 Communications Pvt. Ltd.
Winner
406. Life time Achievement Award
S.NO.
Entry Name
Designation
Entrant Company
1
Roger C.B. Pereira
Partner
Roger Pereira Communication LLP
Winner