The marketer of the future: Karan Kumar, Fabindia
Guest Column: Karan Kumar, Chief Brand & Marketing Officer, Fabindia tells us how to thrive in an age where lines between present and future have already blurred
Future is already the present without the marketer acknowledging it. At least I believe in that. I say that because most often the marketer thinks his present day toolkit is adequate without actually realizing that it is partially outdated and a relic of the past. Let us, in the spirit of candour and honesty, admit that most marketers feel a bit weak in their knees when asked whether their brands and their approach, both are future ready. I suspect the reason behind that feeling is somewhere an embarrassingly inadmissible realisation that neither really are.
The logical question therefore is why are they not? Despite their intention otherwise, I suspect the real reason is that the average marketer is actually a hostage of the past-influenced present, with an impaired vision of the future. A future, given the exploding disruptions and pace of change, often times the marketer cannot even begin to sketch leave alone being prepared to paint in detail.
Honest marketers pay focussed attention to the present, eagerly looking out for changes that are already beginning to make them feel uncomfortable. They watch out for "Green Shoots" (thoughts, technology, platforms etc) which could grow into creating the dense foliage of at least tomorrow, never mind the next decade.
I present below some key markers, call them trends, which I have no doubt will only grow in scale and magnitude as we walk into 2019. While some of these could be inspired by the new ecosystems we live in, others are evolution and reiteration of what has worked beautifully in the past, continue to hold meaning today and will grow even stronger in the future. It is of course for each marketer to assess how they are positioned to embrace and profit from them.
1. The Internet is the biggest influencer of our times with 600 million Indians are already consuming it, led by formats of video content, chat, and VoIP. This number is only rising and as studied estimates project this to grow to 900 million by 2022/23. By then, 750 million would be consuming it on mobile devices with 650 million consuming it in the form of video content. The need for a clearly defined content strategy, led by video and that thrives on mobile platforms is stronger than ever before.
2. With an inordinately high purchasing capacity, Millennials are fast becoming the largest consumption audience. Educated, focussed and entrepreneurial, millennials seek "causes" brands champion, embracing them (and their brands) if these find resonance with them. They also deeply value "social proofing", want to "creatively challenged" and love brands that encourage them to share content generated by them. These elements need to become the cornerstone of a brand's strategy to successfully target and engage with this extremely important audience group.
3. A well-defined "Content Marketing" strategy and within it the role of "Branded Content" has already become a key marker of an effective marketing plan. With growing disdain for traditional forms of broadcast advertising, audiences are increasingly seeking authentic "people stories" – stories that educate and entertain. Consequently, story-telling formats too have evolved from the days of the 30-second TVC or the 120-second director's cut hosted on YouTube! Short and long-format videos including web series and webisodes are driving story-telling and content consumption and these require special skills, training, and expertise to produce and execute across own and publisher platforms. Mastering understanding of formats, production and distribution will be key to successful brand messaging in the year ahead.
4. Driving "Customer Experience" and not just satisfaction is an aspect that has found increasing reiteration in this past year. Made possible through personalized messaging and engagement of customer individually, this requires concerted investments in data gathering (not just "what, but "why", "where" and "how" data), as much as in building a robust data processing, information, and analytics architecture that leads to uncovering insight. Personalized campaigns anchored in deep motivation and behavioural understanding will lead the way in delivering customer experiences that are both superior and compelling throughout the purchase journey.
5. "Immersive Retail" is more important today than it ever was. Truer for brands that have traditionally been anchored in large-format physical retail but also becoming increasingly important for brands that hitherto had only an online play but have now started to experiment with the physical retail. An immersive retail strategy empowers you to engage customers by telling stories around product origin and inspiration to assist in product discovery and purchase. Exciting technology has emerged to assist in this story-telling within retail stores and brands that leverage these will successfully weave an immersive customer experience.
The above list is in no way either comprehensive or complete. There is so much more to get right – driving AI and deep learning, using data to remarket, actively pursuing voice search and harnessing the potential of Blockchain, and then some more. View the above five merely as great starting points to 2019. In other words, you simply cannot not have these in place if you want to provide your brands a firm footing in their march forward towards success. The future is here. Wake up, smell the coffee!
(The author is Chief Brand & Marketing Officer, Fabindia)
Disclaimer: The views expressed here are solely those of the author and do not in any way represent the views of exchange4media.com
Chief Brand & Marketing Officer, Fabindia
Dr Batra offered guidance & tips on creating a successful company from scratch at StarUp, a networking event for start-ups, held in Mumbai on Friday
Dr Annurag Batra, Chairman & Editor-in-Chief of the exchange4media group, addressed an enthusiastic bunch of entrepreneurs, offering guidance and tips on creating a successful company from scratch at StarUp, a networking event for start-ups, held on Friday.
Peppering the talk with his inimitable humour and wit, Batra shared his entrepreneurial journey at a room full of eager listeners. He said that one of the key aspects of running one's own venture is knowing every function of the company inside out. "I run a media company. But for coding, I know every aspect from content creation and sales, to distribution. I advise aspiring entrepreneurs to understand how every department in the company works," he said.
He further said that one should not set out to launch a venture for fame or money but because one loves what s/he is doing. "When you love what you do, none of it seems like work." It is this philosophy that keeps him going, he said.
Talking about the risks involved in building a start-up, Batra said, "To create your own destiny is an admirable quality for anyone who wants to be an entrepreneur."
In his closing remarks, he emphasised on developing the quality of helping others in the smallest of ways, like connecting people with each other and not necessarily by investing money in someone's venture. "That karma comes back to you through other channels. If you can add value to someone's venture, do not hesitate," he concluded.
exchange4media Group Service
Awards for the 66th Cannes Lions International Festival of Creativity will be judged under nine tracks - Communication, Craft, Entertainment, Experience, Good, Health, Impact, Innovation, Reach
One of the biggest annual award shows for advertising and creative professionals, the prestigious Cannes Lions is back. Each year, the event attracts thousands of entries from across the world vying to be crowned the coveted Lions award.
This year, the 66th Cannes Lions International Festival of Creativity will be held from June 17 to June 21, and the entries to the competition have begun. Awards will be judged under nine tracks - Communication, Craft, Entertainment, Experience, Good, Health, Impact, Innovation, Reach. The final deadline for submissions is April 18, 2019.
New Lions have been added this year. The 'Creative Strategy Lions' celebrates the idea behind the idea; how strategic planning can redefine a brand, reinvent its business and influence consumers or wider culture. The 'Entertainment Lions for Sport' will award creativity that taps into fan culture and leverages the power of sports and eSports in connecting people to brands.
Some new categories have been added too. Such as a Culture & Context section, which appears across ten Lions – celebrating work with a specific focus on local campaigns and cultural insights, as well as challenger brands and break-throughs on a budget. New categories that celebrate Business Transformation across three Lions. Additions also include Native Advertising in Radio & Audio, Voice-activation across multiple Lions and Promotional Content for Publishers & Networks – celebrating work made for and by media owners.
Some changes have been made, which means you can now enter product design and innovation entries into new categories in Innovation Lions and Design Lions. Product Design has now been retired.
Shortlisted entrants for the Creative Strategy Lions, Innovation Lions, Titanium Lions and Glass: The Lion for Change will be invited to present their work live to the Jury and delegates at Cannes Lions.
All charity and non-profit work is judged separately from brand-led work during the festival.
exchange4media Group Service
From Mallika Dua's Tata Capital campaign to Mid-Day roping in Jamie Lever, several brands such as Hyundai, Tata Motors & Durex have gone for comic artists
From leveraging celebrity stardom and glamour to roping in unconventional stand-up comedians, the Indian creative industry sure has come a long way.
A band of digital-era comedians have been taking over ad-land and how! From Mid-Day leveraging the comic magic of Jamie Lever in their ad campaign to Tata Capital Wedding Loan bringing out the laughs with comic artist Mallika Dua in their recent spot, creative comic collaborations are pretty much becoming commonplace.
Marketers naturally noticed people gravitate towards these stars. So they leverage the reach of the comedy stars either through endorsements or creative collaborations as they have a finger on the crowd's pulse. Brands such as Hyundai, Tata Motors, Durex, HDFC Life and Aegon Religare have capitalized on them to release some interesting work.
Varun Khullar, Creative Director, Happy mcgarrybowen asserts that leveraging stand-up comics is a more nuanced call as they are very creative people and help with the actual process of creating communication.
"In the last few years, have seen a sort of celebdom enter the world of stand-up comedy than ever before. The comedy scene in India has finally erupted and the shock waves are reaching far and wide. People today resonate more with a stand-up comedian than a celebrity, despite the latter being a wee bit more popular. While conventional celebs are used as 'pretty faces', the employment of stand-up comics is a more refined call. Comics these days have their following, and more importantly, their own point of view. They are names with a distinct voice rather than just a recognizable face," Khullar pointed out.
Sometime back, Heineken teamed up with Indian comedian Rudy Singh for their campaign "Generations Apart" that went viral and gained over 1,66,000 views on YouTube.
Popular comics Kanan Gill, Kenny Sebastian, Tanmay Bhat and Kaneez Surkha have featured in several ads during the last few years. Bobby Pawar, Chairman, Havas Group who worked on the campaign during his stint with Publicis India suggests that the use of a stand-up comedian has to be more strategic in nature. "If you just use them to merely say a frivolous joke without the brand and the message integrated into it, it doesn't work well," says Pawar.
Let's face it: Many people are skeptical when it comes to advertisements. And humour forces them to lower their defences and catches people off-guard. It helps embed brands in a social conversation. No wonder, brands sponsor live shows, video content, and other such activities.
Shrenik Gandhi, Cheif Executive Officer and Co-founder, White Rivers Media points out that this is a bigger trend on digital than on TV. "Humour always catches attention. Netizens love to consume funny, quirky content. The bigger benefit is, most of them are rising stars and are very strong on digital. The former gets them at a competitive cost and latter enables better reach." Gandhi adds that another interesting insight is, since they are not yet larger than life celebrities, people connect with them faster and better.
Kiran Khalap, Co-founder and Managing Director, Chlorophyll Brand & Communications says stand-up comedians bring their own brand of humour and their own community of followers that is worth capitalising on. The new maxim of branding is "Think 365, not 360", which means a brand needs to connect with its stakeholders every day of the year and not just when the product or service is consumed, Khalap said. "Roping in a stand-up comedian is an interesting way to connect: they bring their own brand of humour and own community of followers. For instance, a Zakir Khan has a huge following among youngsters whose first language is Hindi, while a Kannan Gill for those whose first language is English...and so on. The current rules of consumer engagement begin with likeability, more than awareness. Hence, once again, a stand-up comedian raises the benchmark," Khalap said.
For more updates, subscribe to our WhatsApp Channel - http://bit.ly/e4mWhatsApp
For more updates, subscribe to our Newsletter - http://bit.ly/2Qu7OIs
Misbaah reports on advertising industry. Based in Mumbai, she interviews industry leaders in the creative, advertising and marketing space, reports news updates in the ad space. She drives the 'Chillout' section, and regularly reviews ad campaigns. In the past she has reported on mainline news, travel and lifestyle.
Jam8, founded by Pritam and KWAN, to provide new talent to bring about diversified mix of music for all audiences
Prime Focus Limited, which provides end-to-end creative services (visual effects, stereo 3D conversion and animation) and post-production services (Digital Intermediate and picture post) to the Media and Entertainment industry has announced its collaboration with Jam8, a musical platform founded by music composer Pritam and KWAN, a talent management company, to serve as a 360-degree creative solution provider for the M&E industry.
With an aim to branch out and expand itself, Prime Focus in association with Jam8 and Kwan plans to deliver the best in terms of high-quality infrastructure and technology that caters to all kinds of sonic requirement. Having the likes of Pritam and Jam8, this venture will serve as a one-stop platform that will offer solutions to music across all segments covering movies, advertisements and the OTT space, providing the best of quality music output.
"Jam8 is my baby and helping me nurture it are Kwan and Prime Focus. After successfully launching composers who are active in films, television and advertising...now finally our state-of-the-art studio is ready. I am really excited," Pritam said.
Namit Malhotra, Founder, Non-Executive Chairman, Prime Focus, said: "It's a great opportunity for us to partner with JAM8. Music is something I hold very close to my heart. Through this collaboration, we would look to enable new talent to bring about a diversified mix of music for all the audiences. Jam8 is a platform under the leadership of someone like Pritam that can bring the best of talent and produce music that will be enjoyed for years to come and we are thrilled to be partnering in that."
Vijay Subramanium, CEO at Kwan, said, "Pritam da has had the vision of Jam8 for years and when he discussed it with us, we truly believed that his vision was transformational. The idea and the platform is unique and will create opportunities for musicians across the country to live their dream. It's been an absolute pleasure to see this dream take shape."
Niraj Sanghai, Business Head at Prime Focus, said, "Our aim through this venture is to support the abundance of upcoming talent we have in our country. We would like to present these budding youngsters a platform and provide all the best amenities and opportunities to encourage and nurture them. We are proud to associate with Jam8 and we very excited to be part of this initiative."
exchange4media Group Service
Talking about going global on digital, Goswami says that by 2020 Republic will merge its broadcast business in a more direct way with its digital business
Not many have the power to influence the intellect but those who do leave an indelible mark in the minds of the people. Arnab Goswami, MD & Editor In Chief of Republic TV, is one such individual who is unstoppable, and in the words of Ashish Bhasin, Chairman & CEO South Asia of Dentsu Aegis Network, "Once Arnab starts talking you have no idea where it can lead to."
It was an exciting evening at the DAN-e4m Digital Advertising Conference held in Mumbai yesterday, where Goswami explained how digital as a medium conveys much more than traditional advertising.
Known to have digitally transformed the business of news, Goswami spoke with examples of digital strategies adopted by him for the election coverage in 2014. He explained how a simple Whatsapp message had helped put the television channel, he was then working for, on the world map. He emphasised on the element of virality and how the nature of marketing completely changes if you use digital.

"Digital as a medium conveys much more than traditional advertising. For the launch of Republic Bharat, we are doing 95 per cent digital marketing and creating content on our own focusing on the centrality of the message we want to send on Bharat. So the nature has changed, lines have changed, people are informal. I think digital will last much longer than traditional advertising. I'm a big proponent of it," informed Goswami.
He explained how the impact of the digital medium is magnificent and it will resonate if the language is easy and simple where you are able to communicate with the younger generation. "Digital should be an agent of social change and transformation," said Goswami.
Speaking about the launch of Republic Bharat, his Hindi channel, and video, voice and vernacular becoming the way forward for digital, Goswami said how India is getting accent agnostic and that people are getting into cognitive understanding.
"I speak Hindi with slight Assamese and slight Bengali accent. As a complex country, we are becoming homogenous and forgive accents and accept them. I believe that India should be content capital of the world, and only we can be because we are accent and language agnostic; we genuinely are. We can make fiction, non-fiction and news; we can create video, audio, print – it is an exciting option for India. I believe we should create video content language agnostic globally and curate the content locally at 10 per cent of the cost of let's say a 'Vice' and of good quality. Some of the content being created in India is fabulous. The problem is we are limiting ourselves geographically. By nature we are not culturally expansionist, we just need to have the confidence, and by using digital we can step beyond the geography," asserted Goswami.
"There is so much vernacular content that I want to go global. Create global content companies out of India, which we will do in 2019 when Republic expands and gets into the digital global game. We can create many Bloombergs and CNNs out of this soil. And this is a beautiful time to do it. If Arnab Goswami can speak Hindi you can do anything. We can play the global game. Some of those OTT players are dying to go global," said Goswami.
Talking about how he balances between digital and television, Goswami explains, "We have about 800 people at Republic. I'm happy to inform we have about 150 to 200 employees in digital, including people who are working on a product in a deeper way with content. There are two innovations I'm doing. My business strategy for digital is that we have started to have large engineering and product presence out of our Bangalore office, who only look after the technology part. We do our own technology and based on that we have built the lightest news app; 2.5 MB, really light; we didn't outsource the engineering. We are doing a new experiment calling it 'content production combined team experiment'. We broke the walls between people who understood the product and knew how to disseminate, and those who created the message."
"I'm investing in digital to expand the brand appeal of Republic and Republic Bharat. We want to mushroom the digital domain. We will go completely vernacular on digital, and then we go global. I'm strongly investing and happy to lose money on digital at this stage as an independent business. By 2020, we will be able to merge our broadcast business in a more direct way with our digital business. It's the way we will go global on digital. We've tied up with Microsoft and are the first TV channel to convert the usage of Azure, we partnered with LinkedIn for our recruitments; we've been experimental on every platform. We have made non-traditional use of the digital medium so far," Goswami concluded.
Watch the full video here:
The third edition of the Dentsu Aegis Network- exchange4media Digital Advertising Conference and the unveiling of the Digital Report was held on Wednesday 16th January 2019, in Mumbai
The third edition of the Dentsu Aegis Network- exchange4media Digital Advertising Conference and the unveiling of the Digital Report was held on Wednesday 16th January 2019, at the Four Seasons Hotel in Mumbai. The theme for the DAN-e4m Digital Advertising Conference this year was 'Digital Marketing to Digital Transformation'.
Here are some snapshots from the event:
Ashish Bhasin, Chairman & CEO of Dentsu Aegis Network, South Asia addresses the audience at the DAN-e4m Digital Advertising Conference, 2019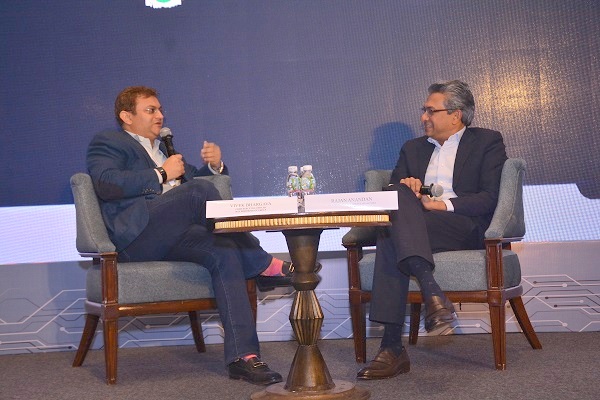 Fireside chat with moderator Vivek Bhargava (left), Chief Executive Officer, Dentsu Aegis Network Performance Group and Rajan Anandan, Vice President, Google, South East Asia & India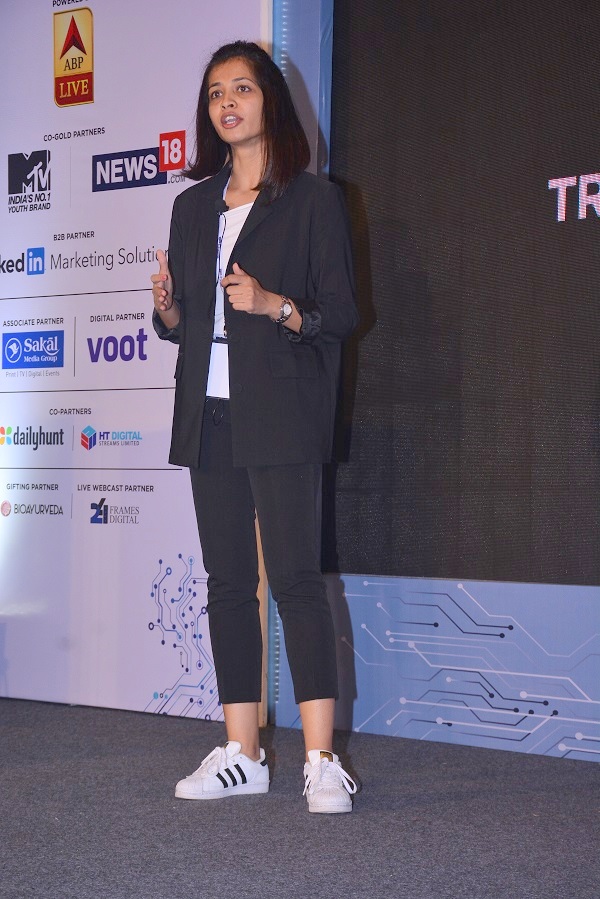 Malika Kutub, Director of Sales, Dailyhunt, speaks at the DAN-e4m Digital Advertising Conference, 2019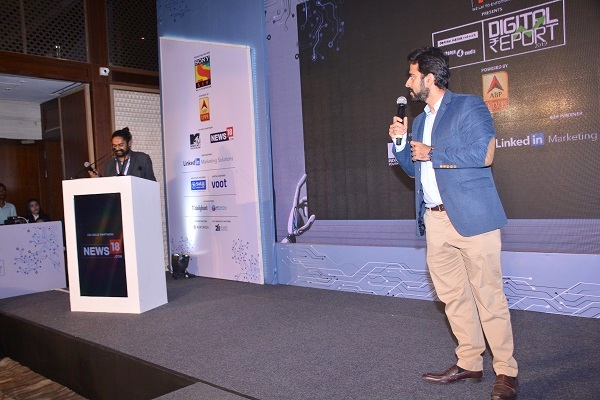 Rajiv Dingra, Founder & CEO, WATConsult speaks at the DAN-e4m Digital Advertising Conference, 2019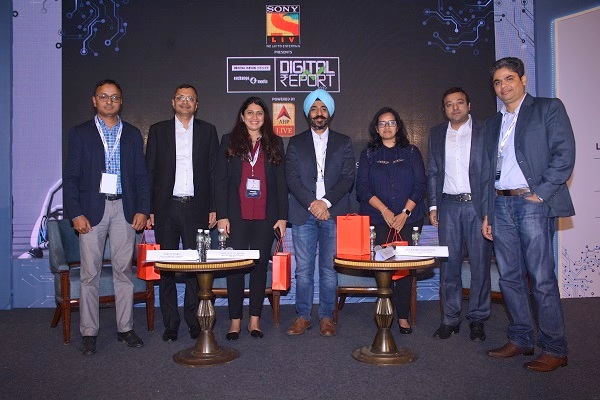 Panel with Tarun Garg, Executive Director of Marketing, Maruti Suzuki. moderator Virginia Sharma, Director, Marketing Solutions, LinkedIn, Gauravjeet Singh, General Manager- Media, South Asia, Unilever, Anuradha Aggarwal, former Chief Marketing Officer, Marico Limited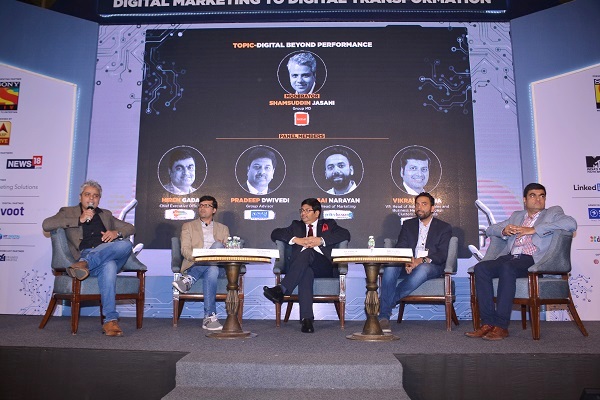 Panel Discussion (L-R): Moderator Shamsuddin Jasani, Group MD, Isobar, Vikram Tanna, VP, Head of Advertising, Sales and Business Head of Regional Clusters- South Asia, Discovery Channel, Pradeep Dwivedi, Group Advisor, Sakal Media Group, Sai Narayan, Head of Marketing, Policybazaar.com and Hiren Gada, Chief Executive Officer, Shemaroo Entertainment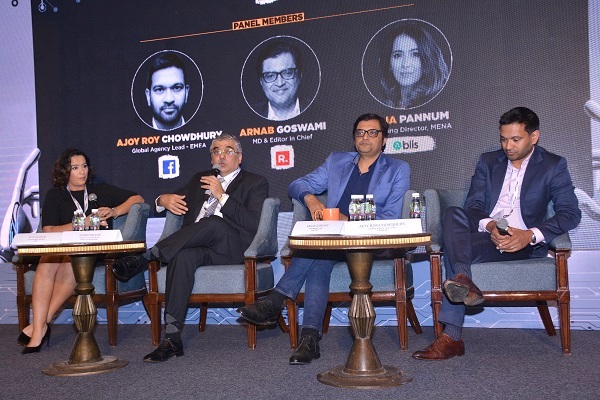 Panel Discussion (L-R): Puja Pannum, Managing Director, Blis, moderator, Ashish Bhasin, Chairman and CEO, Dentsu Aegis Network, South Asia, Arnab Goswami, MD & Editor-in-chief, Republic TV and Ajoy Roy Chowdhury, Global Agency Lead, EMEA, Facebook
The unveiling of the DAN- e4m Digital Advertising Report, 2019
exchange4media Group Service
Kantar IMRB has presented a comprehensive report on predictions for 2019 from a plethora of consumer insights across companies
Kantar IMRB has presented a comprehensive report on predictions for 2019 from a plethora of consumer insights across companies. The report uses data and reference from various business units within Kantar and a host of syndicated studies such as- Target Group Index –Kantar IMRB, Global MONITOR 2018- Kantar Consulting, Kantar Worldpanel, eMarketPulse- Kantar IMRB. The report will provide sharp insights to brands on what to expect from the market and solutions to reach out to the consumers in the most effective manner.
The outlook for India has never been so uncertain. With national elections looming a few months from now, the voter/consumer has much to consider. The resultant instability, compounded by a fast-changing technology, financial and business landscape has created a deep sense of insecurity in Indian consumers. Their overriding response would be to seek stability. "At Kantar, we recognize that it is imperative to achieve a balance of human insight and data-enabled decisions in both the business world and our personal worlds. While data might give us the confidence to believe, our personal experience and foresight give us the guidance to act differently and courageously. In identifying the key trends and how they may manifest over the coming year, we have attempted to exhibit that spirit of digging deep and finding stability ", said Preeti Reddy, CEO, South Asia, Kantar Insights Division.
Key Predictions:
RECOGNIZE ME
Consumer Truth
68% of Indians agree that they are free to shape their identities and transform themselves in whatever way they want. The percentage has increased sharply from 57% in 2017. As every micro-segment of India's population demonstrates a hunger for recognition, they are no longer inspired by a few role models, but by achievers, they see around themselves. They reject collective labelling as the emergent middle class, small-town resident, aspirational homemaker, and would like brands to meet their unique needs and help fulfil their dreams. The defining characteristic of this duality is an expectation to be recognized for both selves:
Market View
Brands and categories which recognize the consumer for who they are and where they are will flourish. Expect identity and location data to be more precious than ever. For online retailers, a small-town push would be a no-brainer. Overall e-commerce spends by non-metro shoppers have quadrupled in 2018, while e-tail spends by metro shoppers have grown by 3X. The recognition of diversity and inclusion is inexorably making its mark in the consumer's consciousness. A focus on regional language support – driven by technology use in local languages, has seen Google announce the addition of Marathi for its popular Google Assistant, with plans afoot for seven more Indian languages, including Tamil, Bengali, Gujarati, Telugu, Urdu, Kannada and Malayalam. User-generated content will grow by leaps and bounds as people of all shades and intentionally seek to be recognized. How marketers can understand human motivations and their diverse origins will pave the path for the fulfilment of their needs. There will be an explosion of agents of change. This will cause an evolution from coaching centres and middlemen, to enablers who are able to spot the potential and facilitate transformation, with technology playing the dual role of connector and showcase.
PROTECT ME
Consumer Truth
47% of Indians say that they feel stressed these days. The percentage has increased from 39% in 2017, and more women than men feel this way. In 2018, Kantar brought to fore that consumers are in a state of perpetual anxiety. That feeling has magnified, with young Indians feeling even more anxious than ever – according to Kantar IMRB's TGI study, 64% of 15-19-year old worry about crime and violence around them
Market View
Protector products are expected to see a sharp uptick as we go forward into 2019. Hand sanitizers, for example, have grown by a massive 59% in the previous year, Chyawanprash – the traditional Ayurvedic immunity booster, by 26%. #Metoo has spurred women to find ways of defending themselves. Smart jewelry brand Leaf Wearables embeds a device called Safer Pro – priced at only Rs 1899, which sends out an alarm signal and the user's location to predetermined contacts. The smart device recently picked up the $1 million Xprize for Women's Safety. Expect more such devices, especially for young children, to hit the market soon.
Implications
With technology and social media giving birth to new forms of threat such as online trolling. Brands will have to create a stable, positive environment and enable support groups to change the discourse of negativity. At the same time, the entertainment industry – where the portrayal of women as victims hitherto pandered to the male gaze and fantasy – will be compelled to change their storytelling and bring in more powerful women's voices.
STIMULATE ME
Consumer Truth
76% of Indians say that they're looking for new experiences and sensations that will liven up their everyday activities. The percentage has increased from 64% in 2017. Indians are most likely to look for experiences that allow them to help and connect with others, are memorable and make them feel recharged. Mobile gaming has taken off and with 250 million gamers, India is one of the top 5 gaming countries in the world. The desire for new experiences and stimulation is not limited to young people. For many seniors, laughing clubs are passé – they are running marathons, and pushing the boundaries of their physical capability and flexibility, like taking up dance after 60. The penchant for celebration, which has been magnified by the Great Indian Wedding, is now a regular occurrence.
Market View
The momentum driving India's Experience Economy will only increase in 2019. Over the last three years, the demand for adventure activities and local experiences grew by 178%, with the percentage of people above 50 years rising from 8% to 11%. According to beauty doyenne Shahnaz Hussain, over 700 spas are expected to open doors in the next two years. It's an industry that is growing at 40% annually. Some travel agents are also reporting young inbound tourists paying anywhere between $150-250 to attend and experience the sensory overload of an Indian wedding. The multi-player game Player Unknown's Battleground (PUBG) really took off after the launch of a mobile version in March. The ability to chat with other players adds significantly to its attraction.
Implications
Going forward into the next year, we expect that many more brands will leverage the power of senses to attract consumers. This will provide a more engaging user experience, even as new technologies such as AR/VR offer immersion and superimposition of imagined worlds for the consumer. With gaming no more a niche experience, it presents a fantastic opportunity for brands to both be involved in the game ecosystem and to gamify their user experience.
SERVE ME NEARBY
Consumer Truth
149% more traffic congestion than comparable cities around Asia – that's what Indian metro dwellers have to deal with. Traffic congestion in Mumbai leads to commuters spending 135 per cent more time in road travel than any other Asian city; commuters in Kolkata take 171 per cent more time than the average to travel during peak hours, the figure for Delhi is 162 per cent. With the changing contours of Indian cities, neighborhoods will become more significant than the city itself. The consumer's expectation is that all the services will be delivered at the doorstep. While the benefit of proximity in terms of convenience is obvious, the opportunity for service providers is enormous. We are witnessing a reskilling of this workforce, particularly in the form of leveraging technology and improvement in customer service. The familiar warm relationship between the neighborhood grocer, chemist or barber will be increasingly enabled by technology.
Market View
91% of the people surveyed by Cashkaro.com said that they will spend more money on e-commerce sites in 2019. A massive part of that growth is expected to come from services, with specialized platforms gaining popularity over marketplaces. At-home service platforms like HouseJoy and UrbanClap have witnessed exponential growth in customers and service providers alike. The latter reported 2.5 million registered users, with 75% repeat users and average transaction value between Rs 1200-1500. The home chef business is pegged at Rs 408,040 crore in 2018; It is estimated that there are as many as 2 lakh beauty professionals across India, with nearly one-fourth of them being freelancers. Online curated beauty services platform Vanity Cube, which services between 150-200 bookings a day, expects that demand to grow 15X within a year.
Implications
There's a massive B2B opportunity for food, beverage and grooming brands to fulfil the unique needs of the service providers – in the form of new products and new ideas. Brands need to work out how to engage with them and convert them into advocates. Content marketing will become the norm – and it will be vital to help them create interesting content using the entire gamut of options from Instagram to TikTok. Simplifying the transaction through payment gateways will become as important soon, as rewarding customers and users for their loyalty.
UNPLUG ME
Consumer Truth
53% of Indians (amongst those who use the internet) say that they wish social media had less of an influence in their lives. Even as technology engagement grows by leaps and bounds – the 18% growth in the number of smartphone users in 2018 is the highest in the world – a growing section of the population is reducing their screen time and seeking ways to reconnect physically with the world. Astronomy buffs in Mumbai head out to far-flung villages over the weekend; travel experience platform Unhotel offers walks in the Himalayas along with book readings and guided bird-watching. Mainstream newspapers like The Times of India propagate the joys of a Slow Life unhindered by technology. Even the Maharashtra government steps in to declare one day in a week as a 'No Mobile' day.
Market View
Digital detox is emerging as a big business, starting at the very top of the heap. Tech platforms such as Android and the iPhone track and report all our screen time; Android labels it under the 'digital wellbeing' banner. The SHUT (Service for Healthy Usage of Technology) clinic in Bangalore has seen as steady rise in the number of patients seeking help for tech deaddiction ever since it opened four years ago; As more people embrace physical activity ranging from the new-age Zumba to traditional yoga to long-distance running and cycling, the athleisure market has exploded, growing by nearly 14%. Some 35000 people of all ages were at the starting line of the Delhi Marathon, each having paid Rs 1900 to participate. It is no small wonder that there are now over 1000 marathons organized in cities big and small across India. On a more sedentary note, even book reading clubs. Litfests have mushroomed across cities, from Pondicherry and Chandigarh to Pune, Jaipur, and Allahabad, some reporting a threefold increase in visitors over the last 2 years.
Implications
The travel and leisure industry has much to feel optimistic about as more Indians seek physical and social in-person experiences. In the face of uncertainty and pessimism, this kind of reconnection and exploration provides platforms for stability. In 2019, we expect even more brands and industries to find opportunity in addressing the growing realization of the perils of technology engagement, particularly at a young age. Others will rekindle the nostalgia of relationships, memories, and places that allow us to rediscover ourselves.
exchange4media Group Service
Moderated by Ashish Bhasin of DAN the panel discussion also saw Ajoy Roy-Chowdhury of Facebook & Puja Pannum of Blis discussing digital beyond marketing
At the DAN exchange4media Digital Advertising Conference held in Mumbai yesterday, the Owners Panel Discussion was on the topic 'Digital Beyond Marketing'. The session was moderated by Ashish Bhasin, Chairman & CEO South Asia, Dentsu Aegis Network and the panel members included Ajoy Roy-Chowdhury, Global Agency Lead - EMEA, Facebook; Arnab Goswami - MD & Editor In Chief, Republic TV; and Puja Pannum - Managing Director, MENA – Blis.
Watch the full video here or read the excerpts below:
The session revolved around how businesses have typically restricted their use of Digital to Marketing Activities. Digital Transformation changes the mix of Digital Technologies thus accelerating its impact across the industry in a strategic and prioritised way with the present and future shifts in mind.
"Digital has significantly impacted our life. All businesses today, be it a television channel, advertising agency or a popcorn seller, have gone digital. It's a way of doing business. Hence there's a need for digital transformation," said Bhasin.
"Arnab has digitally transformed the business of news. I heard his reporters' office was actually their mobile phone. How did this transformation take place?" asked Bhasin.

To which Goswami said, "I did not count digital as a medium that I need to look at. Part of that came from arrogance from television, part of it came from the impact we had on television. In India, television is very new and it will never be edged out. In 2014, when we covered the elections, I asked myself how I should use digital to transform the brand and the marketing perception of the channel I was then working for. We took all the money from the digital marketing budget and invested in one hoarding at Times Square in New York. We spread the message on WhatsApp to relevant groups of students and Indians in NY that a samosa party will take place after the results were announced; and we actually did distribute samosas to people there. That samosa party became a fantastic video on WhatsApp, the element of virality was fantastic and people talked about how the channel had reached NY. The nature of marketing completely changes if you use digital."
"Digital as a medium conveys much more than traditional advertising. For the launch of Republic Bharat, we are doing 95 per cent digital marketing and content creation on our own, focusing on the centrality of the message we want to send on Bharat. So the nature has changed, lines have changed, people are informal. I think this will last for much longer than traditional advertising. I'm a big proponent of it," informed Arnab.
Talking about her views on the context of businesses digitally transforming themselves, Pannum said, "I was impressed with the OTT content produced here locally. I mean Netflix producing 400 pieces of content is fantastic. The market I'm in, the MENA region, we don't have that much content. We have only 3 per cent of content online in Arabic. There is great a challenge on content production, content creation, and how consumers gain information on the internet. India, on the other hand, has great talent, great opportunities to work with intelligent people coming out of universities, working hard. In MENA, we have a talent deficit. At Blis, we provide brands, companies with audience data, and with that data they understand their target audiences or consumers. India is a huge market opportunity for us, consumers are so connected. You have 400 million devices connected here; we connect to 180 million devices in the MENA market. The opportunity to use GEO location technology to shape businesses and brands working with us is going to be exciting."
Speaking of how digital is going to play a significant role in forming governments, Roy-Chowdhury spoke about the Indian General Elections on the digital medium. "We are taking the elections very seriously and have done that for the last couple of years. By the end of this year, we have focused on 50 elections globally. The Indian elections is the big one. India is the largest democracy in the world. There are a number of things we are doing, such as making sure that there is integrity in these elections. We are going to fight fake accounts; every day a million accounts are blocked, sweeped off to ensure security. We are going to combat false and fake news in election after election. We are educating MPs, their staff, the election officers, chief ministers on how their accounts could be hacked; we are giving them cyber guides to look out for signals to ensure integrity of their sites. We are looking at third party fact checking, which is very important. Our relationship with AFP will help. WhatsApp is very important. It has to be safe, secure and reliable, an absolute must for elections. We are learning from traditional media. We are bringing about ad transparency for doing political ads. We are learning and learning fast."
Goswami spoke about how fake news was a big problem. "The fact is global giants like Facebook are handling it with their backs on the wall. I mean they have to put hoardings in London subways to say that we are against and fighting fake news. Stuff like this has dented the credibility of FB; they have become extremely defensive. It seems like you are cleansing your consciousness. Digital should be an agent of social change and transformation. Defensive digital medium cannot be the source and agent of social change and transformation."
Roy-Chowdhury agreed: "It is a valid point, it's a great responsibility we have. And we take it cautiously, it may seem as we are over-cautious, but we are looking at what we can do to decrease fake news. What we can do to ensure there is free speech on our platform. It is an interesting time but also a great responsibility for us."
For more updates, subscribe to our WhatsApp Channel - http://bit.ly/e4mWhatsApp
For more updates, subscribe to our Newsletter - http://bit.ly/2Qu7OIs
At the DAN-e4m Digital Advertising Conference 2019, marketers discuss trends they are bullish on in digital marketing and understanding the pay-to-play game among others
The DAN-e4m Digital Advertising Conference 2019 concluded with an interesting panel discussion on marketing in a post-digital world. Moderated by Virginia Sharma, Director, Marketing Solutions, LinkedIn, the panel had Gauravjeet Singh, General Manager - Media (South Asia), Unilever, Tarun Garg, Executive Director, Marketing, Maruti Suzuki India Limited, and Anuradha Aggarwal, former CMO, Marico.
Sharma started off by asking marketers about the trends they are bullish about. Garg stated that voice being the obvious next big thing with 30 per cent of the searches in this format. This will be increased to 50 per cent by 2020. He added, "It will make it literacy agnostic. It will help us overcome the language barrier and reach a broader audience."
Aggarwal spoke about being bullish about video advertising as it brings back the basics of advertising i.e. interrupt the consumer, tell a quick story in 6-10 seconds, send its brand message and ensure it reaches maximum consumers.
Speaking of trends turning into fads Aggarwal confessed about marketers getting excited on branded content "I don't think we know how to entertain in long format and tell stories that will bring back consumers to watch the story and not the brand. We should stick to what we know the best i.e. selling our product."
There has been a constant reliance on organic reach but Sharma has learnt that people don't believe in organic reach anymore and that everything is pay to play. This led her to ask, "Is there an opportunity for brands to do organic well on their own or is it really a pay to play world?"
Singh answered "It lies in the cost to do that versus the return you get. At any day for the kind of brand reach that you need any platform invariably will lock it behind a paywall. We have tested it platform after platform organic reach is just 1or 2 per cent of what you get. On your own content platform, it's very hard. Also, it's supremely costly."
Garg still believes that at the end of the day it's all about content (irrespective of platform). "If the content is good, engaging and keeping the customer in mind, anything would work. To get into the mind of consumers you actually need to know what they want. That's the crux," he said.
The discussion ended with Sharma summing it up with a few key takeaways which reiterated the basic points that voice, vernacular and video are on the radar of the biggest digital advertisers in FMCG and automotive. Voice brings in a new audience but a lot more work has to be done to create the right kind of content, something 'that's not just a straight translate.'
Sharma added, "Digital marketers still have a vital job in our rather nascent digital ecosystem. There's a huge value of agencies on creating quality branded content for brands while the latter go back to the basics of the consumer value proposition of listening to the customer and understanding his/her sentiment. Finally, there's a huge amount of accountability by marketers about earning the attention of the consumer and recognising that even three seconds of their time is valuable."
Watch the full DAN-e4m Digital Advertising Conference and launch of the Digital Advertising Report 2019:
For more updates, subscribe to our WhatsApp Channel - http://bit.ly/e4mWhatsApp
For more updates, subscribe to our Newsletter - http://bit.ly/2Qu7OIs
exchange4media Group Service
At the DAN-e4m conference, Kutub, Director Sales, spoke about how the coverage would be transformed on the Daily Hunt app
The third edition of the Dentsu Aegis Network-exchange4media Digital Advertising Conference unveiled the Digital Report at the Four Seasons Hotel in Mumbai on Wednesday.
At one of the speaker sessions held during the event, Malika Kutub, Director Sales, Daily Hunt, spoke about the company's strategy for the upcoming elections and how the content aggregator app will transform the whole election coverage on Digital, for the first time in India.
"We have always seen News Broadcasters doing special packaging and content before the elections, but this time audience will witness a seamless and personalized content on their smartphones," Kutub said.
In her opening remarks, Kutub said, "The faith of this general election will not be decided by those residing in the Metros. It is people coming from tier 2, 3 and 4 cities and rural India who will decide which party will come to power in 2019."
"At Daily Hunt our attempt is to ensure that the masses residing in across the length and breadth of the country make an informed decision. We will be reaching out to 50 per cent of the first-time voter base in India. Also, there is around 30 per cent second-time voter base in the country. So we are ensuring that this large user base knows about the parties, sources, agenda and so forth," she explained.
She stressed on two points: The kind of content to be provided to the users, and how it will be served.
Malika further added, "Live interactivity, Online & Offline sharing, original content across formats and AI-powered personalization are the five basic principles through which we will design the content. We will have a network of stringers across the 516 constituencies. The content will be live-streaming, immersive in nature and completely personalized. Consumers want 24x7 live video coverage of specific parties, leaders and constituencies, so they expect the platform to understand them and recommend relevant content."
"The youth are no longer satisfied with one-way speeches. We make sure to make it interactive in nature, where we have discussion forums as well. The entire experience is going to be non-linear. Users don't want one-way communication. We made sure that we allow the users to choose the topic that they want to follow," she added.
Speaking about content transformation, she asserted, "Being an aggregator of content, we work with around 1,500 different partners. We have built an entire network, so users will have the option to pick and choose the source or party they want to follow. They consume information as far as elections news is concerned. We have ensured that all content, video channels and stringer network will be in 14 different languages."
"A great combination of technology, product and content has come together and we're extremely excited to cover the elections on Daily Hunt, ensuring that it is done in a personalized manner, which has never been done in India before," she concluded.
For more updates, subscribe to our WhatsApp Channel - http://bit.ly/e4mWhatsApp
For more updates, subscribe to our Newsletter - http://bit.ly/2Qu7OIs
exchange4media Group Service