2018 a turning point for original content on OTT
Netflix is said to have dedicated Rs 600 cr per year for original content in India and Amazon committed Rs 2,230 cr last year, which is expected to be allocated over two-three years
If year 2017 was about a dramatic increase in the number of subscribers in the OTT space, 2018 will definitely be remembered for the robust growth in content production.
Global streaming service Netflix has reportedly dedicated close to Rs 600 crore per year for original content in India. Similarly, Amazon committed a bulk figure of Rs 2,230 crore for original Indian content in 2017, expected to be allocated over the course of two-three years. Coming to the local platforms, Balaji Telefilms' ALTBalaji intends to invest up to Rs 500 crore over the next three years, majority of which will be dedicated to strengthening its content offerings. Also, ZEE5, launched early this year, has so far released 15 originals across six languages. Punit Goenka, MD & CEO of ZEEL, in a recent interview said that "a lion's share" of their investments for the next two-three years will be in the digital space.
Content Scaling Up
The increase in the investment has resulted in a significant increase in the scale and quality of content production. Now almost all players, from the global giants to local players, are working on long-form content.
Monika Shergill, EVP & Head, Content, Viacom18 Digital Ventures agrees. "The year 2018 shows us the early signs of the power and the scale at which OTT platforms will be operating. It's the year when large-format content has come out at a scale reflecting the global standards. It has been the most defining year, as it gives us a sense of how big this market is going to be in the coming years."
According to Shergill, the tremendous growth of OTT platforms has been driven by their unique position to offer personalised entertainment to the consumer at their convenience.
Zulfiqar Khan, Managing Director, Hooq, too agrees that year 2018 should be known as the inflection point for content. He believes that the real content play started playing up post mid-2018 and now there's no stopping back.
"If we have to categorise it year-wise, 2017 was the inflection point for infrastructure, with Jio making internet available and accessible to all. Year 2018 should be known as the inflection point for content. There's no stopping back," says Khan.
Beginning last month, Hooq, with the tagline 'Home for Hollywood,' is offering big-ticket American shows such as The Big Bang Theory, Arrow, SWAT, The Oath, Flash on the same day as their overseas release.
This lapping up of content is bringing in subscription and advertising revenue, says Uday Sodhi, EVP and Head – Digital Business, Sony Pictures Networks India (SPN).
"It's true for most of us (OTT players). We are seeing a significant movement in consumption--in terms of time spent, overall quality of content and the number of users coming to our app. As a result, there is also a significant transaction on the subscription side. Advertising has seen a strong growth. For instance, FIFA World Cup had 36 sponsors. Therefore, we will continue to ramp up our investment on content," Sodhi added.
The changing environment has also brought about a change in the type of content being produced. According to Ajay Chacko, Co-Founder and CEO, Arre, long-form & quality shows and franchises with multiple seasons have become the preferred format as against the early-day trend of short form/snacky/ UGC content."
The year, meanwhile, also saw a proliferation of original regional content, with players like Viu India venturing into the Tamil market and ZEE5 & Sony LIV launching in different languages.
Talking about the boost that the regional markets have given to the OTT players, Bimal Unnikrishnan, Content Head, Viu India, says, "The proliferation of localised regional content also saw an upward rising trend which dominated the video consumption at large. The consumption of content on the digital medium started gaining immense momentum with the advent of regional expansion by these OTT platforms."
According to Ali Hussein, COO, Eros Digital this production of quality content had to eventually happen.
"Content production has a cycle of 12-18 months. Unless the planning started in 2016-17, players wouldn't have be able to deliver products in 2018," he says.
"From the technology standpoint, there's been an evolution of how content has been served to offer different experiences. From business point, it's fantastic as we see a healthy balance among telecoms, distributors, content partners and production," he adds.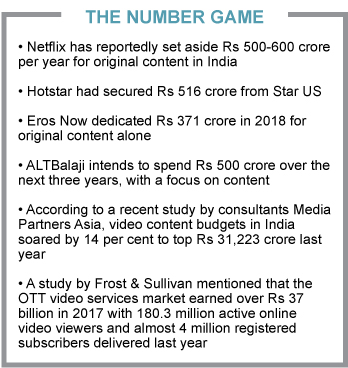 Ample scope of work
India's diverse demographics give OTT players in India ample scope to work with several production houses, independent directors and content creators to offer differentiated yet targeted offering.
For instance, Netflix has partnered with Pocket Aces' web series division Dice Media to create scripted shows. Last week, its popular series 'Little Things Season 2' made its debut on the OTT platform. The content company has five shows lined up with different OTT platforms. It also has content from The Viral Fever (TVF).
Talking about the reasons behind OTT players joining hands with content creators, Ashwin Suresh, Founder, Pocket Aces, points out that these platforms want to associate with the younger audience by creating content of their choice.
"OTTs have realised that to capitalise on a younger audience, they need to create content that resonates with them. The most obvious way to do it is to tie up with content companies that have been creating content for this audience for a long time and understand the tone and the grammar of content creation on digital. It's a natural fit for them. So more and more OTTs will start to come to creators like us."
Arre has 130-140 hours of original content on pre-production, scheduled to roll out from this month onwards. This includes seven shows of its own (on Arre and other platforms) and seven on the studio side commissioned for other OTT platforms.
With so many hours of programming to be rolled out, the content game has just begun. This has set the foundations for bigger scale and quality content, making the future of the OTT industry bright, as Vijay Subramanium, Director & Head, Content, Amazon Prime Video, India, sums up, "There is a significant customer demand for entertainment. India's streaming video space is growing rapidly, primarily driven by growth in mobile broadband, lower data charges and significant investments in the digital media ecosystem. The future of the streaming industry looks bright."
Madhuwanti reports on marketing, OTT and radio with a focus on trends. Based in Mumbai, she has worked across lifestyle, culture, television and retail industry.
The acquisition will expand Cognizant Interactive's digital content capabilities, adding video development and distribution
Cognizant has announced it is acquiring Mustache, a privately-held creative content agency based in Brooklyn, NY, known for its innovative approach to planning, producing and distributing compelling video content and programming. The transaction is expected to close in the first quarter of 2019 subject to satisfaction of certain closing conditions. Financial details were not disclosed.
Founded in 2010, Mustache specializes in creating award-winning original and branded content for digital, broadcast and social mediums, all increasingly important for marketers. An April 2018 study by the Interactive Advertising Bureau (IAB) shows that nearly 60 percent of marketers' digital ad budgets today are allocated to video alone, and spending continues to rise.
Mustache's capabilities extend across the content creation continuum, from developing concepts through to production, post-production, and distribution services. Mustache's TV business unit is widely recognized for its expertise in long format video development, including the "Most Expensivest" reality series created for Viceland. The agency is also recognized for its integrated campaigns across a range of industries, including tech, tourism, beauty and television marketing. Mustache's clients include leading edge brands such as: A&E Networks, Brand USA, Google, Grammarly, L'Oréal, Netflix, and Viceland.
Upon the close of the acquisition, Mustache's team of content experts -- including creative directors, strategists, art directors, writers, producers, animators, graphic designers, video editors, and post production specialists -- will become part of Cognizant Interactive.
Speaking about the acquisition, Donna Tuths, Senior Vice President and Global Head of Cognizant Interactive, said, "CMOs are looking for a single-source, at-scale provider to help them with the capabilities they need to win in the experience economy."
She continued, "Creating engaging content remains a singular challenge due to the demands of 'always on' social media channels – especially when it comes to video. With the addition of Mustache, Cognizant Interactive is even better positioned to fill this need."
Tuths added, "We look forward to welcoming the Mustache team to Cognizant Interactive. These highly-skilled content specialists and the rich expertise they bring will set us apart in our ability to provide a complete range of digital content services, particularly long format video, which we know is increasingly driving consumer engagement and purchase decisions."
"Mustache was born of the conviction that brands need to connect and engage with their customers more authentically, and the best way to do that is through honest, compelling, and provocative content," said John Limotte, Founder, Chief Executive Officer, and Executive Creative Director, Mustache. "By joining forces with Cognizant, we can leverage their deep resources and geographic reach to scale our capabilities more quickly and effectively to provide clients with more comprehensive solutions — marrying our content and creative with their cutting-edge technology and analytics to create a powerful, forward-looking, full-service model. We are particularly drawn to the global agency network developed under Cognizant Interactive, and the leading position they've taken on applied innovation and on solving clients' challenges with what they call a 'human-centered' approach. We look forward to combining our strengths with Cognizant to deliver great results for clients."
exchange4media Group Service
Sundar Pichai testified before the US House of Representatives Judiciary Committee on Wednesday
Google Chief Executive Officer Sundar Pichai on Wednesday testified before the US House of Representatives Judiciary Committee. The hearing was titled, 'Transparency & Accountability: Examining Google and its Data Collection, Use and Filtering Practices", and was led by Chairman Bob Goodlatte.
According to media reports, during the hearing, which lasted for more than three hours, US lawmakers questioned Pichai on a host of issues, including political bias, tracking users, content moderation and a China search engine.
Pichai reportedly opened the session saying that as an American company, Google cherishes the values and freedoms that have allowed it to grow and serve so many users. He said the company works and will continue to work with the government to keep the country safe and secure.
On being questioned about Google's plan to launch a censored version of its search engine in China, Pichai reportedly said that at the moment there is no plan to launch a search engine in China. He, however, did not fully deny the possibility. "If we ever approach a decision like that, I will be fully transparent regarding this, including with policy makers," he reportedly said.
The lawmakers then question Pichai if Google's search results were politically biased. Pichai replied, saying that the search results were based on algorithm and were not influenced by any bias.
"Users also look to us to provide accurate, trusted information. We work hard to ensure the integrity of our products, and we've put a number of checks and balances in place to ensure they continue to live up to our standards. I lead this company without political bias and work to ensure that our products continue to operate that way," he was quoted as saying by some media reports.
Pichai was also asked if Google could track the location of an individual. He replied that Google did have access to users' basic information, but the company keeps track of how that data is being used.
The CEO also faced questions on the kind of content being allowed on the platform. Pichai said that "this is an area we acknowledge there's more work to be done." He shared that the company gets around 400 hours of video every minute on YouTube and agreed that it is their responsibility to check the kind of content that is allowed.
Another question that Pichai faced was why US President Donald Trump's photos appear in Google Search when one searches for the word 'idiot'.
Pichai's reply was that Google relies on several parameters when a search result shows up, and it is not one factor that determines rankings.
"Things like relevance, freshness, popularity, how other people are using it. And based on that, at any given time, we try to rank and find the best search results for that query," he reportedly said, adding that Google does not manually intervene in search results.
exchange4media Group Service
Narendra Modi and Rahul Gandhi most discussed leaders
While the elections in five states of Madhya Pradesh, Rajasthan, Chhattisgarh, Telangana and Mizoram were fought fiercely on the ground, social media turned out to be no less a battleground for political parties and their supporters.
Twitter saw more than 66 lakh tweets related to the elections from India as well as across the world between October 1 and December 11, 2018.
"#ElectionsOnTwitter saw more than 66 lakh tweets as people across India and the world discussed #AssemblyElections2018 held in the states of Chhattisgarh, Mizoram, Madhya Pradesh, Rajasthan, and Telangana," read a tweet from Twitter India.
#ElectionsOnTwitter saw more than 66 lakh tweets as people across India and the world discussed #AssemblyElections2018 held in the states of Chhattisgarh, Mizoram, Madhya Pradesh, Rajasthan, and Telangana. pic.twitter.com/nI4je8DcYj

— Twitter India (@TwitterIndia) 11 December 2018
Among the leaders, Prime Minister Narendra Modi and Congress President Rahul Gandhi had the maximum mentions. Other leaders who were discussed most on Twitter are BJP President Amit Shah, BJP leader and UP Chief Minister Yogi Adityanath and SP leader and former UP chief minister Akhilesh Yadav.
National leaders remained on top of #AssemblyElections2018 conversations, with @narendramodi, @rahulgandhi, @amitshah, @myogiadityanath and @yadavakhilesh emerging as the most mentioned leaders. pic.twitter.com/bzB9oFVnU0

— Twitter India (@TwitterIndia) 11 December 2018
Further, between October and December, 2018, the top conversation topics for #AssemblyElection2018 on Twitter revolved around rural economy; religion and caste; EVM & vote tampering; dynastic politics and corruption.
Between October and December, the top conversation topics for #AssemblyElection2018 on Twitter revolved around the rural economy; religion and caste; EVM and vote tampering; dynastic politics and corruption. pic.twitter.com/AI66iD4nvA

— Twitter India (@TwitterIndia) 11 December 2018
exchange4media Group Service
The CEO of ZEE5 on the consumption drivers, reception towards region-specific subscription packs in 2018, partnerships and how 2019 will only get bigger
2018 has been a rather action-packed year for ZEE5 and the upcoming year or two will only see things getting bigger and better for ZEEL's OTT platform with more investments being pushed in that direction. Punit Goenka, MD & CEO of ZEEL, had mentioned earlier in one of his interviews that the streaming service is their next big bet when it comes to investment and cornering incremental and additional viewers. With increasing investment he is expecting the business to break even in three to five years.
Tarun Katial, CEO, ZEE5, talks to exchange4media about the future plans and how the past year has been for the OTT platform, including the reception, region specific subscription pack and original content.
Watch the video or continue reading:
Excerpts:
Innovative pricing
Apart from bringing in regional content, ZEE5 played around with the pricing and introduced special subscription packs for Tamil, Telugu and Kannada audience. This enables users to access premium language content at half the price (Rs 49/month).
Katial shared that the reception to these region specific packs has been 'great' as they are offering live TV, regional original content, digital movie premieres and early access to regional shows even before TV. "So it's a healthy bouquet of content with lot of depth for Tamil, Telugu and Kannada consumers. After South, we will take a break for a quarter and go East," revealed Katial.
2018 saw original regional content really taking off with OTT players eyeing growth from tier II and III cities. But that, says Katial, was just the tip of the iceberg. "2019 will be the actual year of language (regional) content, the big proliferation of original content and digital movies in India. The uptake of original content will move 3-4 times," he said.
Katial also mentioned the launch of a premium brand around ZEE5. "It's in the process of being created. SVOD section will be branded separately. It's a different experience than AVOD subset. Several features will be added to it."
Content game strong
Right from its launch, ZEE5 has kept its content game strong especially for originals and movie acquisition. It came out with 15 originals across six languages including the big-budget 'Karenjit Kaur' and big digital premieres of popular titles such as Mulk, Parmanu, Stree and Veere Di Wedding. The strategy of movie premieres particularly worked as it was one of the major consumption drivers.
It's now looking to launch over 90 originals in FY2019 and reach 150+ digital premiers in the next 18 months. Katial mentioned that audience sees value in original content as it's a big differentiator. This explains the deep investment. "Original movies did well, case in point being 'Tiger' (Emraan Hashmi) We have 'Rangbaaz' coming up next month with Saqib Saleem which is as big as 'Karenjit Kaur' for us. Then there will be big original shows in Tamil, Telugu, Bengali and Marathi. We will amp up in 2019. A slate of 40-50 big shows will come up over the next two quarters," Katial added.
AVOD is not getting overshadowed as Katial sees TV shows and their characters being big drivers. "We have content beyond the general shows like character journeys and best scenes. Lot of content is created outside the core content. We will continue to invest behind that as well."
"Language original content, shows around specific themes and relevant topics will continue to resonate well with Indian consumers. You will see off-take in subscription," says Katial.
Distribution
Like any other OTT streaming platform, ZEE5 hasn't left any stone unturned to reach the consumer. This goes beyond the regular tie-ups with telecom service providers, digital wallets and smart TVs. For instance, for travel start-up RailYatri customers, ZEE5 had introduced a sachet subscription which gets bundled with the bookings. Similar partnerships with Oyo, MakeMyTrip and RedBus among others are aimed at travel-loving consumers by offering them discounts. "Sachet consumers come for a short period of time and want entertainment on the go."
All this and more is definitely working as the ZEE5 app garnered 41.3 million Monthly Active Users in Sep'18, a whopping 190% growth since Apr'18, according to data provided by ZEE5. And they have just about begun.
Madhuwanti reports on marketing, OTT and radio with a focus on trends. Based in Mumbai, she has worked across lifestyle, culture, television and retail industry.
Sunchika Pandey Group Director, Citizen Initiatives & Government division, Gozoop, tells us how she built the social profile for the Mumbai Police Department step by step
Lately, the woman behind the famed Mumbai Police department's Twitter handle (@MumbaiPolice) finds herself catching up on the latest binge-worthy shows, viral memes and Twitter trends whenever she finds the time.
From Game of Thrones and Stranger Things to Twitter memes like GharSeNikalTeHi, Sunchika Pandey and her team is thinking content round the clock and tries to never miss a social media opportunity for the Mumbai Police. Over the last three years, the Mumbai Police Department's Twitter handle has become every Mumbaikar's go-to channel for latest updates on law and order related happenings in the city, to register complaints, all while being treated to social media memes on the side. The social media strategy is a prime example for consumer facing brands that are trying to establish a strong social media presence.
Seeing Content Everywhere

Content has become a state of mind for the Mumbai Police social media team. "If I see a glass lying around on the table, I wonder how to use it as content!" she says. But she is not cued into all the millenial themes and trends, so she generally gets all her references checked with her team of youngsters. "But now I am also watching all the popular shows," confesses Pandey, who is the Group Director of its Citizen Initiatives & Government division at independent digital agency, Gozoop.
It's not just Pandey, even the policemen who run the Twitter operations for the department have begun looking at the world around them through the lens of "content." This is the result of the Mumbai Police department's innovative attempt at reaching out to the citizens of Mumbai through the micro-blogging platform three years ago.
Every brand is talking the language of content, and there is no reason the Mumbai Police should be found lagging. "What ticks with the readers now-a-days is content. Content that is quirky, trendy, timeless, resonating... the list goes on. Mumbai Police has ticked all the boxes. Messages about safety, social & traffic discipline, celebration, respect for martyrs, cyber security, and all such occasions are so very well weaved into different engaging formats of content. By default you end up consuming these pieces and the point is driven home," says Shekhar Mhaskar, EVP Isobar India, decoding the success of the Mumbai Police's social media game.
"The first tweet we ever put out was : Why should the police station be the only place where we meet? Let's meet here every day," recollects Pandey. Hers and her team's efforts to make the police department more approachable and less fearful for the citizens has earned the department the moniker Meme-bai Police and Amul of Government departments.
Response Engenders Trust
Hidden under the satirical content and prompt informative responses from the department is a lesson for all marketers who are trying to create a social media persona for their brands. To Pandey the lesson is very simple: a clear vision plus knowledge of target audience complemented by fulfilment of brand promise = success.
Even Pandey knows this is easier said than done. Social media handles of most consumer facing companies are inundated with complaints from disgruntled consumers every day. These complaints are mostly met with automated responses that only irk consumers further.
"There are instances when a disgruntled consumer feels a loss of trust with the brand because of a negative experience and cannot be assuaged by following documented response matrices. This is where a brand can elevate itself to the next level of sophistication – with their ability to humanise interactions and setting up of strong internal processes that speak with different departments to effectively act upon their customer commitments," says Sakshi Arora, Strategy Director, Digitas India.
Anticipating the citizen outpouring, at least eight policemen and two senior police officers monitor the Mumbai Police and Police Commissioner's Twitter handles at any given point. The policemen monitor the tweets and direct messages sent to these two handles until 3-4am every day. "The clear mandate when we started out was that we must respond to every single tweet," Pandey says.
Kidding, but seriously...
The mission of the Mumbai Police was to utilise Twitter as yet another touchpoint where the department could interact with the citizens. "It was not in our plan to make it iconic in the way that it has become," says Pandey with humility.
"We wanted to make people smile and that's how we thought about using humour in our posts." At the same time as the Twitter handle of the police department the content had to always adhere to a certain high moral and ethical code. "As Mumbai Police we needed to maintain the dignity of the officers and the uniform. That is why we chose satire."
Mumbai Police has resonated with the citizens of Mumbai by "challenging the status quo on the type of online personality an administrative body should have," says Arora. This dark humour coupled with healthy engagement with citizens gives Mumbai Police its clutter breaking social presence and huge organic following.
"Brands typically monitor their social media handles but worry that saying something edgy will get them trolled. Typically BFSI, healthcare, and B2B brands are uncomfortable about using humour on social channels. But the Mumbai Police is okay with taking a stance and even responding to citizens. Now the mental impression of Mumbai Police has improved because of the social media presence of the department," says Siddharth Hegde, MD & Founder, Ethinos Digital Marketing.
All of these factors have made Mumbai Police a social media case study that other police departments across the country have begun to emulate. The Bangalore and Kolkata City Police engage with their citizens on social media very successfully. "Even the UP Police has launched a Twitter account and that has helped the department improve its image," quips Pandey. As the Group Director of its Citizen Initiatives & Government division at Gozoop, Pandey wishes to work with more government bodies, helping them engage in a healthy manner with citizens.
Susmita is a digital marketing reporter at exchange4media. She writes on latest developments in the ever-changing world of digital media and in-depth stories on all things advertising.
Sorrell is keenly interested in agencies in content, data, and media planning space. He said his latest venture S4 Capital will be purely about technology.
Sir Martin Sorrell is in India with plans to shop for agencies in content, data, and media planning space. According to Sorrell, these three sectors are the main focus areas of S4 Capital and he will be interested in pure independent digital agencies and agencies that have broken away from networks and large agencies. Sorrell hopes that his company S4 Capital is seen as a new kid on the block with a different strategy.
Speaking at an event in Mumbai on Monday evening, Sorrell said that version 3.0 of his avatar will be all about technology. "The 10 most important companies right now are Google, Facebook, Amazon, Tencent, Alibaba, Apple, Microsoft, Oracle, Salesforce, and Adobe. I would like S4 to be a royalty of the growth of all those companies."
Calling Google, Facebook, Amazon, Tencent, Alibaba, Apple, and Microsoft 'seven sisters', he said the last time a group of companies was referred to as 'seven sisters' was with the oil giants. "Jeff Bezos is like the John D Rockefeller of today," he said. Sorrell noted that the last bunch of 'seven sisters' were regulated and the same might happen to the current 'seven sisters'.
Sorrell broadly spoke about the pressures on the agency business and the disruptions that are shaping the market. He said that agencies are mainly suffering because of pressure from clients and not only because of 'frenemies' like Google & Facebook, competition from consulting companies, and in-housing.
Sorrell felt that mergers of legacy agencies with digital agencies like in the case of JWT with Wunderman and VML with Y&R may affect the brand and image of the older and more established agency. "JWT is more well-known in India than Wunderman. Now if people call it Wunderman, there could be a problem. I do believe in the strength of the brands and they have value," he said.
In the face of the large-scale mergers that WPP has initiated over the last few months, Sorrell said that the senior management of a multinational company like WPP should visit other markets. "The senior management of WPP has not visited Latam and Asia in the last six months. If you are going to make structural changes that result in losing 7,500 jobs out of the 135,000 jobs you have, there is a responsibility to visit those places and explain the decision."
Prior to his India trip, Sorrell's S4 Capital bought San Francisco ad tech company MightyHive. It was his second acquisition since leaving WPP and setting up S4 Capital. He made his first acquisition in July with a €300m deal to buy Dutch company MediaMonks.
Before Sorrell arrived in Mumbai, he attended the pre-wedding celebrations of Mukesh Ambani's daughter Isha Ambani in Udaipur.
exchange4media Group Service
Now first female investing partner at Softbank's $100 billion Vision Fund, Reddy's career has had one milestone after another
Kirthiga Reddy, primarily known for her seven-year stint at Facebook India, created headlines when Japanese investment giant Softbank, roped her in as as a partner in its $100 billion Vision Fund. She is the first female investing partner in a team of over 12 people who oversee this venture. Media reports suggest that Rajeev Misra, who heads the Vision Fund, had been working towards hiring more women into his crew, including at the level of managing partners.
Based out of Silicon Valley, her focus will be frontier technologies such as AI, robotics, health, bio engineering, IoT and more. She will be working closely with Deep Nishar, senior managing partner at SoftBank Investment Advisors, who is located in the Bay Area.
Disclosing this development on Facebook, Reddy wrote: "I look forward to bringing my technical and business expertise – from both enterprise and consumer technology, in developed and emerging markets – to the Vision Fund team. Like in other investment firms, the Venture Partner role enables quick integration of new talent from non-investing backgrounds, which is a perfect fit for me"
SoftBank's $100 billion Vision Fund has been touted as one of the biggest disruptors of the venture capital business, and has committed to invest close to $65 billion in companies like Uber, WeWork and Didi, say reports.
Reddy is known for several firsts. One of the first employees at Facebook India, she started India operations from scratch, which included expanding userbase, and helped contribute to its global business through ad sales with major tie-ups such as Coca Cola India and Yepme. She served as the Managing Director for India and South Asia market until 2016, following which she relocated to the company's US headquarters, serving as Managing Global Client Partner and Emerging Markets Lead.
Most importantly, Reddy led Facebook's global marketing partnership for the Financial Services vertical and also partnered with the company's strategic global advertisers on their Emerging Markets strategy, with a focus on India, Mexico, Brazil, Indonesia, Middle East and South Africa. She even led financial services vertical for Facebook Global Accounts and advised on global marketing activations including the Olympics. As a result, she has been one of the leading forces behind the company's expansive growth in the country.
Prior to this development, she also worked with established companies such as Silicon Graphics and Motorola. During her tenure at Silicon Graphics, she was the youngest director of engineering. In 2008, Reddy started working with the US-based Phoenix Technologies where she led a global team located in US, India, Japan, Korea, and Taiwan.
An alumnus of Stanford University Graduate School of Business, Reddy comes with over 20 years of experience in building high-growth global businesses in roles spanning sales, marketing, operations, product management and engineering.
In 2011, she became Fortune India's Top 50 Most Powerful Women and was also featured in Fast Company's 100 Most Creative People in Business 2013. She topped the list of IMPACT's 50 Most Influential Women list in media, marketing and advertising in 2015.
exchange4media Group Service
Salesforce and Amazon's cloud arm, AWS have announced working directly together to offer products and services that benefit their common customers
According to media reports, Salesforce and Amazon's cloud arm, AWS, have announced that they are offering a new set of data integration services between the two cloud platforms for common customers.
Customers looking to transform digitally are still primarily concerned about security when moving data between cloud vendors said Matt GarmanMatt Garman, Vice President of Amazon Elastic Compute Cloud. "Customers talked to us about sensitive data in Salesforce and using deep analytics and data processing on AWS and moving them back and forth in secure way," said Garman.
In practice, Salesforce customers can set up a direct connection using AWS Private Link to connect directly to private Salesforce APIs and move data from Salesforce to an Amazon service such as Redshift, the company's data warehouse product, without ever exposing the data to the open internet.
Salesforce customers can set up Lambda functions so that when certain conditions are met in Salesforce, it triggers an action such as moving data (or vice versa). This is commonly known as serverless computing and developers are increasingly using event triggers to drive business processes.
Finally, the two companies are integrating more directly with Amazon Connect, the Amazon contact center software it launched in 2017. Salesforce offers its own contact center services with Salesforce Service Cloud. The two companies found a way to help common customers work together here to build what they are calling AI-driven self-service applications using Amazon Connect on the Salesforce mobile Lightning development platform.
This could involve among other things, building mobile applications that take advantage of Amazon Lex, AWS's bot building application and Salesforce Einstein, Salesforce's artificial intelligence platform. Common customers can download the Amazon Connect CTI Adapter on the Salesforce AppExchange.
Bret Taylor, President and Chief Product Officer at Salesforce said, "We're enabling something that wouldn't have been possible. It's really exciting because it's something unique in the marketplace."
The two companies have been working together for some time. As Garman points out, Heroku, which Salesforce bought in 2010 and Quip, which it bought last year were both built on AWS from the get-go. Salesforce, which mostly runs its own data centers in the US runs most of its public cloud on AWS, especially outside the US Conversely, Amazon uses Salesforce tools internally.

exchange4media Group Service
Gupt has been with the Times Group for over ten years. Under his leadership, the company launched products like eTimes, GadgetsNow and NewsPoint to address emerging opportunities
Times Internet announced the elevation of Puneet Gupt as the COO of Times Internet with immediate effect. Gupt has been associated with the Times Group for over ten years and since 2011, he has been head of Times Internet's vast and diverse News business. Under his leadership, the company has been able to reinforce the #1 position of TOI, reach the #1 position in languages and launched products like eTimes, GadgetsNow and NewsPoint to address emerging opportunities.
Gupt has played a critical role in Times Internet's News business registering a stunning 6.5X growth and enabled the company to become the #1 premium digital publisher.
Announcing Gupt's elevation Gautam Sinha, CEO of Times Internet said, "Puneet has been an invaluable asset to Times Internet. He is audacious, customer-obsessed and has rich experience in starting, growing and scaling up digital businesses. Puneet will be working closely with me to drive our ambitious growth agenda. He will lead our efforts in making Times Internet the go-to digital destination for every Indian's information, entertainment and transaction needs."
Gupt added, "Times Internet is a company that dares you to think big, and empowers you to make your dreams a reality. I look forward to amplify our growth by identifying and building category defining digital products that become the benchmark in quality and value proposition for our customers."
Times Internet partnered with Tencent to invest in Gaana, acquired and re-launched a video OTT platform MX Play, as well as launched popular gaming platforms like BaaziNow & CricPlay. The company's dining out platform, Dineout acquired restaurant management software firm Torqus last month.
With 40+ digital products, Times Internet reaches 400+ million people every month. Most of its digital products are market leaders across news, sports, music, video and more in India.

exchange4media Group Service
The teams will be working in tandem to track and analyse Kotak Securities' online presence to synchronize the customer service loop thereby, quickening the customer-query resolution process
Kotak Securities, one of the leading stockbrokers in India has tied-up with CogMat Digital to capture their audience's responses on multiple digital channels. The teams will be working in tandem to track and analyse Kotak Securities' online presence to synchronize the customer service loop thereby, quickening the customer-query resolution process further.
Speaking on the partnership, Jaimit Doshi, Executive Vice President – Marketing, Products & Customer Service, Kotak Securities said, "We, at Kotak Securities believe that along with providing advanced online trading services, listening to our audience and redressal of their concerns and queries in a timely fashion, goes a long way in building a positive connect with them, thus, leading to long-term relationships and trust. With CogMat's expertise in BFSI domain, we are geared-up for tracking and bridging the knowledge/query gap in order to enable us in strengthening our 'Brand-Consumer' connect."
Adding to this, Rohini Joseph, Head of Operations, CogMat said, "Consumers today are extensively using digital platforms to connect with brands both for seeking information and for voicing their queries and concerns about the brand. They want to be heard and expect quick resolutions to their inquiries. We are pleased to be onboard with Kotak Securities, and offer our digital expertise and analytical skills to enable its CRM team to gather its consumer feedback and brand perception."
exchange4media Group Service