Publicis India appoints Ishrath Nawaz as Executive Creative Director
With a career of nearly 2 decades across agencies, Ishrath will manage the creative mandate, and drive the next phase of growth for a host of brands under Publicis India.
Publicis India has announced the appointment of Ishrath Nawaz as Executive Creative Director. Ishrath joins Publicis India from McCann Worldwide, where he was the Senior Creative Director. He will be based in Mumbai and will report to Bobby Pawar, CCO & MD – South Asia, Publicis India.

As part of his remit, Ishrath will manage the creative mandate and drive the next phase of growth for a host of brands under Publicis India.

Ishrath is a seasoned creative professional, whose illustrious career spans nearly two decades across agencies. At McCann Worldwide, he has managed brands like Saffola and Parachute from Marico, Jet Airways, Asian Paints, Radio Mirchi 98.3, Western Union and Bosch amongst others. Prior to that, he was the Creative Director at Soho Square, where he lent his ideas and creative skills in launching the Tiago from Tata Motors, YES Bank, Aprilia and Franklin Templeton. Ishrath has also worked in senior roles across other agencies including Saatchi & Saatchi, Draft FCB + Ulka and Rediffusion DYR. He has worked on a range of brands including Airtel, Bajaj Electricals, P&G – Head & Shoulders, Pampers, Ariel; Skoda, Carlsberg, Indian Oil Corporation Ltd, Jet Airways and Thomas Cook.

Welcoming him to the agency, Bobby Pawar said: "We've been on this journey of upping our creative game for the last three to four years. It has resulted in some landmark campaigns. Ishrath adds to our talent pool, leadership pool and our drive. He's a bright guy with a body of cool stuff in his bag, and I'm confident he will help us raise our game even more. Plus, he shares my love for poetry.

Commenting on the appointment, Srija Chatterjee, MD – Publicis India said: "Ishrath comes with a rich creative background having handled a host of brands across multiple agencies. His knack to come up with quick and customisable solutions on any given creative brief is what makes him a talent to watch for. Not to forget the many laurels his works have won across multiple award shows. We are happy to have him in our fold and look forward to a creative transformation on the brands that he will handle."

Sharing his views on joining the agency and also his role, Ishrath said: "There are but a few times in your life when you get an opportunity to make a difference. To change, create, shape and mould things, into something extraordinary. To me, this is one of those times. Because Publicis India, is on the brink of something special. The market is ripe for the vision that the agency has. And I, therefore, count myself lucky. With a powerhouse leadership team in Bobby Pawar, Srija Chatterjee, and Ravpreet Ganesh, there are great things in store in the days to come. My mandate is simple: take Publicis to the next level. And with their support, I hope to be able to do that, and more."

Work aside, Ishrath is an outdoor person and prefers to be sitting in some corner of the country, remote-controlling work if need be. He is also a big F1 fan and a bigger Ferrari fan. He also loves to listen to music in all its forms and is an avid Netflix fan too.
exchange4media Group Service
India winning big at Cannes Lions three years in a row definitely speaks volumes about the creative juices flowing in the healthcare advertising segment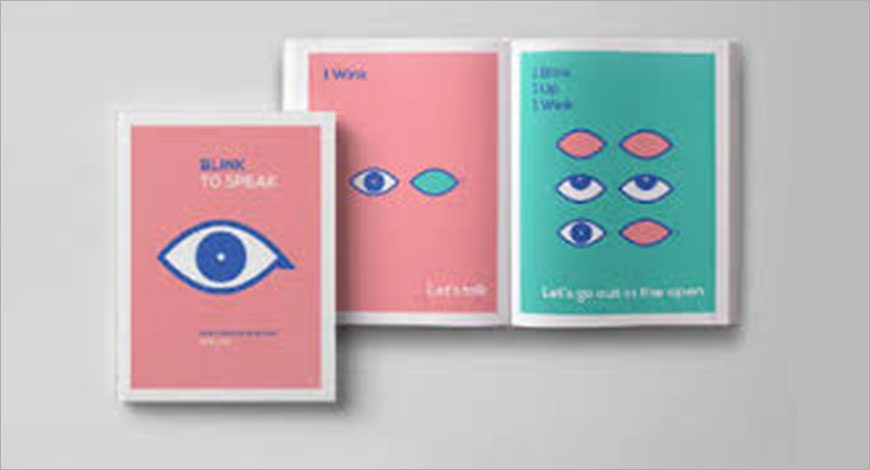 When Mumbai-based independent Medulla Communications bagged the Healthcare Agency of the Year at Lions Health in 2016, it was a first for the nation as well as the agency. Led by Praful Akali and Amit Akali, the agency that year bagged seven Pharma Lions in all — two gold, two silver, and three bronze. Their work on 'Last Laugh' for the Indian Association of Palliative Care got the Gold home. And with that win, the agency not only put India on the global map but also took health advertising in the country to another high.
At Cannes Lions, last year, McCann Health won a Grand Prix for Good in the Pharma category for 'Immunity Charm' followed by TBWA\India securing the Health Grand Prix for Good for 'Blink to Speak' this year. Winning big three years in a row definitely speaks volumes about the creative work coming out of this segment. We asked the healthcare heroes what this really means…
Shining on
Praful Akali, Founder and Managing Director of Medulla Communications, feels that India was already arriving on the global healthcare stage. "This year was like a massive ceiling to that because we won the second Grand Prix in a row at the Lions Healthcare. People are really respecting India for that. This year, the folks at the New York Festivals Advertising Awards were like we do live judging sessions everywhere, can we host one in India?"
Medulla Communication CCO Amit Akali signals that healthcare is the only category where India has been agency of the year. "India is definitely looked at from an award-point of view. From the non-award-point-of-view too, agencies are integrating health in everything they do."
Susan Joshi, Co-Founder, Havas Life Sorento, echoes the sentiments. "More and more brands are getting health at the centrestage of everything they do," she states.
Reminiscing old times when the category was just establishing its roots, Joshi says, "The first time when we won an award in 2000, it was for Prescription Club where some pharma agencies participated. And now, the whole space of awards has changed a lot. It has become much bigger and purpose-driven. The stature has gone up. So the kind of work that is participating has also gone up."
From 'deficiencies' to democratization
Akali (Amit) points out that since Cannes started healthcare, we started to get more democratised in a way that a lot of mainline agencies also started entering healthcare. "Healthcare has become an important category for India in the past 4-5 years. In healthcare, there is a pharma section and a healthcare section. And as you know, pharma healthcare this year was won by TBWA which is a generalised agency."
Over time, to cater to rising demands, agencies launched separate healthcare wings. Last year, independent agency Sorento got acquired by Havas.
Joshi explains that going global suddenly became very important but Cannes was the game-changer. "Cannes has set the benchmarks for many people in India. And that has changed the way healthcare communications is done," says Joshi.
Rajesh Rai, Senior VP and Executive Creative Director, McCann Health, feels that not just the work in the category but the way juries judge the category that has dramatically changed, and this has been a big driver of growth. "Healthcare is really being looked up at now. When we started off, there were only two award shows. The juries here were not able to look at healthcare the way-- the understanding of the category and the understanding of the advertising part. The right mix of it is important, which is now there and this has fostered better creativity," says Rai.
Akali (Praful) opines that Indian healthcare advertising now is actually better than the best. He feels that we're a big market for these advertising companies. "As for the wins at Cannes, it's been third year in a row for India. So, in fact, people are trying to understand what is it that is winning us all these awards," he says.
Correspondent, exchange4media, Mumbai Misbaah reports on advertising industry. Based in Mumbai, she interviews industry leaders in the creative, advertising and marketing space, reports news updates in the ad space. She drives the 'Chillout' section, and regularly reviews ad campaigns. In the past she has reported on mainline news, travel and lifestyle.
Moving over synthetic families wearing silk garments and plastic smiles that are seen in most Diwali ads, Saregama Carvaan with its festive campaign has brought in a point of view with its recent ad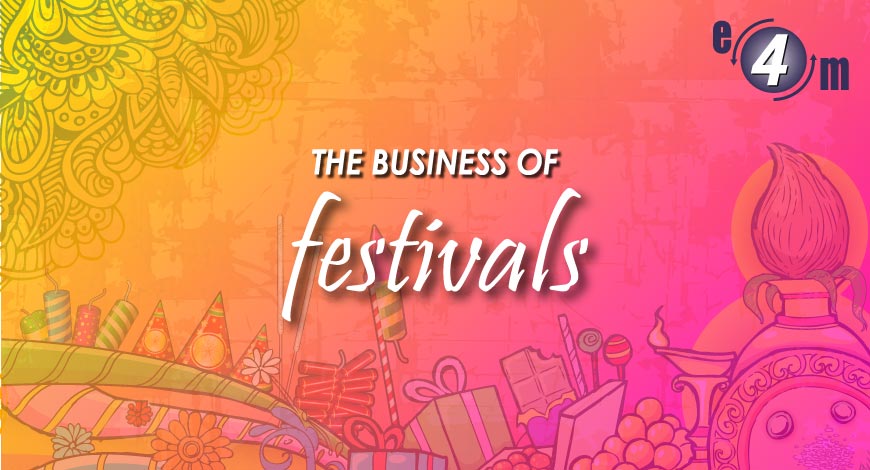 As Diwali inches closer, brands offer a variety of ads on the platter. However, usually the creative communication over the years has been high decibel and mostly about deals. Moving over synthetic families wearing silk garments and plastic smiles that are seen in most Diwali ads, Saregama Carvaan with its festive campaign has brought in a point of view with its recent ad. Resolving the conflict between 'noise and music' the spot shows how the 'noisy' side of the festival can be replaced by music.
Resolving the conflict between 'noise and music'
Ajit Kumar, Vice-President – Sales & Marketing, Saregama India Pvt Ltd said that the brief to The Womb team was to create an ad which is clutter breaking and have the essence of huge nostalgia which the product carries. According to Navin Talreja, Co-Founder, The Womb, the challenge was to find a unique point of view and a distinct voice for the brand amidst all the Diwali sameness. "The festive season is gifting time and many brands leverage the same. Shor ya sangeet' came from there and we believe that this platform can be owned only by a soulful music brand like Saregama Carvaan," he stated.
Kawal Shoor, Co-Founder, The Womb, added, "Carvaan's primary audiences are young, working sons and daughters – to buy Carvaan for their parents and elders. And the modern young workforce in India has a progressive mindset, unconstrained by the baggage of the past. To appeal to the young, Carvaan needed a young, progressive point-of-view. 'Shor ya sangeet' is our attempt to suggest that there can be a more meaningful way to connect with the young other than using yo-kids, high-fives, and all the stereotypes marketing uses to make brands youthful. Everyone has a soul, and the youth, more so. And it helps that Carvaan's point-of-view also connects beautifully with the elderly."
Prakash Varma – Director, Nirvana Films, concluded, "Carvaan is a special product, and this one is a special film. To make a simple film is rare. I am blessed to have this opportunity. The idea is sensitive but effective. And the choice of the dog makes it even more special, as 'indies' are truly beautiful, and need to be celebrated. A special thanks to Navin, Kawal, Akshat and Heval at The Womb. And none of this would be possible unless creative leaders like Vikram Mehra see the beauty in a simple, effective message."
Sparkly or not?
The ad execution is beautiful and brings a string of emotions with it. It breaks the clutter of the conventional Diwali communication by raising an interesting question of choosing between 'noise and music'. Showing how the noise can scare animals and be substituted by music instead makes the ad endearing, genuine and relatable. The strong insight it stems from and the way it communicates to its target audience, like the brand's previous campaigns, can fetch it 'top-of-the-mind brand recall'. The beautiful brand storytelling and the way the product is integrated in the ad makes it hit all the right musical notes!

Correspondent, exchange4media, Mumbai Misbaah reports on advertising industry. Based in Mumbai, she interviews industry leaders in the creative, advertising and marketing space, reports news updates in the ad space. She drives the 'Chillout' section, and regularly reviews ad campaigns. In the past she has reported on mainline news, travel and lifestyle.
Nokia's print campaign with Alia Bhatt went live on October 12 to mark the festive season.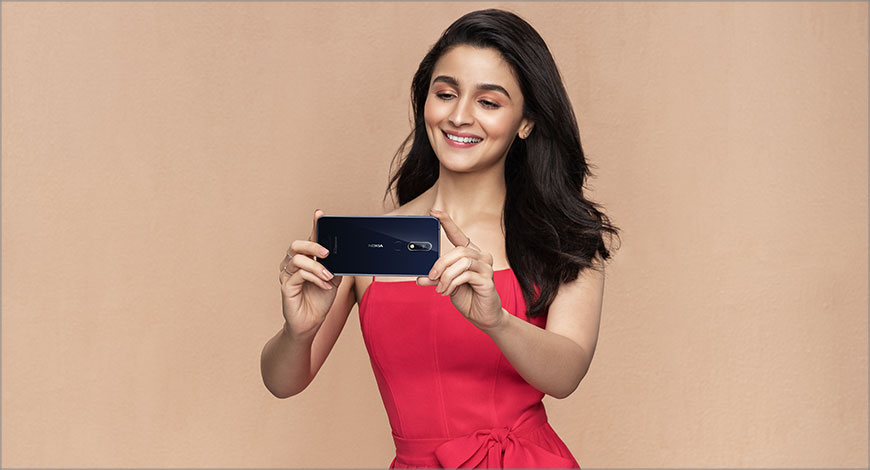 HMD Global, the home of Nokia phones, on Monday announced that actress Alia Bhatt will be the face of Nokia phones in India.
In a statement, the company said that Bhatt connects strongly with today's generation of Indians who are multi-dimensional, multi-faceted and multi-achievers. Her success and her personality therefore make her align perfectly with Nokia phones and with HMD-Global, itself a young, entrepreneurial brand, the statement said.
Announcing the association, Ajey Mehta, Vice President and Country Head – India, HMD Global, said, "We are really excited to have Alia Bhatt as the face of Nokia phones. She is one of the brightest stars of Bollywood and it's great to have her on board with us. Her commitment to her work coupled with her perfection in her craft of acting, is in alignment with our approach to mobile making. I am confident that in the coming together of Nokia phones and Alia Bhatt, we will further enhance the excitement around our new launches for our fans.
Alia Bhatt said, "I love the experience of using my Nokia smartphone and flaunt it at work, with friends and my family. It feels so premium in my hand and the craftsmanship is perfect. And what's great is that with the reliability of a Nokia phone, its distinctive design and great overall experience, I get to be me, do my work and have fun without needing to worry about anything else. I'm delighted to be the face of Nokia phones."
Diwali campaign
The Nokia phones print campaign with Alia Bhatt went live on Friday (October 12) to mark the festive season. Fans will see the campaign across print and television commercials as well as retail outlets.
The campaign takes an affectionate and light-hearted look at the unique role played by a young person (and her Nokia smartphone) in making Diwali celebrations with her loved ones truly special.
Talking about the campaign, Ajey Mehta said, "The young generation is relied upon by their loved ones for so many things that they do with just a few clicks on their phones – from paying a bill to capturing memories. This insight is at the core of our campaign and helps make Nokia phones relevant for these young consumers."
exchange4media Group Service
National Award winning actor endorses Bathsense by Asian Paints in TVC conceptualised by Madison BMB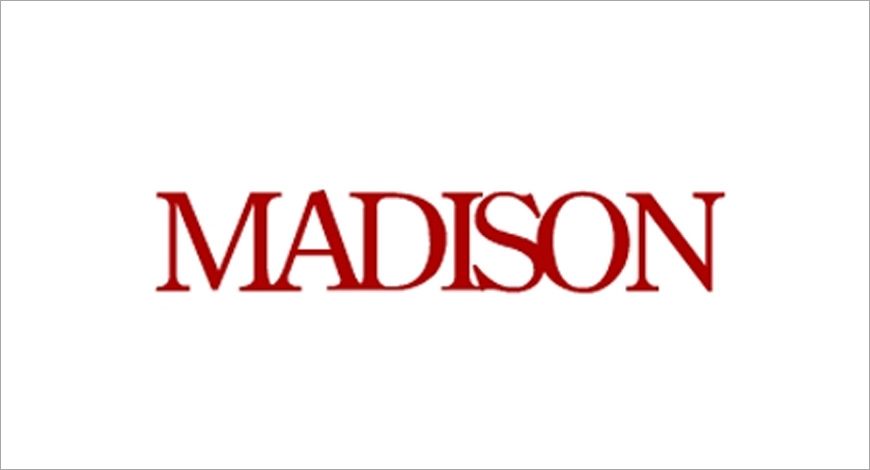 To introduce its new bathroom offerings named Bathsense in India, Asian Paints has launched a 360 degree campaign, centred on a series of TVCs for North India. The TVCs were supported by an outdoor, print, digital and radio campaign, various activations and other point-of-sale elements for dealers, plumbers and customers. The entire campaign was conceptualised and created by Madison BMB, a unit of Madison World.
The concept of the campaign, including its tagline 'Bathrooms that understand you', came from an insight that today bathroom products come in endless shapes and designs, but what one wants is a bathroom that smartly understands his/her expectations, including qualities such as hygiene and durability. The campaign uses both quirkiness and simplicity to talk about how Bathsense products understand the user, even if the outside world might not with the repeated use of the phrase 'Isse pata hai' (this understands me). The phrase is also utilised in other elements of the campaign to provide continuity with the films. The story called for a central character who could simultaneously be charming, easy-going, funny and classy which is why actor Rajkumar Rao was chosen for the North Indian (Hindi) film. His interaction with the products is showcased across all elements of the campaign, including print, hoardings and catalogues.
Regarding the campaign, Pragyan Kumar, Vice President, Asian Paints Home Improvement, says: "At Asian Paints, we have always strived to cater to the ever changing needs and wants of the consumer. Brand Bathsense is another step on that front. Apart from having great designs that look beautiful, Bathsense is committed to provide innovative solutions to problems that have remained unanswered for long. We strongly believe that the "Isse Pata Hai" campaign will help us seed Brand Bathsense in the market and establish clearly to our customers that we are here to offer solutions that truly understand them."
Raj Nair, CEO and Chief Creative Officer, Madison BMB, says "In today's day and age, it seems almost old fashioned to find a brand's virtue in the brand's features themselves. Having said that, when we realised that the features of brand Bathsense were as distinctive as they were, we thought why not build the proposition around the features themselves. Hence Bathrooms That Understand You packed with features that solve everyday issues in the bathroom was born. Then came the added bonus of Rajkumar Rao who with his performance has made the campaign more memorable. Plus the music in the films is extremely quirky and catchy. In fact, seeing the instantaneous positive response of the dealers at the launch was an incredibly satisfying conclusion that should resonate well with consumers too."
Kim Solomon, COO, Madison BMB, says "The campaign presented us with a one-of-a-kind opportunity to do something in the bathroom communication space that has never been done before. We wanted to set a precedent that could be proudly added to the hallmark of excellence that Asian Paints ads and campaigns have always been known for. We're very happy to have exceeded all our expectations."
CREDITS
Raj Nair, CEO & Chief Creative Officer
Kim Solomon, COO
COPY
Shomo Sen (ACD), Raj Nair
ART
Vallabh Yeolekar (CD)
ACCOUNT MANAGEMENT
Sanferd Romos
DIRECTOR
Harsha Rao
PRODUCTION HOUSE
Black Picture Co.
exchange4media Group Service
The ad film house launched by Harshik Suraiya, Chintan Pandav, and Vinit Bhatt completes one year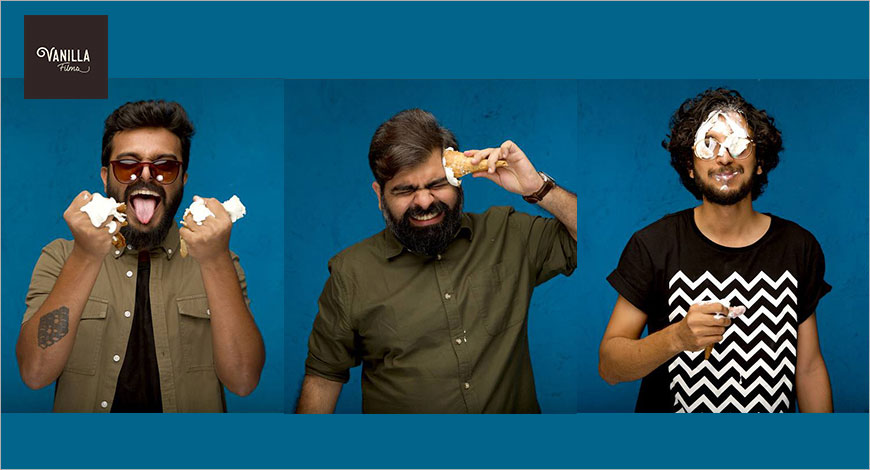 "We thought we will not survive the first year," says Harshik Suraiya, talking about his entrepreneurial venture - Vanilla Films - an ad production house he launched in September 2017.
Suraiya and one of his co-founders Chintan Pandav (Producer and Editor) - were full-time professionals before they decided to tear through the safety net of a secure job to start something on their own. Suraiya was a rising star at Ogilvy where he worked as a creative director; Pandav an editor at Greymatter. Vinit Bhatt was the only one among the three co-founders to have known the uncertainty of entrepreneurship - he was a freelance photographer.
"There was no plan B when we started out," they tell me. A completely bootstrapped venture, Vanilla Films, in one year has worked on 13 projects and made 24 films in all. While their reputation and work ethic has been the key driver of their success so far, the trio is ever thankful to all the friends in the agency business who have trusted them and given them over the last one year.
Vanilla Films has worked on ad films for brands such as Hyundai, Bournvita, Bluestar, Cipla, Perfetti Van Melle, Cadbury Fuse, Unlimited Fashion Store, and La Casa Luxury Club. The ad film studio has collaborated with multiple agencies during this one year including Ogilvy India, Law&Kenneth Saatchi&Saatchi, What's Your Problem, and Innocean Worldwide.
The trio work with a team of 8-9 freelancers who are as good as full-timers in spirit, Suraiya says. Vanilla Films is looking to expand its team and grow bigger. The team at Vanilla Films has worked on ads for television and digital and is prepared to produce any kind of content that a brand might require. There is just one ground rule they have set for themselves - to create work that is long lasting and not work that has a short shelf life.
Although the client is generally known to be the one with the oddest demands and desires and makes life difficult for the creative guys, Bhatt, says "getting Harshik's nod of approval is so much harder." "In some cases, we have put in money from our own pockets to create good work and ensured we have never compromised on quality," Suraiya says.
Vanilla Films is all ready to join the big leagues and is currently working on a project whose scale they say is in "eight figures".
Before they sign off, we ask them for their photographs, and what they shared with us is what you see here. Each of them took a vanilla ice cream cone to their face. Why? "Just because we can do whatever we want as entrepreneurs." Did they leave something unsaid? We think it might have been: therefore, we can do whatever that a client needs.
Some ad films by Vanilla Films:
Bournvita Biscuits - Paris from Vanilla on Vimeo.
Hyundai - Drivers of Tomorrow from Vanilla on Vimeo.
Unlimited - #StoryInEveryChild from Vanilla on Vimeo.
La Casa - Director's Cut from Vanilla on Vimeo.
Principal Correspondent, exchange4media, Mumbai Susmita is a digital marketing reporter at exchange4media. She writes on latest developments in the ever-changing world of digital media and in-depth stories on all things advertising.
As WPP holds its first data summit- Date with Data- on October 16, we speak to CVL Srinivas, Country Manager India, WPP, about the industry's love and need for data and the changing role of CMOs.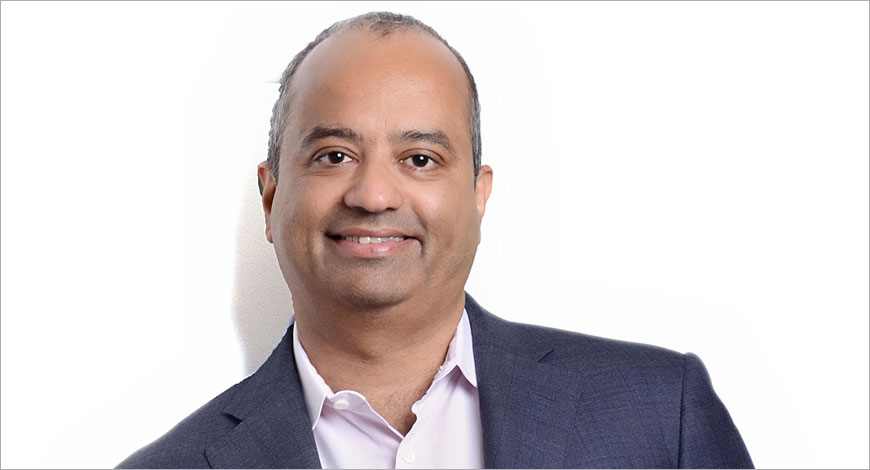 Ahead of 'Date with Data', WPP's first data summit scheduled to take place on October 16, CVL Srinivas, Country Manager, WPP India, speaks to exchange4media about the changing role of CMOs in this new data-driven industry. He also shares his insights on the impact that the use of data has on ROI for clients and the need to have a first-of-its-kind data summit in India. Excerpts:-
Data hasn't just changed the CMO's role, it has disrupted it. CMOs were traditionally communication and campaign-focused, but it has changed now. As an industry expert, what advice would you like to give to budding CMOs on the use of data in marketing?
The starting point is to understand what all is available across first, second and third-party data and how the relevant data sets can be combined to unlock richer insights for the business. From sharper consumer insights to understanding the full consumer journey to campaign planning and measurement, data can better connect the entire marketing value chain. CMOs will do well to reimagine and rewire their teams, making it a more data-centric marketing organisation. Apart from better marketing ROI for existing brands, data can help unravel new products, new consumer segments and new distribution channels.
With a stricter data privacy regime, CMOs need to fully understand the implications of new laws like GDPR and the recommendations put together by the government-appointed committee in India, to get a clearer sense of where things are headed.
Keeping the above in mind, CMOs should be wary of falling into the trap of a data-only approach, which could undermine innovation and creativity. The power of 'the idea' or the marketing gut is an equally strong driving force towards a successful marketing approach. In the overall scheme of things, data shines in its role as a partner and supporting force for the development of great ideas.

Everyone loves data and digital because it is measurable. Is the lack of uniform third-party measurement in India making agencies and marketers rethink the real impact of their campaigns? And therefore, could marketers be rethinking digital budgets?
Audience attention is shifting every day and if you are a brand or an agency, you need to identify where the interest of your audience lies. However, measurement is a concern. As you have rightly pointed out, there exists the lack of a third-party measurement in India.
Every digital platform has a different way of counting views/engagement and impressions on videos; whereas we know that the TRP (television rating point) evaluation is fixed and we can calculate it, regardless of whether it's on cable or satellite.
Ad agencies, clients, partners and brands need to come together to collectively work on measurement standards to advocate for digital spends. If one takes a more holistic view, digital has more data and can drive more accountability than any other medium. An industry measure will only help create a standardization for the benefit of all. However, often what's missing is the ability to make right connections between data points to build actionable insights and attribution models.

This is the first time WPP has called for an initiative like 'Date with Data' in India. How do you expect the industry to benefit from this?
All of WPP India have come together to create this data summit. So firstly, it's a great example of collaboration towards creating value for our clients, partners and people. Being a leader in this space, we felt it's time to create a forum to help accelerate the growth of data journey in a responsible way. This attempt targets getting everyone's understanding on the same page. The forum will give a global and local perspective, a balanced view between today's requirements versus future opportunities, and bring data & creativity together onto one platform. We've had a tremendous response and are eagerly looking forward to hosting and enabling our industry's growth and future together.
If we were to quantify the impact of data, how much direct impact the use of data has had on ROI for your clients?
As discussed earlier, having a data orientation will not only deliver better ROI for existing brands but can help uncover new products, new distribution channels and new consumer segments. We have numerous examples of clients getting better ROIs across the value chain. Our clients will be showcasing some of their successes during the summit.
Where do you place Google and Facebook? Are they friends or enemies of the advertising community? Is this competition with tech giants healthy for the growth of the industry?
India is a unique ecosystem where the best of global and local players compete. This helps drive innovation and opens up opportunities for marketers. Even the big global players have innovated specifically for our market. In our super connected world, it will become increasingly hard for anyone to not integrate with the larger ecosystem. We have great partnerships with all the players and work together to create value for our clients.
With media buying going programmatic, marketers are taking the job in-house. Your take.
If the idea is to integrate better with business, then we completely subscribe to it. In fact, we are co-locating our teams and embedding critical functions with many of our clients' businesses. It helps improve coordination and speed of response. As a group, we are pioneers in kickstarting this many years ago.
Having a fully-owned and operated model of in-housing comes with its own set of challenges. Some clients have tried it in the past. It needs the right people, culture, products and orientation to become successful. In my personal view, it can be really hard to replicate all the strengths that an agency brings to a client set-up and run it successfully.
Associate Editor, exchange4media, Mumbai As the editorial head for the website, Naziya covers media, advertising and marketing domains. Prior to joining the digital domain, she worked for 12 years with leading newspapers covering political, legal and crime beats.
Conceptualised by Contract, the TV campaign captures the values and essence of the brand – 'Achchaai Jo Chehre Par Nazar Aaye'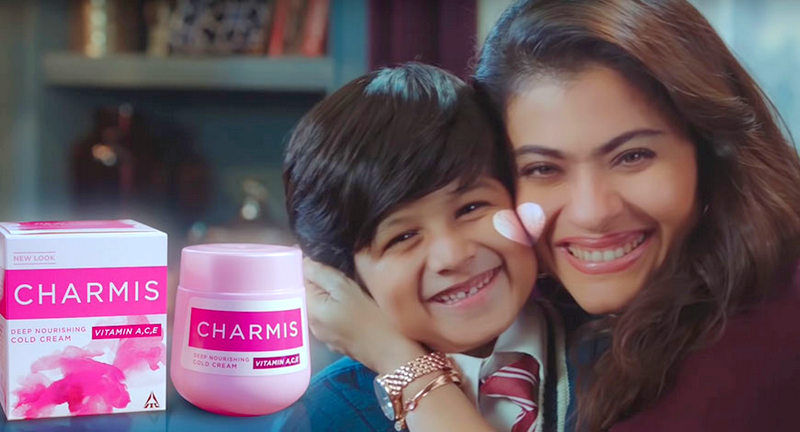 Charmis is a heritage face care brand and enjoys consumer trust that has extended over eight decades. ITC has given the iconic Charmis a fresh new look.
A new TV campaign that captures the values and essence of the brand – 'Achchaai Jo Chehre Par Nazar Aaye' has been rolled out to celebrate the goodness, painstakingly nurtured and instilled in children by every mother. The campaign recognises and celebrates the lessons best learnt from mothers - 'Maa ki Seekh' and how they guide children to make the right choices as they navigate through the maze of life and respond to challenges and conflicts thrown up each day.
Speaking about the campaign, Sameer Satpathy, Chief Executive, Personal Care Products Business, ITC Limited, said, "It is a moment of pride for us to reintroduce Charmis, a brand that has been loved by consumers for over eight decades, in a fresh new look. We are excited to introduce a great new sensorial with SPF 30 and above all with a delightful new TV campaign. The brand presents the core thought in an engaging manner and I must appreciate the great work done by the director, Ram and the entire creative team at Contract."
The new TVC developed by the creative team at Contract and film director Ram Madhvani of Equinox, showcase the heartfelt moment of a young boy, who when faced with a dilemma, decides to follow the value of goodness and the teachings learnt from his mother - brave boys don't hit girls. Simple yet extremely effective and powerful, the TVC narrative brings alive the brand's core thought that it is the goodness within that glows on our faces. That glow is evident both on the face of the child as well as the proud mother.
Ram Madhvani, Director, further stated, "I am delighted to have been chosen to work on the film. I found the brand's concept – 'Achchaai jo chehre par nazar aaye', extremely unique and was excited to make the film, simply because of the value systems that the brand was speaking about. And of course, having Kajol as part of the film helped elevate the entire conversation. Besides being a powerful performer, she also stands for the values showcased in the film."
Kajol has stepped in as the brand ambassador. She is a modern mother who does not shy away from speaking about the active role she plays in her children's upbringing. Even off camera, she embodies the characteristics of the Charmis Mom, who prides in motherhood and plays a dominant role in shaping the value system and thought process of her children.
Kajol shared her excitement on being a part of the TVC and stated, "The Charmis film simply underlines a basic truth that while goodness is about character, integrity, honesty, kindness, moral courage, but above all, goodness is about how you treat other people. Being a Charmis ambassador makes me feel good and trustworthy; both aspects being important to me as a person and an artist."
The all-new Charmis deep nourishing cold cream from ITC will be available in packs of 30ml, 58ml, 100ml and 175 ml at INR 40, INR 70, INR 120 and INR 180 ml, respectively. With its unique blend of Vitamin A, C & E, ITC Charmis combats winter, leaving skin radiantly restored, naturally soft and resilient. And Charmis SPF 30 provides optimal moisturisation for all year round usage.
Video:
exchange4media Group Service
IndusInd Bank Duo Card has two magnetic strips & 2 EMV chips, bringing the functionalities of both debit and credit cards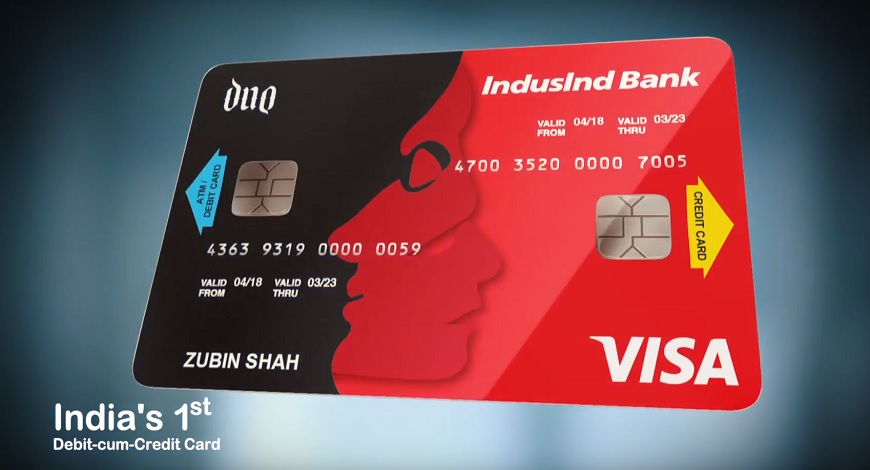 IndusInd Bank has launched the IndusInd Bank Duo Card, a combined 2 EMV chip debit and credit card. This two-in-one Duo Card with two magnetic strips & 2 EMV chips, brings the functionalities of both debit and credit cards to the Indian consumer, on one plastic. With a range of benefits which combine both types of cards, it is a powerhouse of convenience and flexibility for the customer.
With just one card to carry for all their financial needs, the customer can travel light with just one card plastic. The card design uses the anagram technique to enhance and highlight the singularity of the Duo Card. The IndusInd Bank Duo Card is loaded with features for the young upwardly-mobile customer and includes offers across entertainment, travel and lifestyle. It simplifies the customer's life by providing a single statement of account and amplifies the power of the Rewards program by enabling the consolidation of Rewards points.
On the launch, Sumant Kathpalia, Head – Consumer Banking, IndusInd Bank said, "The goal is always to simplify banking and enhance convenience for our customers. Innovations such as the Duo Card go a long way in simplifying customers' lives. We have our ears to the ground and understand that our young and aspirational customers want something unique that makes them stand apart. The IndusInd Bank Duo Card aims to deliver a seamless and delightful client experience and offers the best of both worlds, in one plastic. The convenience of having dual functionality, and a wide range of offers and features on one plastic, is sure to resonate with our audience. Our advice to the customer is to #KeepItSingle, and embrace innovation at its best."
IndusInd Bank has launched a multi-media campaign that connects with the customer at various touchpoints. While television will be used to announce the innovation, digital will be used extensively to engage with the digitally savvy audience. RK Swamy BBDO, New Delhi is the creative agency for the campaign.
The campaign has been conceptualised and scripted by Ankur Suman - Creative Head, RK Swamy BBDO, New Delhi – along with Pragya Bhatnagar and Pankaj Bora. It is directed by Gajraj Rao of Code Red films.
Anil Ramachandran - EVP & Head, Marketing & Corp Communications and Retail Unsecured Assets at IndusInd Bank said, "The Duo Card is a wonderful example of a unique innovation coming out of our researched consumer insights. With the world moving towards simplifying consumer interactions and experiences and the youthful focus on travelling light, this plastic innovation asks the simple question of "why carry two, when one will do?" IndusInd Bank Duo Card is an innovation that is simple in its idea and uniqueness. The campaign tells the everyday stories of our lives, wherein we are required to choose between debit and credit cards, and how cumbersome that can be. The TV commercials and short digital films have exciting elements which add humour and emotions to situations that are easily relatable with our customers. We are confident that the campaign will create intrigue, interest and engagement with our audience."
Adds, Ankur Suman, Principal Consultant & Creative Head, R K Swamy BBDO Private Limited, "Cool innovations like these need cool communication solutions. It was important to create intrigue and interest around a product that's so unique. Here's a card that keeps things simpler, by keeping them single. Hence #KeepItSingle worked perfectly! Retaining the tone and style of IndusInd Bank campaigns that we have created over the years, this one too uses light-hearted, slice-of-life situations to drive home the message about Duo Card; helping the audience absorbs its relevance and utility even better."
exchange4media Group Service
The video speaks about how the brand curates beauty secrets from across the world, inspired by ancient beauty rituals of women from different cultures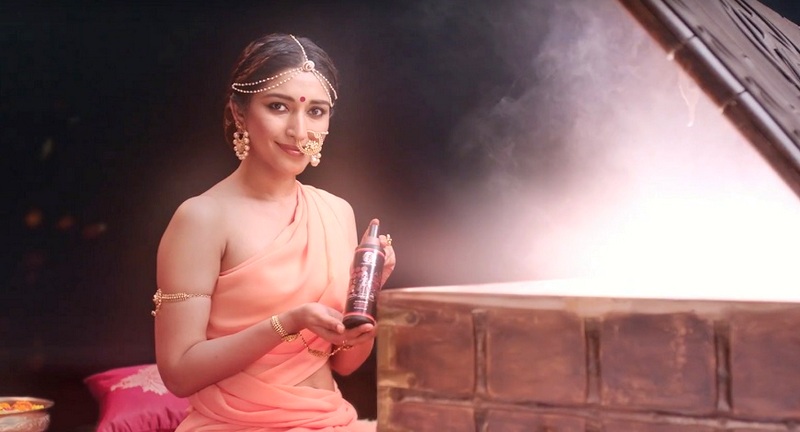 Global Beauty Secrets, an international beauty brand for women and WATConsult, the digital and social media agency from Dentsu Aegis Network launched a latest digital video commercial highlighting the essence of the brand.
The video speaks about how the brand curates beauty secrets from across different lands, inspired by ancient beauty rituals of women from different cultures. It speaks more of bringing science and beauty secrets together.
The brand celebrates the wisdom of ancient women from around the globe portraying them as the benefactor for the long-lost beauty secrets.
Video:
exchange4media Group Service
Dinner hosted by Ramesh Narayan, outgoing IAA India chief, sees stalwarts of the media and entertainment industry in attendance
Senior members of the media and advertising industry gathered in Mumbai on Thursday to celebrate the appointment of Srinivasan K Swamy in the top global role at the International Advertising Association (IAA) and Punit Goenka as IAA's India chapter President, besides felicitating Raj Nayak for winning IAA's Champion Award and Janak Sarda for winning the Young Leader award.
Advertising industry veteran Ramesh Narayan, outgoing President of the IAA (India Chapter), hosted the celebratory dinner at the Wodehouse Gymkhana. "Achievements call for a celebration. And so we raise a toast to Srinivasan Swamy for assuming charge as Chairman and World President IAA, Punit Goenka for taking over as President India Chapter of IAA, Raj Nayak for being conferred the IAA's Inspire Award as Global Champion and Janak Sarda for being honoured as IAA Young Leader," Narayan said.
Srinivasan K Swamy, Chairman of the RK Swamy Hansa Group, who took over as the Chairman and World President, IAA, recently, said, "Ramesh has always been a very good friend; and he only has good words for people. I'm sure all of you want to be part of the journey when we unleash India's energy on the world. It's going to be a hard task and it can't be done without all these people here in this room. So, thank you!"
Punit Goenka, Managing Director & CEO, Zee Entertainment Enterprises Ltd (ZEEL), said, "I would think that this is meant to be my toughest role. In the other industry bodies, we all have been united in terms of our objectives and worked towards that. I have big shoes to fill and with Ramesh's support, I'm sure I will be able to do justice to this. Thank you so much for this honour."
Raj Nayak, COO of Viacom18 and past president of IAA India Chapter, winner of IAA's prestigious 'Champion Award' for excellence in leadership, vision and distinguished services among leaders in the IAA and his contributions to the worldwide marketing communications industry, said, "All I can say is I am very humbled to stand here in this gathering… I'm very honoured that after 25 years in the Television industry, there is such a recognition."
"Had it not been for Rameshji and Sundar, I wouldn't have belonged to the industry as much, so thank you for your support at all times," said Janak Sarda, Joint Managing Director of the Deshdoot Group of Publications and winner of the IAA Young Leader award for his contribution to IAA Young Professionals.
Sam Balsara of Madison World, Piyush Pandey of Ogilvy, Brahm Vasudeva of Hawkins, Punit Misra of ZEEL, Nandini Dias of Lodestar UM, Gayatri Yadav of Star India, Megha Tata of BTVI, I Venkat of Eenadu, Yadvendra Guleria of Honda, Sandeep Sharma of RK Swamy Media Group, Ambi Parameswaran of Brandbuilding.com and Kaushik Roy of Reliance were among those present at the celebration.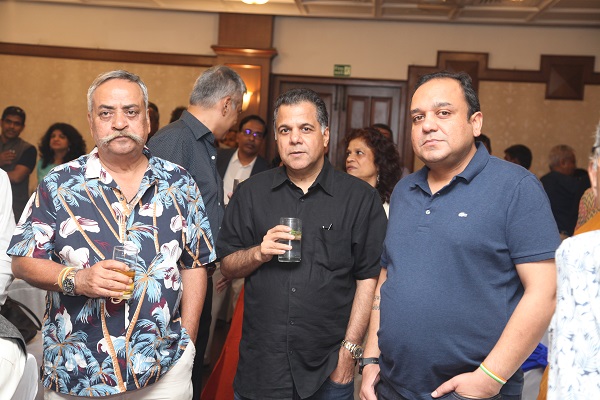 Piyush Pandey of Ogilvy, Raj Nayak of Viacom18 and Punit Goenka of ZEEL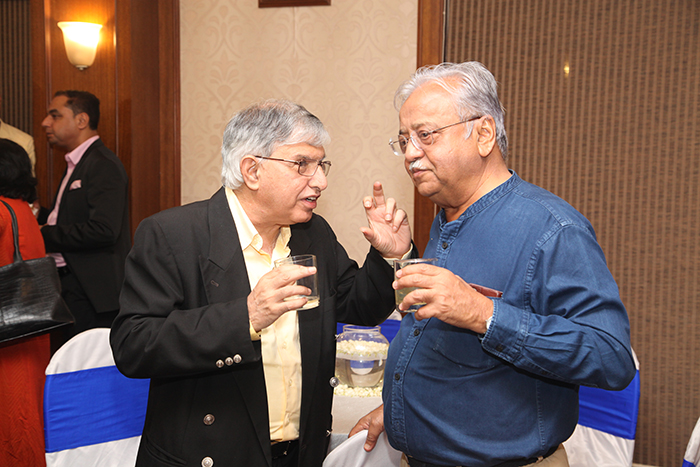 Sam Balsara of Madison and Bharat Patel, ex-P&G India head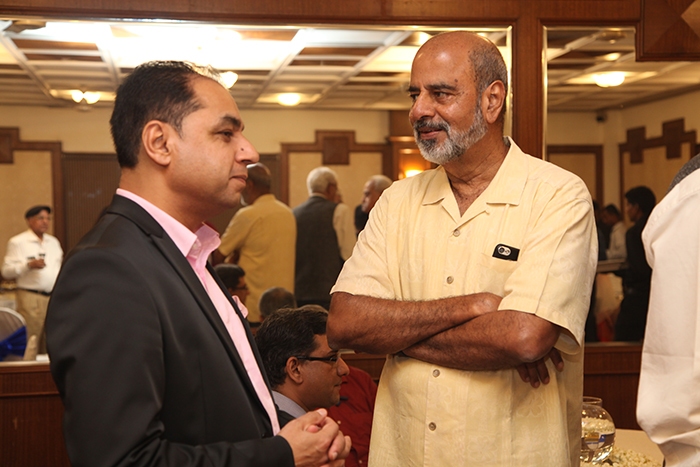 Y S Guleria of Honda Motorcycle & Scooter India Pvt Ltd and I Venkat of Eenadu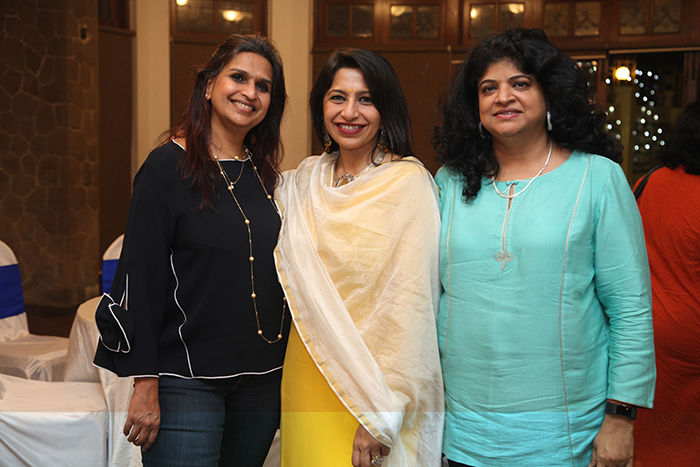 Sunita Bangard, formerly with Idea, Megha Tata of BTVI, and Nandini Dias of Lodestar UM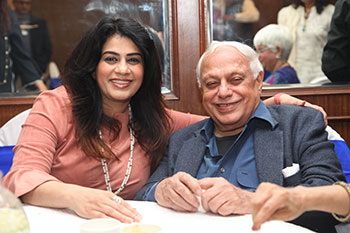 Gayatri Yadav of Star India with her father Brahm Vasudeva of Hawkins Cookers Ltd at the party
exchange4media Group Service